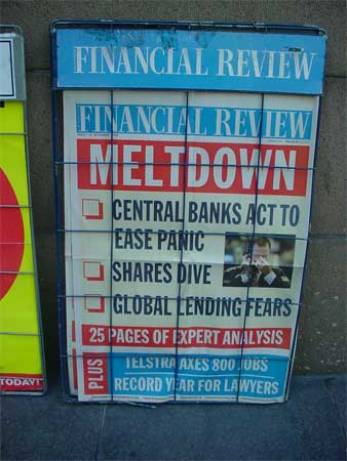 Money, banking & insurance
Risky business
Americans represent 4.5% of the world's population but buy 33% of the worlds insurance.
Source: The Atlantic Monthly (US).
Big in China
China is now home to the world's biggest gap between the urban rich and the rural poor.
Source: Daily Telegraph (UK).
Pocket banking
According to Further (a Gen Y research company) the future of banking will be mobile phones. Soon if a young person can't put their bank in their pocket they'll bank elsewhere - whether this service is provided by a traditional financial institution, a mobile phone provider or a computer company doesn't matter.
Source: What's Next.
Give it to me now.
The level of credit card debt in Britain has increased by 73% since the Labour party took over stewardship of the economy, but that's not the alarming figure. The UK now holds 60% of all credit cards issued in Europe and has 75% of all European credit card debit. Spending on credit cards now represents 11% of GDP and 40% of people say they expect to use their cards more with the advent of new technology. Meanwhile, the amount owed to credit card companies in the UK now stands at £53 billion and calls to the credit card counselling line have increased by 75% year-on-year.
Source: The Observer (UK).
Frozen desire
Debt used to be thought of as a burden, a threat to liberty. But now in the US (and increasingly elsewhere) debt is liberty - a sign of confidence in the future. This shift from a saving to a borrowing culture is widespread but largely generational. Younger people see no reason to postpone wants, especially when they see all the money their parents made from borrowing to buy real estate.
Source: James Buchan, Frozen Desire.
It's all gone?
In the UK there was a 28% increase in personal bankruptcy in the last quarter of 2003.
Source: The Observer (UK).
Love is... a prenup
A survey by Smile (a UK Internet bank), says that 46% of people would sign a prenuptial agreement and would like such agreements to be legally binding.
Source: What's Next.
Design it yourself
An Australian company, In Tech Credit Union, has launched a service that allows customers to design their own credit card. Features such as interest rates, fees and the number of interest free days can be customised on-line via 'card control panels'. Once the card is received it can also be activated on-line. The product is aimed at Internet savvy Gen X'ers who like to be in control.
Source: Online Banking Review (AUS).
Extended Financial Families
Older and younger people living together is predicted to be a major social trend in the years ahead according to the Skipton Building Society. On the one hand students face increasing debt caused by student loans, credit cards and mobile phones. On the other retired people face pension underfunding and increased residential care costs. The solution – EFFs (Extended Financial Families). It is estimated that there are currently 75,000 EFF's in the UK but this figure will rise to 1 in 50 households by 2014 and 1 in 20 by 2029.
Source: The Times (UK).