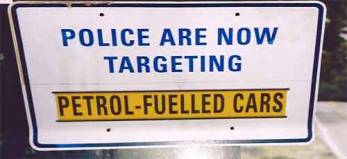 Automotive & transport
The flip side of SUVs
New rules to strengthen the roofs of cars are being considered. Roof strength has become an important issue in the US where over 10,000 people die each year as a result of rollover accidents. The problem is linked to the popularity of SUVs and other 4x4 vehicles that have high ride heights, (which in turn reduce stability).
Source: New York Times (US).
Bums on seats
We've speculated that carmakers and others would have to accommodate larger bottoms in the future due to obesity. Here's a real life example of the same idea. When Yankee Stadium in New York was refurbished recently it lost 9,000 seats due to wider seats being installed.
Source: The Observer (UK).
Electronic 'fences'
Singapore started it with the introduction of an electronic toll 'fence' around the city in 1975. Rome followed suit in 2001 and London followed with its own congestion charge in 2003. Now a host of other cities like Shanghai and Beijing are expected to follow suit.
Source: The Observer (UK).
Toxic trains
Cars are getting greener but railways are lagging behind in the race to produce cleaner emissions. New cars are now 97% cleaner than they were 10 years ago and toxic emission levels have fallen by 50% over the same period. In another decade it's quite possible that railways will be seen as the dirtiest form of transport.
Source: The Observer (UK).
Suggestion box
Here are a few transport-related ideas that should catch on in other countries. In Australia, double demerit points apply to drivers who are caught speeding or drinking and driving during holiday periods. Meanwhile, in San Francisco, highway litter collection is sponsored by local companies.
Source: What's Next.
Nanny car syndrome
Expect an increase in so called 'nanny –car syndrome' (NCS) as traffic density increases, cars accelerate quicker, maximum speeds increase and governments and insurance companies duck risk. NCS is the term applied to cars that either tell you what to do or stop you doing something.
Source: Popular Science (US).
Turning the clock back
Given the stress caused by the complexity of everyday objects, maybe there's a need for stripped down products? Cars are a case in point. There's a market for the latest gizmo loaded wonder wagons, but maybe there's also a market for something simpler. Some people (especially retired people) just want something that goes (and when it doesn't it's easy and cheap to fix – even by yourself). What we're talking about here is essentially a stripped down version of a modern car or a 'new' car using old technology. Some sports cars do this already – the Porsche 911 RS removes all the dead weight to make it go faster – but what about removing all the unnecessary technology to make it go longer?
Source: What's Next.
Another new idea that's old
There's an established trend for making brand new cars look old (VW Beetle, Mini, Ford Thunderbird and other nostalgic recreations), so what about putting an old body shell over some new mechanics? You can already buy a 'new' MGB or E-type Jaguar from specialists that use a combination of original bodywork and up-to-date running gear, so why aren't the big manufacturers following suit?
Source: What's Next.
OK 2 txt
58% of Australian drivers think it's acceptable to write or answer text messages while driving.
Source: The Australian (AUS).
How to kill a classic
40% of all Porsches are sold in the US. We also hear that the company is considering the production of a 4 door sedan to stand alongside the Porsche Cayanne. Such a move would undoubtedly increase sales, but surely this will damage the brand in the long term. What next, a 5 door Lamborghini estate with tow bar and automatic shift?
Source: New York Times (US).
Slow cities
Train journeys in some parts of Britain are now no faster than they were 100 years ago.
Source: The Times (UK).