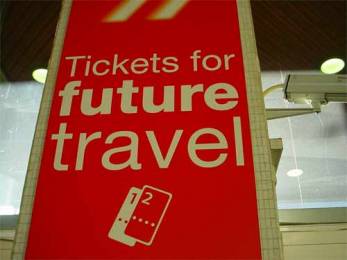 Airlines, hotels, travel & tourism
Sit down and be nice
Song (the low cost US airline owned by Delta) is giving away free flights for people that are nice. The definition of 'nice' is rather subjective but might include helping other passengers with their bags or remaining happy when delays are announced.
Source: BBC (UK).
Thanks, I'll sleep on it
Travelodge, the UK budget hotel chain, has borrowed an idea from the airline industry and introduced 'yield management' systems to sell unwanted bedrooms. Meanwhile, laterooms.com is expanding, offering discount prices on last minute room bookings in the UK and abroad. What else could yield management be applied to?
Source: The Independent (UK).
Gotta get out of here
55% of Britons are seriously thinking of emigrating from the country according to a YouGov survey. We suspect this figure is a bit suspect. People always dream of being somewhere else but this doesn't necessarily mean they'll do anything about it. There is undoubtedly a growing trend for second homes (just ask any taxi driver at Heathrow airport), but this is more to do with increasing levels of prosperity than disenchantment.
Source: Sunday Times (UK).
Jet SMS
Qantas has launched a service that allows passengers to book flights via text messaging on their mobile phones..
Source: Qantas magazine (AUS).
Caravan craze
According to the Observer, there was a 24% increase in the sale of caravans in the UK last year. Apparently the growth is due to the popularity of adventure sports - skiers, surfers, divers, hang gliders etc who need somewhere to sleep and stash their stuff.
Source: The Observer (UK).
The end of holiday snaps?
According to a Sydney law firm, photographs of Uluru (Ayers Rock) belong to the aboriginal community that lives near the rock and not to tourists or photographers. The same principle could also apply to other aboriginal sites and other forms of intellectual property.
Source: The Australian (AUS)
Hi-De-Holiday boom
According to Mintel, more than 6 million Britons took their holidays at a UK holiday camp last year. The record figure is partly due to new concepts like Centre Parcs and the extensive refurbishments carried out by original innovators like Butlin's. However, one of the main reasons for the increase is a shift in how people take their holidays. Rather than saving up for two weeks in the sun, many families are now taking lots of shorter holidays. According to Center Parcs 96% of bookings are of the short break variety.
Source: Daily Telegraph (UK).
History sends kids to sleep.
This isn't new but it's new to us. Since 1996 the British Museum has been holding sleepover events for kids. Other innovative ideas include museum curator-led holidays and exhibition inspired museum dinners.
Source: What's Next.