Book Richard Watson for a talk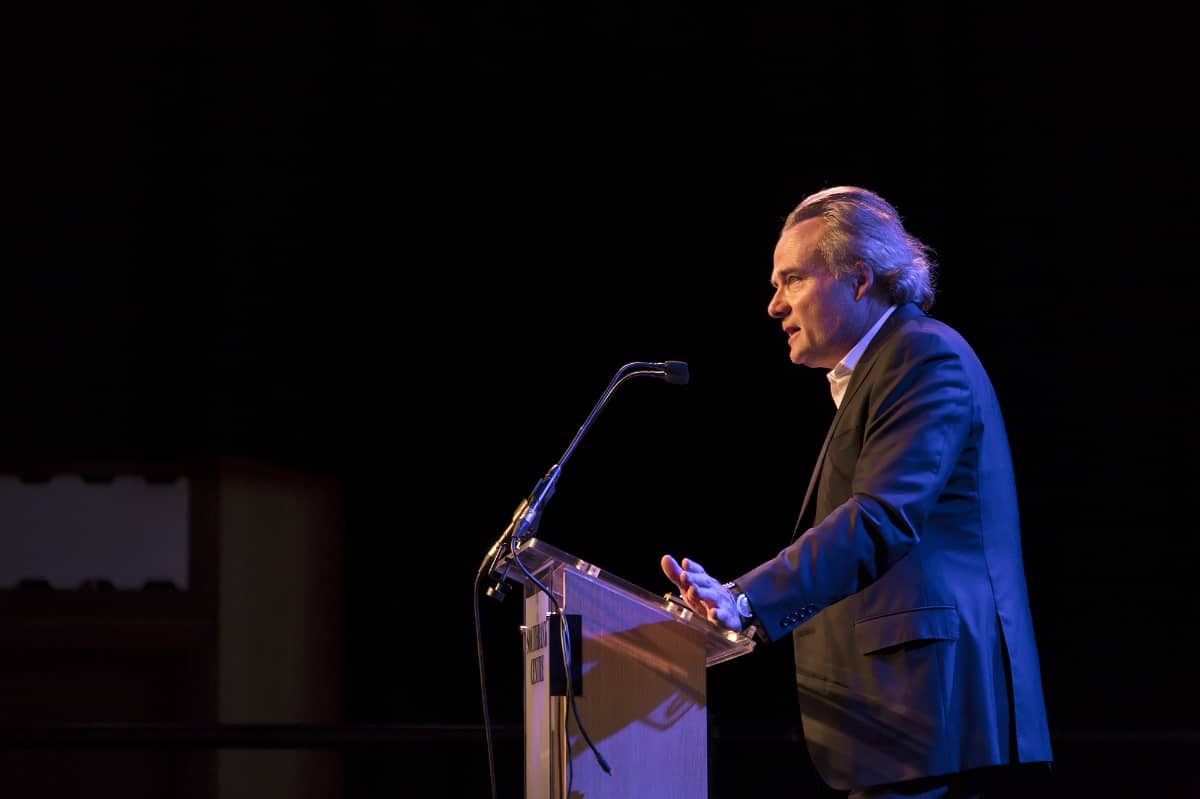 Richard Watson is a writer, speaker and scenario thinker that helps organisations to think further ahead. He has authored four bestsellers about global trends, futures thinking, scenario planning and creativity & innovation, including Future Files (16 foreign language editions) and Digital Vs. Human.
Richard's talks are always energetic, entertaining, thought-provoking and insightful. To date, Richard has given over 400 talks to organisations throughout the world.
"It's Not All Zoom and Gloom": A talk for Lucy Cavendish College, Cambridge
Watch Richard give a talk on screen culture at the RSA
Mapping the Future: A talk at eatbigfish in July 2017
Smart grids and the future of energy
Book Richard Watson to talk at your event
To book Richard as a speaker for your conference, workshop or other event — or to find out more information — either contact your speaker agent, or send Richard an email using the button below. He'll be happy to chat with you.
What people are saying about Richard's talks...
"Your morning session received top marks from every single delegate… which I don't think has ever happened before. Super job, and big well done."
– KPMG
"What an amazing lecture last night, delivered by a phenomenally bright and interesting speaker."
– Thomas's Battersea (School)
"Richard captured the attention and stimulated the imagination of a challenging group of business leaders. He took the time to understand his audience and his insights into the future delivered original, thoughtful viewpoints that will help to shape future business decisions."
– DAC Beachcroft
"A class act."
– Lloyd's (Insurance)
"Brilliant, Brilliant, Brilliant."
– London Business School
"Watson made it for me."
– WorkTech
"Well researched, really informative and well presented."
– McDonald's
"You have just the right level of disdain for your subject to make it thoroughly engaging."
– Coca-Cola
"I liked the emphasis on deep thinking and making time for it; very entertaining speaker and topic was interesting."
– Welsh, Carson, Anderson & Stowe (Private Equity)
"A quick note to say thank you for last week.  There have been some really positive informal pieces of feedback. I think you were a breath of fresh air for them."
– SingTel Optus
"Thank goodness there are people like you in the world... you make everyone think!"
– President, ESP TrendLab
"Wonderful, energetic and interesting."
– London Business School
A very small selection of previous talks:
Validify, London, 10 March 2022
Zacat, Saudi Arabia, 11 November 2021
Queens AI & Radiology, Canada, 9 November 2021
GN Group Denmark, 20 September 2021
Allianz, Germany, 13 September 2021
Lucy College Cambridge, 16 June 2021
Foundation Athens (Virtual), 17 December 2020
Sage (Virtual), 17 November 2020
MOD, DCDC, Shrivenham, 3 December 2019
BT, London, 29 November 2019
Work Tech London, 28 November 2019
Saudi Investment Development Fund, Riyadh, 26 November 2019
Equinor, Stavanger, 10 May 2019
Oman Bankers Association, Muscat, 11 December 2018
Royal College of Art, London, 10 December 2018
PWC, Frankfurt, 4 December 2018
DAC Beachcroft, Madrid, 30 November 2018
Lloyd's Insurance, Brussels, 13 November 2018
Herbert Smith Freehills, Berlin, March 2016
Towers Watson, New York, May 2015
PWC, Warsaw, October 2015
The King's Fund, London, July 2015
London Business School, 30 January 2014
Ministry of Defence, 30 October 2013
Cambridge University, 14 October 2013
Citibank, Brussels, 19 September 2013
Nestlé, Vevey, 10 July 2013
AXA UK, Customer of the Future, 11 June 2013
Barilla, Milan, 29 November 2012
GE Healthcare, 9 October 2012
KPMG, Tomorrow's CFO, 8 February 2012
TEDx Poland, 9 September 2011
TEDx Munich, 7 June 2011
PepsiCo Asia Pacific, Leadership Academy, 14 February 2011
Royal Society of Arts, Future Minds, 1 October 2010
Ikea, 3-5 Year Strategy Workshop, 24 August 2009
IBM, CIO Future State, 29-31 July 2008
McKinsey Global Strategy Conference, 14-15 November 2007
Virgin Atlantic Airways, Trends Briefing, 25 October 2006
Asda Wal-Mart, Food Trends, 4 April 2004
If you would like to book Richard for a talk about global trends, futures thinking, scenario planning or creativity & innovation — or you are looking for an engaging and provocative futurist speaker — please ask your speaker agent about Richard, or email Richard directly using the button below.