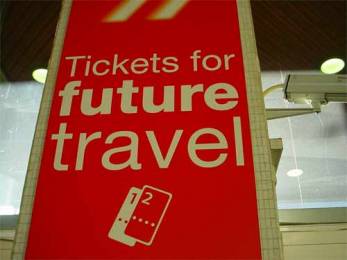 Airlines, hotels, travel & tourism
Windows out: pack 'em in
The Japanese first thought of the idea of "capsule hotels", small rooms with only a bed and tiny television, for travellers on a budget. Then Heathrow and Gatwick airports in the UK opened 78 "Yotels", small cabins for hire by the hour with a minimum booking of four hours. Now a UK company, Criterion Capital, is involved in a project in the Trocadero at Piccadilly Circus, to create 600 rooms, each only 10 square metres including a bathroom. As one manager said, "Once you take the window out you can just pack them in".
There's a good reason for this development. London is underserved with budget hotels, which do better than five star hotels and have an 84% occupancy rate. Britain also has fewer budget hotels than other countries, for example, a quarter of French hotels and a third of American hotels are budget. While budget hotels account for only 16% of the British market, their capacity is almost twice what it was 10 years ago and the sector is flourishing.
It will be interesting to see whether travellers are willing to give up their windows onto the world. People may more easily accept a pod at an airport, when they are most likely to be exhausted and desperate to lie down. There's not much to look at there. Some may find the idea of a windowless "pod" claustrophobic but many budget hotels don't have much of a view anyway.
Ref: The Economist (UK), 14 January 2012, Room without a view. Anon. www.economist.co.uk
Source integrity: *****
Search words: London, budget hotel, Yotel, Heathrow, Tokyo, Trocadero, Criteron Capital, window, pod, capsule hotel.
Trend tags:
Pilots are an endangered species
Americans fly more hours in unmanned defence planes than manned ones today, with 12 times as many unmanned aerial vehicles (UAV) aloft since 2005. For this reason, more pilots are training to fly UAVs than piloted planes. Colloquially, UAVs are known as drones, but they are nothing like bees and, with their increasing abilities, are nothing like regular aircraft either.
They have many advantages over regular aircraft, especially at war. First, they can be almost any size because they don't have to accommodate people and there is more room for fuel. Some can even be small enough to imitate an insect and perch on a windowsill for surveillance, while others look like model aircraft. The US Air Force eventually plans to use an open architecture approach so drones can be designed as flexibly as possible, depending on what they want to accomplish.
The idea of UAVs is they can do any tasks considered "dull, dirty, dangerous, difficult or different". For example, a dull or difficult task is long-term surveillance, described as the "unblinking stare" at a target. A dirty task might be observation or taking samples after a chemical attack. Dangerous tasks include probing enemy planes or surveillance over territory where a shot-down pilot is used as a hostage.
UAVs are also hyper-manoeuvrable, because they can tolerate movement that human beings cannot. Last, training pilots for UAVs costs less than a tenth of the cost to train pilots in manned vehicles and there are plans to have one pilot control four drones.
The less attractive side of drones is they depend on two-way satellite communication, making them vulnerable to electronic jamming or attack. There is also a delay, known as latency, between sending an instruction to an aircraft and receiving a response. One other problem is that UAVs are not cleared to share civil airspace over America and Europe with passenger planes.
There are other more tricky problems, such as whether it is ethical for an unmanned aircraft to fire a weapon based on data analysis. In effect, this distances the pilot from what could be a tense or emotional act and creates dangerous detachment from the task at hand. Some people suggest using drones in this way "is the cowardly action of a bully sheltering behind superior technology".
For this reason, uptake of this technology may depend not so much on what it does, but on the policies created to manage it. Meanwhile, it appears that demand for pilots will continue to wane. There may come a time when we use unmanned planes for cargo and, when we are ready, for passengers flying on holidays.
Ref: The Economist (UK), 8 October 2011, Flight of the drones. www.economist.co.uk
Source integrity: *****
Search words: America, Predator, Reaper, drones, unmanned aerial systems (UAS), unmanned aerial vehicles (UAV), intelligence, reconnaissance, surveillance, artificial intelligence, hyper-manoeuvrability, latency, policy.
Trend tags:
Fly me to the moon – or even Mars
Space tourism is, if you can forgive the pun, on the rise. The idea of flying to the moon for holidays still seems outlandish but, if Isaac Asimov was right, the moon could be well settled by 2082 and total population more than 100,000 – including tourists. But Presidential contender, Newt Gingrich, wants the moon to become the 51st US state, a scary thought indeed (and against the 1967 Outer Space Treaty). Not only that, he wants to see mankind going to Mars using "a continuous propulsion system" by the end of 2020.
Although space tourism sounds wildly appealing to the most adventurous among us, it has phenomenally expensive set-up costs. Gingrich says he would assign 10% of NASA's budget for prizes to companies with compelling plans for colonising space. Already the X-PRIZE Foundation has been set up to assist radical breakthroughs for the benefit of humanity.
Meanwhile, scientists at the Institute for Biomedical Problems in Russia found six volunteers willing to go on a simulated trip to Mars for 520 days, finishing in November last year. It was part of the ambitious MARS500 project and, while it was at times harrowing for the volunteers, it was nothing like the real thing. It would take two and a half years to get to Mars and any kind of communication would have a 20 minute time lag. Worse still, they couldn't get back.
It seems unlikely that anyone would want to go to Mars and not come back but entrepreneurs like Richard Garriott believe, for around $US10 billion in prizes (less than half of NASA's budget), companies could create the infrastructure needed for Mars, such as oxygen, a self-sufficient greenhouse and radiation-hardened living spaces. Garriott also says, in every room on Earth, there will be someone who would be willing to go to Mars. The only trouble is, a holiday on Mars never ends.
Ref: The Register, 27 January 2012, Newt Gingrich wants Moon to be 51st US state. I Thomson. www.theregister.co.uk
BBC News, 22 February 2012, A simple idea to get to Mars… but not come back. R Hollingham. www.bbc.co.uk
http://mars500.imbp.ru
Source integrity: ****
Search words: moon, base, Mars, "continuous propulsion system", NASA, Institute for Biomedical Problems, radiation, Richard Garriott, oxygen, prize, X-PRIZE, radiation, infrastructure, Richard Garriott.
Trend tags:
Travel religiously
Religious tourism, being so firmly rooted in the past, may seem like the opposite to space tourism. But interest in religious tourism is booming and, unlike other forms of tourism, does not seem to be affected by economic downturn. If anything, it may provide a valuable source of meaning and comfort. Many countries, from Italy to Turkey to Saudi Arabia, like to emphasise their religious foundations and the fascinating architecture that springs from them.
Italy has more churches per capita than any other country. Of the world's ten most visited Christian sanctuaries, Italy has seven of them. One reverend claims people tend to save up for a long time to make religious trips while the tourist board claims religious tourists tend to be wealthier than others, while spending less money on luxuries than average. Turkey is also developing as a religious destination, appealing potentially to both Christians and Muslims, for example, the Hagia Sophia Church in Istanbul was originally a church and converted into a mosque.
Five star hotels in Saudi Arabia, like Fairmont Raffles, are well aware of the power of religion to draw wealthy tourists to the area. Islam is the fastest growing religion in the world, growing at 1.5% over the next two decades (twice that of non-Muslim populations). The Kingdom issued 9.5 million religious visas last year, up 11.3%, and Umrah visas (for Mecca) rose by one million in 2011, from 2010.
Religion is hot and a lot more affordable than space travel – it may even take you closer to God.
Ref: USA Today (US), 11 April 2011, Religious tourists keep Italy on must-see lists. EJ Lyman. www.usatoday.com
Tourism Review, 4 April 2012. Turkey attracts visitors with religious travel hot spots. Anon. www.tourism-review.com
AMEInfo, 8 April 2012, Fairmont Raffles Hotels International in religious tourism showcase at Arabian Travel Market. Anon. www.ameinfo.com
Source integrity: ****
Search words: religious tourism, churches, spending, Italy, Turkey, Saudi Arabia, Fairmont Raffles Hotels.
Trend tags:
Backpackers aren't as young as they used to be
Baby boomers are the new backpackers, though they're not doing it as tough as they did when they were young. They've been variously called "rich-packers" and "flashpackers". But lucky for them, there are many reasons why they could have a better experience than young backpackers.
First, they have money – and young backpackers often live on the smell of an oily rag. They also have a more cynical view of life and are less likely to be ripped off or robbed. Unlike their younger counterparts, they commonly travel in couples and are not subject to constant casual sex with the locals. They also command more respect, it is claimed, if there is a complaint to be made. Last, they have much more reason to shop because they usually own a house in which to put their items. This last difference is important.
An Australian insurance company discovered a full 10% of over-50s wanted to go on a backpacking holiday, especially overseas. They have the time for a long trip, as well as the money for this affordable alternative. Only 37% were interested in a luxury holiday, compared to 60% who wanted a driving holiday. All of which seems to suggest that the middle-aged backpacker wants value for money, as well as the thrill of nostalgia for a time when the backpack was all they owned.
Ref: Huffington Post (US), 29 November 2011, The rise of the middle-aged backpacker. B Colclough. www.huffingtonpost.com
Apia.com, Baby boomers new backpackers, www.apia.com
Source integrity: ****
Search words: Over 50s, time, driving, overseas, money, respect, shopping, adventure.
Trend tags: