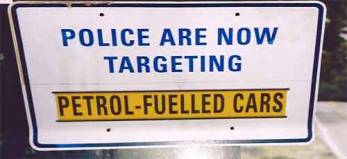 Automotive & transport
A Focus on Safety
In the past, the carmakers who were most likely to succeed were those that offered quality, high performance and low-cost autos (a dedication to this saw the Japanese rise to the forefront of the market). However, with more stringent environmental and safety rules, experts say that the new breed of car manufacturer will succeed by creating a new wave of vehicles that embrace emerging technology (like fuel cell vehicles), rather than trying to adapt existing designs. One such company attracting attention is Nagoya-based Witz Corp. They have presented drive-by-wire steering technology (similar to that used in modern jet aircraft) that sees the steering wheel completely removed from the axle. Instead of mechanical or hydraulic controls, the wheels are turned by digital commands from the steering wheel. Toyota is looking at a similar system in which groups of cars responding to the same commands. The idea is that what the lead car does (brake, accelerate or turn), the others copy – making for safer driving.Japanese auto manufacturers, conscious that an aging population may lead to an increase in accidents, are attempting to perfect cars that can protect both drivers and pedestrians. Nissan Motor Co has developed a way to control a car based on stored geographical information – so that the vehicle will automatically slow when approaching a curve or stop sign. Other innovations will see cars responding directly to the environment around them, sensing pedestrians, other cars or traffic jams.
Advancing technology is also paving the way for innovative design on the outside –charge coupled devices (CCD) and light emitting diodes (LED) will allow designers greater freedom when it comes to conceiving the way a car will look. Side mirrors (that many see as an ugly interference with the lines of a car) could be a thing of the past, with CCD cameras providing drivers with a clear 360 degree view, day or night. Another feature that might disappear is the traditional headlamp, replaced by LEDs which are smaller and narrower than normal lights. The first car to feature LEDs, Toyota's Lexus LS600h, is already in production, but other designers are keen to push the new technology to the limit – with lights in wavy lines or that run the length of the hood's front.
Ref: The Nikkei Weekly (Jap), 16 July 2007, 'Makers envision cars of the future'. www.nni.nikkei.co.jp ; The Nikkei Weekly (Jap), 23 July 2007, 'Making safer, smarter autos'. www.nni.nikkei.co.jp ; The Nikkei Weekly (Jap), 13 August 2007, 'New tech allows car redesigns'. www.nni.nikkei.co.jp
Search words: cars, car design, safety
Trend tags: Embedded intelligence
Source integrity: *****
Web 2.0 on Wheels
While the idea of a practical electric car may have died some time ago, one Scandinavian company has not only resurrected the dream, but plans to reinvent the way cars have been sold, owned and driven for the past century. Norwegian-based Think is set to release its vision of a carbon-neutral car, one which it believes could see it become the world's biggest electric car company. The battery-powered vehicle comes completely Web-enabled, allowing remote communication between car and owner – drivers can send text messages to the car to see if the battery needs charging or of it's time for a service. Sales of the car will also be Web-based, cutting out overheads for showrooms, although the car can be test-driven through car-sharing franchises. Customers will order, customise and pay for the car online, before the car is assembled from ready-made components (a business model similar to DELL). The manufacturer doesn't build the car before it has been paid for, a concept that Think director claims is the way of the future. But how can Think succeed where other have tried and failed before? Many would remember Ford's foray into the electric car market with the EV1, a car that cost them US$1 billion to develop in the 1990s. One problem facing electric car designers is the cost of the battery, which often puts the price of the vehicle out of the reach of the public. Think plans to escape this conundrum by taking the cost of the battery out of the sale price – instead leasing it to the customers for a 'mobility fee'. Another problem is the possibility that the battery may run out of charge at an inopportune time, leaving drivers stranded. Thinks hopes to overcome this with the installation of a Stirling engine. If it can be successfully modified to work in the electric car, the engine would use anything from restaurant grease to cow dung to charge the battery, extending the car's driving range by hundreds of miles. Both the British and Norwegians have expressed interest in placing fleet orders, while one US Company has ordered 400 cars.
Ref: Business 2.0 (US), August 2007, 'Have You Driven a Fjord Lately?', Todd Woody. www.business2.com
Search words: Electric cars
Trend tags: Hybrids
Source integrity: ****
Entertainment Hits the Road


Auto manufacturers seem in a rush to turn the family car into a mobile entertainment centre. Companies like Chrysler, Mercedes and Ford are now providing consumers with in-car electronics – such as satellite TV, video game consoles and a digital music library – all linked to the car's stereo. Kids in the back seat can be watching DVDs with wireless headphones, while adults get their own music delivered to the front seat by satellite radio. With consumers now accustomed to being able to take music and videos wherever they go, car companies are under pressure, from both customers and from the electronics industry, to provide phone- and iPod-friendly gadgets onboard. There are a number of reasons for this audiovisual onslaught. The auto market is tougher than ever, and manufacturers are finding they can no longer rely on things like fuel economy or reliability to sell a car, and are instead wowing the consumer with onboard extras. Advances in speech-recognition technology are also allowing drivers to communicate with devices vocally – selecting music with voice commands means safer driving. This integration of home and car entertainment systems has seen manufacturers raking in the cash, with sales of video gear, DVD players and audio systems nearly doubling figures for 2003 – one-fifth of customers purchasing a Town & Country minivan now purchase audio and video add-ons to the tune of US$470.
Ref: Businessweek (US), 17 December 2007, 'Living Rooms On Wheels', David Welch. www.businessweek.com
Search words: in-car entertainment, I.C.E.
Trend tags:Boredom, convergence, entertainment
Source integrity: *****
Copying Cars in China
The battle to stop China producing cheap copies of Western-designed goods was lost long ago, with everything from counterfeit Louis Vuitton handbags to computer chips available at a fraction of the cost. But several car manufacturers are in an uproar over Chinese-made vehicles that they claim are a direct copy of their popular models – and which are now available for sale in Europe at less than half the price. BMW has filed a suit against China's Shuanghuan Automobile to prevent the sale of the CEO (which BMW claim is a brazen copy of their X5) in Germany, and DaimlerChrylser has started legal action over Shaunghuan's Noble, which seems to be more than reminiscent of the Daimler Smart mini-car. This has not, however, stopped the Chinese showing their new vehicles in Europe, claiming they were obviously inspired by many European carmakers, but the end product is all their own work. With predictions that the Chinese are likely to become serious competitors in the near future (Brilliance Automobile, which collaborates with BMW, have been getting some serious attention for their new compact car), the Germans are adamant they must protect their image. Others, however, see this wave of copies as no big deal and point to the fact that in China copying something is part of the culture and is not seen as a bad thing. Moreover, while the rear of the CEO may look exactly like the X5, the front looks more like a Toyota Land Cruiser – and the interior is entirely different altogether. Industry analysts say European carmakers need to accept that this kind of copying is part of doing business in China, and even if the body may appear copied, what's under the hood is a different story. People forking out for a top of the range BMW are not the same people that would be looking at a cheap Chinese auto. Despite making waves with their design, the Chinese are still struggling to come up with a car that fares well in safety tests.

Ref: The Australian Financial Review (Aus), 14 September 2007, 'China's car makers send in the clones', Mark Lander. www.afr.com.au
Search words: Intellectual property, China
Trend tags: Power shift Eastwards
Source integrity: *****
Bicycle rental gets big
JCDecaux, the world's second largest outdoor-advertising company, has recently won a contract for a bicycle rental scheme in Paris. The contract, which will provide them with exclusive rights to the city's 1,628 billboards, requires the company to install and service an urban bike system. Since its installation, Velib (from 'velo' and 'liberte') has proved a huge success, with more than 4 million Parisians hiring the 10,000 bikes available. Cyclists pick up the bikes at one of the 750 self-service points or are redirected to another nearby if the station is empty. For €1, renters receive a day pass that allows them unlimited half-hour rentals, with the option of purchasing more time. Bikes are kept serviced and clean by a team of maintenance staff on eco-friendly electrically assisted bikes, with any rental bikes in need of major repairs picked by truck. JCDecaux didn't invent bicycle-rental schemes, but they may have found the key to making them a success. Small operations launched in the past have failed, mainly due to vandalism and theft, but by making users pay with credit cards, any damage can be traced. The bicycles have also been made to withstand intense use, and are heavier and sturdier than regular bikes. JCDecaux plans to roll out a further 10,000 bikes and increase the number of docking stations to 1,451 – making them four times as plentiful as metro stations.
Ref: The Economist (US), 22 September 2007, 'Vive la Velorution! www.economist.com , Springwise (Neth), 16 July 2007, 'City bike schemes' www.springwise.com
Search words: Bikes, bicycles
Trend tags: Urbanisation, public transport
Source integrity: *****