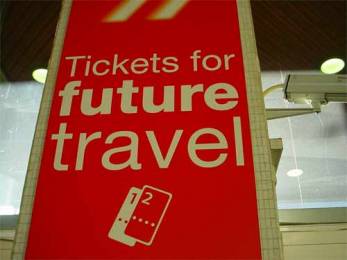 Airlines, hotels, travel & tourism
Airline Premiumisation
With the premiumisation trend seeing a boom in first-class travelling, airlines are tripping over themselves to provide their passengers with a seemingly ridiculous range of extras. It's hard to believe that a decade ago, business class passengers sat in seats (albeit fully reclinable ones). Now it seems that a flat bed hardly qualifies as adequate, with airlines offering everything from feather pillows and quilts to double beds or private suites for those travelling in first class. Emirates are offering seven-course meals for their first class flyers (or six for business class), while Gulf Air has onboard chefs to prepare passengers' meals individually. And the pampering starts before take-off. Express check-ins and exclusive lounges mean an end to airport queues and more time for pre-flight indulgence. Virgin has launched a hotel-style check-in which sees customers driven to the airport by limo. The driver takes your check-in details so that your arrival at the airport means a swift ushering through a dedicated security channel, and you're off. The Virgin Clubhouse, as it's known, offers a western-themed spa, rooftop garden, three dining options and a cinema. British Airways has planned 'gold' and 'silver' lounges, lit by Swarovski chandeliers. Qatar Airways even has luxury vehicles waiting on the runway that take its valued customers directly to a 'premium terminal'.
Ref: The Sunday Times (UK), 4 November 2007, 'Comfy, are you?', Matt Rudd; Business 2.0 (US), August 2007, 'Lounging in Style', Lindsay Blakely. www.business2.com
Search words: Airlines, travel, luxury
Trend tags: Premiumisation
Source integrity: *****
Low-Cost Travel and Other Trends
Low-cost carriers and competitive offers mean travel today is more affordable and accessible than ever before. We're also being more encouraged to travel, with guidebooks, television shows and websites all showing us just what we're missing out on by staying at home. With all of these people wanting to go places, the travel market has opened up to provide a huge range of niche experiences to suit nearly every interest. 'Expeditionary cruising' to places such as Antarctica, the Kimberly Coast and Papua New Guinea is proving popular with those looking for more than an onboard nightclub. 'Sanctuary tourism' (also labelled disappearance tourism), where holidaymakers cocoon themselves in luxury resorts, is the choice for those wishing to escape the hectic pace of daily life. Five-star resorts provide the setting, with self-contained bungalows and waterside villas removing the need to go anywhere or see anyone. The parallel to this trend is 'house-party tourism': friends or family renting a large luxury house for a period of intense socialising. African safaris are as popular as ever, but this is certainly not slumming it. Five-star camping or luxury lodges now form the basis for a big cat experience. 'Food and wine touring' or connoisseur travel is especially popular with baby boomers. From cooking classes in Thailand to wine trails in France, travellers can now graze their way around the globe. Those wishing to make a difference can try 'volunteer tourism'. Volunteer programs allow travellers to donate their time to building houses or digging wells. At the less helpful end of the spectrum are dark tourism and vulture tourism, where travellers tour the sites of former war zones or cities ravaged by natural disasters, spurred mainly by low-cost airfares to these areas. The trend for self-improvement has also sparked a wave of educational tourism. Travellers can see the sights while brushing up on their painting skills, learning a new language or adding to their knowledge of antiquities.
Ref: The Australian (Aus), 6 September 2007, www.theaustralian.com.au ; The Independent Traveler (US) 11 January 2007, 'Travel trends 2007: what to expect', Ed Hewitt. www.independenttraveler.com
Search words: Travel trends
Trend tags: -
Source integrity: ****
Slow Going
If discos and flashy cocktails on a crowded commercial cruiser doesn't appeal to you, then crossing the world's oceans as a passenger on a cargo ship could be an ideal alternative. Looking for a more 'authentic' travel experience, people are seeking out adventures aboard cargo and canal boats. This 'slow travel' trend reflects the need for travellers to use their holiday time to escape the stresses of the modern world and get some much needed peace and quiet. Voyages on commercial cruise ships and planes are packed with activities and on-demand entertainment, but onboard a cargo ship, passengers are free of these sensory overloads, instead breaking up the day with meals. The need for isolation is also a factor, with passengers happy to be able to switch of the phone and the laptop and experience the liberation that comes with being cut off from the outside world.
Ref: The Australian, (Aus) 19 October 2207, 'Sirens and sea legs', Yannick Thoroval. www.theaustralian.com.au
Search words: Slow travel
Trend tags: Slowing down
Source integrity: ****
Inflight Calls
The quest for peace and quiet has sparked a debate over the use of mobile phones on planes. While mobile phone use has, until now, been banned on all flights to prevent interference with aircraft instruments (largely untrue), some airlines are now allowing passengers to send texts and emails, with full use of phones to follow in the near future. While the risk of network disruption will still mean phones need to be turned off during take-off and landing, Air France is looking at installing a 'no phones' light which will be switched off once the plane is in the air – just like the redundant 'no smoking' light. With aircraft now capable of supporting the technology for voice calls, they must decide whether they will allow passengers to use it. Research has shown many people are against the idea of voice calls on flights, due to noise issues, but others would like the opportunity to send text or access emails. Some carriers, including Qantas, are considering a data-only service, while others are looking forward to the extra revenue that voice calls (charged at international roaming rates) would provide them.
Ref: The Economist (UK), 15 December 2007, 'Your call'. www.economist.com
Search words: Airlines, mobile phones, cell[phones, privacy
Trend tags: Privacy, always-on
Source integrity: *****
2008 Travel Trends
Forbes has released a list of the top ten trends currently impacting the travel industry. The biggest trend is eco-awareness. With 43 million US travellers expressing concern for the environment, the travel industry is going beyond carbon-offsetting schemes and introducing green initiatives like fuel-efficient rental cars, hybrid limousines or green programs in hotel chains. The luxury travel sector is seeing a rise in private jet charters, with the number private jet operators now at around 500 worldwide, compared to just 100 five years ago. Falling prices have also opened up yacht charters to more than just the mega rich. Hotel chains are cashing in on the villa rental market by building their own upscale beachside properties. Even 'roughing it' doesn't mean an end to all creature comforts as camping sites worldwide are adding extras like spas and theatres. Holidays that include multiple generations of families are on the up as people come to appreciate family time, however, there's also a new sector for adults-only travel, recognising that not everyone is enjoying family time. The human element is also returning to travel, with upscale travellers often employing the services of travel consultants to plan their trips. Entourages are in too, as an increasing number of rich travellers are opting to bring the nanny or even a chef on their holiday. Finally, there could be decline in the number of leisure trips taken, with experts citing increasing work pressure as the reason.
Ref: Forbes.com (US), 31 August 2007, 'Ten Travel Trends You Can't Ignore', Shivani Vora. www.forbes.com
Search words: Travel trends
Trend tags: -
Source integrity: *****
Airline Industry Trends for 2008
Another list of trends, but this time from the perspective of the airlines. Carbon offsetting is set to continue into the new year. Although it has seen limited success in the past, experts predict the current focus on environmental issues could see it take off. With competitive pricing playing havoc with profits, airlines are turning to ancillary services to raise revenue – flight insurance or priority luggage handling. Airport lounges and entertainment could also prove lucrative as customers experience longer delays. A strong Euro could see an influx of Europeans taking their holidays in the US, while threat of an American recession will see the country's travellers looking for no-frills flights at lower prices. This could also see carriers minimising loss by using smaller planes for short domestic flights. On the ground, customers might soon have option of Radio Frequency Identification Tags (RFID) to prevent baggage loss. With several airlines already trialling the system, it could be offered across the board or as an ancillary service. Some airports have introduced charging stations, where customers can recharge laptops, mobiles phones and other devices for a small fee. Self-service kiosks are set to become more widespread as travellers become accustomed to check-in procedures. Finally, airlines will be trying harder to win the loyalty of customers with extra privileges to offset the temptation of lower prices from other carriers.
Ref: Travel Daily News (US) 23 January 2008, 'Top Ten Travel Trends for 2008: An Airline Industry Perspective', Raphael Bejar. www.traveldailynews.com
Search words: Travel trends, airline trends
Trend tags: -
Source integrity: ***