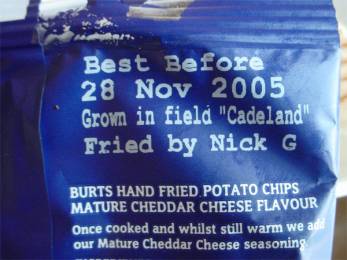 Food & drink
Fix-and-freeze dinners
Over the past year, the US has seen an explosion of what's known as fix-and-freeze companies: stores that allow consumers to purchase pre-prepared ingredients for cooking at home. Leading the field is Dream Dinners, who have seen an increase from 49 stores in April 2005 to 163 across the country in 2006, mainly due to a franchise scheme also offered by competitors including Let's Dish, Super Suppers and Dinner by Design.While the name and menu may differ from company to company, the set-up is essentially the same: customers choose from a monthly menu, then book a time to visit the store.Once at the store, customers assemble their meals from the pre-cut ingredients, customising to suit their particular taste or dietary requirements. Meals are then packaged and ready for the freezer, complete with cooking instructions. The idea behind fix-and-freeze, and the reason it's proving so popular, is that it allows time-starved parents to provide their families with a nutritious hot meal at a lower cost than take-out or TV dinners. There's no time spent shopping, no cleaning up afterwards, and because you buy only what you'll use for the meal, there's no waste (though no one has mentioned anything about the ziplock bags and disposable trays used for the individually-packaged ingredients). And if you're really pressed for time you can have a whole month's worth of dinner components delivered to your door. Just to prove that any idea can be upgraded, New York's Really Cool Foods has taken the fix-and-freeze concept and altered it to suit the single city-dweller. Customers pick up a recipe card at the front of the store and select colour-coded components to complete their meal - all made with organic ingredients.
Ref: Springwise (Neth), 1 June 06, 'Family dinners 24 at a time' and 23 July 06, 'Meal prep goes uptown'. www.springwise.com
See also What's Next issue 12 (Retail section).
Search words: food, meal shops, cooking, self-assembly, dinner
Amazon groceries
In a move that has baffled many, Amazon.com has added a grocery store concept to its range of products. For the online giant it's a foray into a sector of the market that hasn't fared so well in the past. Companies such as Webvan and Pets.com disappeared as quickly as they emerged, trying to keep prices down despite the high costs of shipping. But Amazon are taking a slightly different approach, shipping only non-perishable items, many of these niche products and high-end groceries not available at local grocers. They also hope to appeal to businesses with many of the items being sold in lots. The store is complete with Amazon's usual customer reviews and recommendations, so you can see that customers who bought Rice Krispies also bought an entire season on South Park.
Ref: New York Times (US), 24 July 2006, 'After Delving Into 33 Other Lines, Amazon Finally Gets Around To Food', B. Tedeshi. www.nytimes.com
Search words: online shopping, groceries
Drinking trends
So what are people drinking this year? The most obvious trend seems to be a rosé revival. While many of us may recall it being a bit naff, there's a new generation of drinkers who can't seem to get enough of it. Champagne is in, with the large bottles especially big sellers. And it's not just cheap bubbly, with luxury and limited edition bottles also going fast. The recent hot weather in Europe has done wonders for the lighter white wines, with drinkers heading for the more aromatic whites rather than those high in alcohol. Pinot grigot, albarino and prosecco are all the rage, as are wines from the Alsace and South Africa. Screwcaps, once a sign of bottom-shelf wines, are being embraced at last. And if consumers are leaning towards the lighter wines, they are just as keen on the stronger beers. European beers with a higher alcohol content, like the Belgian Duvel (8.5%) are becoming much more popular, as are super-chilled beers such as Guinness Extra Cold. Meanwhile German brewers Karlsberg have introduced their new brew, Karla, in an effort to get more women to drink beer. Marketed as a health drink, it's a low-alcohol beer mixed with fruit juice - and available in pharmacies.
Ref: The Telegraph (UK), 7 July 2006, 'Wine trends: what's hot and what's not today', J. Ray. www.telegraph.co.uk Springwise (Neth), 3 July 2006, 'Functional beer for women'. www.springwise.com
Search words: drink trends, wine, beer
Just desserts
Now here's a trend your dentist will really hate you for. Dessert dining is being hailed as the new movement in niche dining. Restaurants such as Room 4 Dessert and the recently-opened ChikaLicious are catering to the sweet-toothed diner with a menu consisting entirely of dishes usually reserved for the last course. According to the owners of ChikaLicious, the idea is to be able to enjoy a top-class sweet without paying top dollar for a main meal. Anyone for a slice of pizza and a three-course dessert? While the idea may be a new one to New York, chocolatier Max Brenner has been enjoying the success of his chain of chocolate restaurants for a number of years. Since opening the first cafe in his homeland of Israel in 1996, the chain has expanded to include stores in Malaysia, the Philippines and 12 locations in Australia. Brenner opened his first New York store in early August.
Ref: Springwise (Neth), 4 July 2006, 'Dessert-only restaurants'. www.springwise.com Cool Hunting (US), July 2006, 'Max Brenner', Ami Kealoha. www.coolhunting.com
Search: dessert, chocolate, restaurants, fads