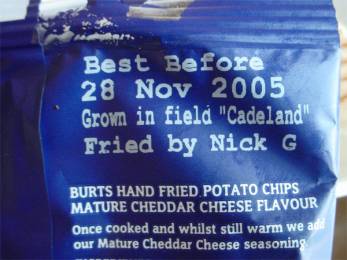 Food & drink
Molecular cuisine
Personalised medicine is a major trend in healthcare and pharmaceutical circles and it looks like mass customisation is about to spill over into food too. Given that cooking is essentially a mixture of chemistry and physics this is hardly surprising. Until now the science of cooking has been largely confined to industrial kitchens and the R&D labs of major food companies, but this is changing. First, the chef of the world's best restaurant (the Fat Duck in Bray, UK) has started to talk about 'molecular gastronomy' and second a company called Sciona in Boulder, Colorado (US) has just raised third-stage financing to develop genetically-tailored diets. The aim, ultimately, is to create a range of individually-tailored eating plans and food products based on your genetic make-up and family medical history. Meanwhile, in Tokyo, a French restaurant has started to offer cooking classes using ingredients and recipes specifically selected to prevent ageing.
Ref: Red Herring (US) 19 December 2005, 'Top 10 trends: nutrigenomics' www.redherring.com Nikkei Weekly (Japan) 7 November 2005, 'anti-aging research yields unusual food for thought'. www.nni.nikkei.co.jp
Links: customisation, diets, restuarants, food
Open source beer innovation
A company called Brewtopia in Australia is offering customers around the world the opportunity to create their own beer. The 'sell' is that Brewtopia is an open source beer company (ie, it uses the principal of open or collaborate development that's behind software like Linux). However, in practice most customers will probably just want to customise their beer by choosing their own custom label and beer mats. One other nice touch is that customers get a share in the company after buying a case of beer. On a related note, Kettle Foods Inc (a potato chip maker in the US) is using 'open source' innovation principles by asking members of the public to decide new flavours via its website.
Ref: nowandnext.com. See also www.brewtopia.com
Links: beer, open source innovation, co-creation, customer made
Materials innovation
A company called Unistraw has launched a product called the Sipahh flavouring straw. The product was conceived back in 1996 when a UK-based industrial designer noticed that flavoured milk drinks cost up to 300% more than regular milk. The resulting invention is a transparent straw containing two filters and a series of unibeads (2mm in diameter) that deliver flavour to the milk. The initial product (available in a range of flavours) has already taken almost 25% of the flavoured milk additives category (by value) in Australia. Other products that deliver flavour, vitamins and even pharmaceuticals are in the pipeline. Another interesting materials-based innovation in Japan is a product called Cook-up from a company called Unicharm. This is a (non-woven) fabric sheet that keeps vegetables – especially leafy vegetables like lettuce – fresh for longer. Simply add a piece of the material inside a normal plastic bag and humidity, temperature and respiration is controlled, thus increasing freshness and longevity.
Ref: nowandnext.com. www.unistraw.com Nikkei Weekly (Japan) 14 November 2005, 'New fabric keeps vegetables fresh'. www.nni.nikkei.co.jp
Links: straws, sipahh, flavouring, materials, packaging, fresh, freshness, additives
Pizza vending machines
As regular readers will know, we're hugely enthusiastic about the future potential of vending machines. Developments in digital cash, GPS technology and 3G cell phones mean that soon you'll soon be able to find a vending machine, get directions and ask it to heat you something up based upon your estimated time of arrival – all with your mobile phone. Payment will also be made via your phone. We've already seen shoe vending machines (Reebok), tech vending (iPod) and hot chip vending (McCain). On a slightly more mundane, but nevertheless interesting, level comes news of a company in the US called Wonder Pizza. The Michigan-based company is attempting to dominate the global pizza market using an US $18,000 vending machine. Will it work? Almost certainly, as long as companies like Dominoes or Pizza Hut don't swallow them up first. The idea of vending pizza fits with the trend for convenience and eating on the run and people increasingly like to buy things without interacting with others.
Ref: Herman Trend Alert (US) 3 January 2006. www.hermangroup.com
Links: vending, pizza
Dishing out the food trends for 2006
What's hot in food for 2006? According to the Washington Post (US) the answer includes plain-language labelling (especially targeting people with food allergies), Eastern European comfort food, free samples, fancier foods in casual places, baby-sized portions (one-bite food for adults), small plates (and small plate diets), more organics, boutique chocolate, acai (it's a fruit), logos to identify healthy foods, ready packaged fruit and vegetables, portion-controlled packs, whole grains in unexpected places, fortified foods, accurate ingredients listings, boomer food and faith-friendly foods such as Christian-raised chicken (seriously!) Entrepreneur magazine (US) lists some other hot food ideas including franchises for companies like Dinner By Design and quick service restaurants like Wetzel's Pretzels. Meanwhile, iVillage identifies Latin cuisine, Mediterranean cuisine (especially Greek and Tuscan), organics and farmers markets as some of the key things to watch in '06. Are any ingredients missing from this list? Lots, but the key ones are probably seasonality and steam ovens.
Ref: Washington Post (US) 2206 Food Forecast C. Sagon/C. Sugarman www.washingtonpost.com Entrepreneur (US) January 2006, 'In the know', S.Wilson. www.entrepreneur.com Village (US) 1 January 2006, 'Trend Alert 2006. www.ivillage.com See also Nikkei Weekly (Japan) 7 November 2005, 'Steam ovens ease concerns about fat, salt'. www.nni.nikkei.co.jp
Links: food trends