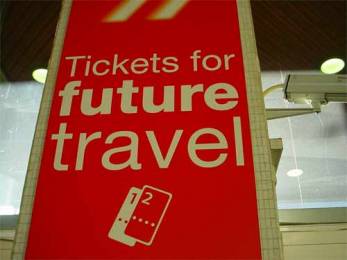 Airlines, hotels, travel & tourism
Your personal tour guide
Some of the most satisfying holidays seem to be those where you have your own personal tour guide. They can take you places where most tourists don't (or won't) go. With that in mind, Google's internal start-up, Niantic Labs, created a new app in late 2012, Field Trip, now available on Android phones, Google Now and Google Glass. The idea is that it toils away in the background and then offers you tips – like a knowledgeable local who tells you what's around without you having to ask for it. Google calls this 'seamless discovery'.
The app matches your GPS coordinates with something nearby, vibrates sharply, then a whispered computerised voice tells you what's there. It could be a flagship store, some takeaway food you'll love, or an ancient building you ought to go inside. Google has created its database from information gathered from over 70 travel information providers like Time Out, Zagat and Frommers.
At first, Field Trip assumes you love and want to know everything but, when a tip pops up, you can decide whether or not it is interesting and whether you want more of it. After a while, a picture of your preferences will emerge. You can set the frequency of tips in case there are too many. In a way, this app provides a kind of digital annotation, and if you are a very curious person, you may appreciate being continually informed about what is nearby. Of course, if you set preferences too narrowly, you could miss out.
A recent alternative, Kamino, is a crowdsourced app of walking tours, with tips from locals about what's available in their city on the way – quirky attractions, restaurants, shops, and hidden gems. This information does not come from mainstream guidebooks and these themed 'urban hikes', eg, NYC whiskey tour, may be more appealing than shops and restaurants.
Kamino already works in 50 US cities and others, including New York, San Francisco, L.A., Paris, London and Tokyo. To date, users have co-created over 500 guides and no doubt more are on the way. It looks like having a personal tour guide is de rigueur, thanks to smartphones. No wonder mainstream paper guides are on the way out.
Ref: Financial Times (UK), 25 January 2014, 'Eyes left: a day out with Google' by B Lanyado. www.ft.com
http://www.gokamino.com
Source integrity: *****
Search words: Field Trip, Google, 'frictionless', 'seamless discovery', Frommers, Zagat, preferences, Niantic Labs, Kamino, 'urban hikes'.
Trend tags: Connectivity
Why AirBnB works
When AirBnB was first started in 2008 by a trio of San Francisco-ites, they probably had no inkling how far their idea would travel. In our story last year, Travel in the sharing economy, we called it an example of microcapitalism and the sharing economy. It's still part of the sharing economy, but it's now capitalism on a grander scale – the company in 2014 raised another 280 million pounds to fund its expansion. More than 15 million stays have been booked since 2008 and there are now 800,000 properties in 190 countries on its site – more than Booking.com.
Why does it work so well? Ordinary people get to rent out spare rooms, parts of rooms, or whole homes for a reasonable rate or, if they can command it, high tourist rates. This helps those with high rents to pay in expensive cities, single people, empty nesters or the naturally hospitable, while paying only 3% to AirBnB for the opportunity. Guests pay 6-12% to AirBnB and stay in out-of-the-way places, in quirky rooms, or in standard, conveniently located flats or studios, without committing (in many cases) for more than a couple of nights. It might be the only opportunity to stay in a castle – or a tiny village where there are no hotels. The most popular destination is Paris.
The best thing about AirBnB is its peer review process, where guests write a review of their hosts and then their hosts write a review of them. These reviews may be private or public but everyone is encouraged to write something publicly. It means that a frequent user of AirBnB will develop a profile that encourages other hosts to accept them quickly, and successful hosts will develop a profile that attracts new visitors. This feature, we believe, is crucial to trust in the system.
The downside of AirBnB is that it may hurt small BnBs and budget hotels, who normally operate in this market. The challenge for them, perhaps, is to offer the more friendly, personal experience that AirBnB can provide. Government regulations sometimes forbid people to rent out their homes regularly, or mandate certain safety provisions, and users of the site are urged to check for legality – AirBnB has already been fined by Catalonia for so-called illegal lets in Barcelona. This does not surprise us. The sharing economy serves people who are democratic but tends to alienate those who previously held the power.
Ref: Daily Telegraph (UK), 9 August 2014, 'The rise and rise of AirBnB' by L Porter. www.telegraph.co.uk
Source integrity: *****
Search words: travel, B&B, Booking.com, Paris, peer-review, cancellation, Onefinestay.com, Housetrip.com, UK, budget, government, regulations.
Trend tags: Connectivity

Residence Class for the wealthy while the rest squash in

For super wealthy fliers, who aren't quite ready for the private jet, Etihad has introduced a cut above - Residence Class. It's an apartment in the sky. Travellers can spend $US20,000 to fly from Abu Dhabi to London in a 125 sq ft three-room penthouse in the nose cone of a new Airbus A380. It's got everything, from Savoy-trained butler to TVs in The Lobby lounge and double bedroom. Best of all, they can be completely alone, a rare treat in an airplane full of people.
For the slightly less wealthy, Etihad is creating nine micro apartments on the A380 with many of the same features as The Residence and a sliding door to protect them from the outside world. Adjacent apartments can be joined together to create a double bed for couples (but the walls don't quite go up to the ceiling). There is even a shower, vanity unit and minibar. Emirates is following suit with its own 'bedroom concept': fully enclosed rooms with all the amenities of a luxury yacht.
For the rest of us, seating is becoming more cramped than ever. Recaro, a seat-maker, is working on designs for cabins where seating is at different heights to fit more in. It's even making existing padding thinner and removing reclining mechanisms to create more space. Airbus has created a bicycle-style seat where travellers can perch, rather than sit. The message to economy travellers seems to be: don't get too comfortable.
At the same time, more first class seats are being turned into business class seats, presumably because the business market is such a lucrative and reliable segment. There was a time, of course, when only the rich could fly. Now it looks like the continual polarising of air travel into one for the wealthy, one for the poor.
Ref: The Daily Telegraph (UK), 27 November 2014, 'Etihad's Residence, the world's best first-class cabin' by J Arlidge. www.telegraph.co.uk
The Economist, 20 September 2014, 'Piketty Airways'. Anon. www.economist.com
Source integrity: *****
Search words: flat beds, premium, Etihad, Residence Class, wealthy, Savoy, The Lobby, private jet, apartments, 'bedroom concept', Emirates, 'La Premiere', economy, reclining, seating, Ryanair, legroom.
Trend tags: Income polarisation, price polarisation
Drop the pilot
For those poor souls who are afraid of flying, the idea of being in a plane without a pilot would be unthinkable. Even the majority who are not afraid of flying may baulk at the idea of travelling the whole distance on autopilot. But that is just what's in store.
When there are fatal accidents in the air, 50% are caused by human error. Quite often, pilots rely on flight control systems and not enough on their own judgment – but the problem here is locus of control, not the system itself. The way airlines see it, pilots also cost money in salaries (240,000 UK pounds), simulator training, healthcare, hotels and retirement benefits. If pilots were removed from the cockpit, airlines could offer panoramic views to the wealthy! (You might think these ideas would also bring all seat prices down… but we doubt it.)
Autoflight computers already take over when the plane is only 30 metres off the ground, so it is really only in take-off and landing that pilots do the heaviest work. This provides an argument for at least one single pilot, rather than two. The military already use unmanned aircraft and drones because they say computers are much less prone to error than people, and they "think" with split second timing.
BAE Systems operates an unpiloted aircraft, Jetstream, which uses a flight management system called Airspace Integration Processor (AIP). It uses a combination of radio, radar and camera sensors and communicates via satellite, taking into account weather conditions and air traffic restrictions. There are also crew present, just in case.
Cargo carriers like FedEx and UPS will probably take up pilotless planes first and all cargo may travel without a pilot by 2035. Another development, flying cars or 'personal air vehicles' (PAVs) is moving us towards flight automation. If people start flying their own cars, computers will have to be in control of all air traffic to avert a disaster. Flying cars may be available by 2025.
Faith in technology is all very well, but can flight control systems possibly replicate human consciousness, awareness or prediction? Humans still have a primitive fear of not being in control. Who will be willing to travel thousands of feet up in the air without a pilot on board? As one psychologist said, "The need to see a James T Kirk on the bridge is strong". But remember somebody got on the first plane – and now everybody does.
Ref: New Scientist (UK), 9 August 2014, 'Who's flying this thing? End in sight for pilots' by P Marks. www.newscientist.com
Source integrity: *****
Search words: flight control system, crew, error, fares, fuel efficiency, autoflight, automation, ACROSS, single-pilot, incidents, AIP, FedEx, UPS, cargo, PAVs, pilotless, control.
Trend tags: Automation
They rate you too
In our story, AirBnB – blue sky potential, we noted the practice of peer review was crucial for trust in the system. In fact, peer review needs to operate in all peer-to-peer networks, because of the potential dangers of anonymity. Buyers would rather buy from someone who has a solid rating on eBay, readers tend to trust a review by somebody known rather than a stranger, and AirBnB hosts want to make sure the person who enters their home isn't going to make off with the family jewels. The new cab off the rank, UberX, rates its drivers with stars out of five.
The experience of giving somebody a rating is not always pleasant. When people are required to pass judgment on one another, they may make false ratings to protect themselves. For example, some Uber drivers say they will not pick up unless they get a five-star rating. On BlaBlaCar, 98.9% of ratings are five stars. This kind of behaviour is less obvious on AirBnB or eBay, but no doubt having to give someone a rating creates some kind of conflict.
YouTube used to have a one-to-five-stars system for rating videos, but moved to a simple thumbs up or down system in 2009 – most people had rated one or five stars anyway. This just goes to show we tend to think in absolutes, rather than shades of grey. No wonder we don't want to rate each other. Who wants to endure their ratings on the internet for the rest of their lives?
Ref: New York Times (US), 29 August 2014, 'Having your life reviewed' by D Ephron. www.nyt.com
Forbes (US), 14 August 2014, Uber's ratings terrorize drivers and trick riders. Why not fix 'em? By J Bercovici. www.forbes.com
Source integrity: *****
Search words: Uber, rating, Yelp, Lulu, restaurants, web.
Trend tags: Co-creation, connectivity