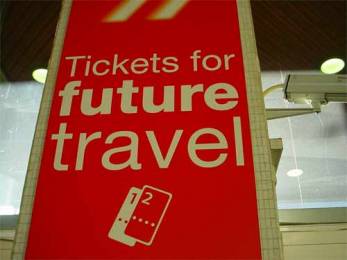 Airlines, hotels, travel & tourism
Flying "Tiffany versus Wal-Mart"

In an era of global recession and austerity, it seems like corporate madness to introduce super-expensive, super luxurious, private rooms on airlines where a single trip from Singapore to London costs almost US $20,000. But a number of carriers, including Singapore, Emirates and Etihad, have recently done just that.
The Air Transport Association says revenues for premium travel – the sector in which carriers make 30% of their revenue - declined by 20% from 2007 to 2009, compared to a 10% drop in overall air traffic. Most airlines, including most US carriers, Air Canada and Qantas, have removed or reduced their first class seats, yet some have decided to go in the opposite direction. It's what analysts call a "Tiffany versus Wal-Mart" strategy.
It's partly down to the fact that the new A380s offer about 40% more legroom than long haul 747s and airlines weren't sure what else to do with it. If they used the space to make economy more comfortable, passengers wouldn't pay for premium economy. Instead some airlines have decided to offer extreme luxury to add additional gloss to their brands in the way that Concorde did for BA and Air France. However, whether these tactics will win any battles in the airline wars remains, um, up in the air.
Ref: Newsweek (US) 'A room of one's own', by J. Tepperman April 5, 2010
See also: http://simpliflying.com/2009/singapore-airlines-a380-suites-–-a-class-beyond-first-or-a-first-class-branding-debacle/
Source integrity: *****
Search words: Airlines, luxury travel
Airlines go backwards
Air travel is the only form of mass transport that has gone backwards over the last ten years. Trains go a bit quicker, cars are more intelligent, bikes are cheaper and lighter. Even buses have got more comfortable. But air travel offers cramped seats, longer security checks, and ever more exotic ploys to extract cash from the unwary passenger. Flying is no fun.
Over the past ten years, airlines have lost around US $50 billion because of September 11, rising fuel prices, and recession. It is even worse for international carriers in Europe and the US. The airline with the most passengers is not American Airlines or Delta, but Dallas-based budget carrier Southwest Airlines. The fifth biggest is Irish budget airline Ryanair. Unlike BA, which lost almost a billion dollars over the past two years, it has stayed in the black and flown millions more people.
The problem for carriers is that people expect their flights to be better. The author Alain de Botton says that, most of the time, capitalism has produced cheaper goods at a higher quality. But the airline industry has got cheaper but quality is worse. And it's a surprising trend too, he says, because of the lack of apology.
Airlines are far more focused on two trends we take for granted: the steep fall in fare prices and the rise in safety. Qantas says that when the airline began flying abroad in 1935, a trip from Sydney to London cost the equivalent of 122 weeks of an average person's salary and took several days. Today it is just over a week's salary and takes 23 hours.
One thing is certain in the airline business: flying is unlikely to get faster. Ironically, in a world used to technological advances, you cannot fly as fast as you could ten years ago because the passenger supersonic jet is dead. Several years ago, Airbus and Boeing - the world's two biggest passenger jet manufacturers – tried to figure out if the next best thing should be a super fast jet or a great big one. Boeing went for neither and Airbus chose bigger because the industry wants lower costs per seat rather than faster seats.
Meanwhile, people hope to see the hassle of airport security diminish. Advances in scanning technology may mean an end to the inconvenience of removing shoes, belts, watches and everything in your pockets.
Hopefully, flying is on the verge of becoming greener. Boeing and Airbus are using carbon fibre reinforced plastic composites (light, tough parts that you often see in golf clubs and fishing rods). Large parts of Boeing's new Dreamliner passenger jet - due to start commercial flights later this year - and Airbus's A350 - due in 2012 - are made of composites which promise dramatic fuel cost savings.
Another green trend, which was once thought unlikely to come to much, is biofuels. The last two and a half years have seen a big jump in the number of airlines testing fuels derived from, eg, algae or coconut oil.
Whether this makes us feel less guilty about flying remains to be seen, but the future could start to transform for airlines. Instead of leaking money, they may become financially robust, which could lower the endless round of cost cutting. Stronger airlines might also have the clout to persuade airport owners and governments to improve creaking infrastructure and tackle security delays. Flying may even become fun again.
Ref: Financial Times (UK), FT Magazine, 'Flying backwards' by P. Clark, June 26, 2010
Source integrity: *****
Search words: Airlines, security, biofuels
Death of the guidebook?
The days of wandering around a new city clutching a guidebook may be numbered. Google is launching 'Google Googles', an iPhone app that searches the internet using images. Simply use the phone's camera to take a photo of a church or painting perhaps, and you receive more information than any other guidebook. And it can talk. Speak into the phone and, using Google Translate, a lifelike voice will repeat it in any of the 34 available languages that you choose. It's like Star Trek's Universal Translator, but here today.
This new generation of augmented reality apps lets you survey the view on your phone's screen and shows arrows that point out the nearest and best hotels, pubs, restaurants or whatever you choose to look for. And it's all free. So why would anyone ever need a guidebook?
It's a question the publishing industry has been asking for some time and it's not looking good for guidebooks. Sales in the UK have fallen off a cliff. In 2009, sales were down 18% on 2007 and, if the second half of this year follows the first, then 2010 will be down 27% on 2007 according to Nielsen BookScan. The reason is a combination of new technology and recession.
People are increasingly getting used to finding their own information online and they know guidebooks don't have a monopoly on that information. There is already evidence that younger people in particular are shifting their habits. Sales of guidebooks to Australia and New Zealand - traditional gap year destinations – have fallen faster than the number of visitors to those countries because travellers stop at internet cafes and research their trip as they go.
Ref: Financial Times (UK), 'Beyond Baedeker' by T. Robbins, August 7, 2010
Source integrity: *****
Search words: Google, iPhone, augmented reality apps, guidebooks
Staycations tap into authenticity and nostalgia trends
With UK consumers opting for 'staycations' – holidays within the UK rather than abroad – tourism businesses are focusing on the local and the authentic. The trend, which began with the popularity of farmers markets and farm shops, mirrors the recessionary and eco-friendly drive towards simple pleasures and value for money. In Yorkshire, Provenance Inns, a small chain of country pubs with an emphasis on local food, drink and architecture, uses the slogan: "Village inns in villages you would like to live in."
Tourism is the UK's fifth largest industry and its third biggest earner of foreign exchange. Research from Deloitte and Oxford Economics forecasts that tourism's value will rise more than 60% to GBP 188 billion over the next decade, outstripping most other sectors, including retail. The number of jobs it supports is predicted to grow from 2.63 million now to 2.89 million.
VisitEngland logged an 18% increase in holiday trips within England in 2009 and 1 billion in additional spending. It believes a "latent pride" in their own country has been awakened in holidaymakers and is part of a more permanent shift towards holidaying at home.
Ref: Financial Times (UK), 'Authenticity and nostalgia boost tourist industry' by FT regional reporters, August 7, 2010
Source integrity: *****
Search words: travel, UK, England, authenticity, nostalgia, local produce, farm shops, eco friendly, local identity
Serving up better airline food
"Chicken or beef sir" is a familiar refrain on airlines and offers the only identifying clue to the gloopy brown casseroles that are the staple of in-flight catering. But intense competition and better technology are driving a new era of in-flight catering with flexible dining, freshly cooked meals, and decent coffee in premium economy cabins.
The global financial crisis has pushed corporate travellers downstream from business class to premium economy and many carriers have ditched first class altogether. As a result, the quality of the food is flowing down the classes because in-flight dining is one of the most effective ways for airlines to differentiate themselves from competitors.
Technology is also playing a part in expanding the type of food that airlines are able to serve on board. Air New Zealand's fleet of new Boeing 777s will have advanced oven technology allowing food to be cooked from scratch rather than simply reheated.
Air New Zealand is launching a digital in-seat meal ordering system to be available in all cabins. Travellers will use the in-flight entertainment system to browse a menu of drinks and snacks then order from their seats. On night flights, passengers can go to sleep soon after take off then order food when they wake up. Daytime flights will offer a grazing service, where different meal items are circulated regularly throughout the cabin.
If other airlines follow suit, it could put an end to the gloopy brown casseroles that remind you of school.
Ref: The Sun-Herald (Aus), 'Flights of Fancy Food' by J. Fraser, April 11, 2010
Source integrity: *****
Search words: airlines, in-flight meals, premium economy, corporate travellers, oven technology