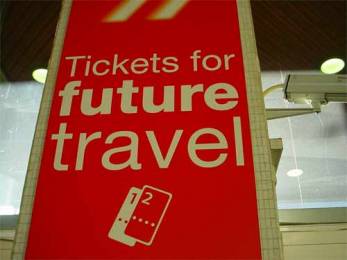 Airlines, hotels, travel & tourism
Better air in the air
Many people moan that the air in the cabin of a plane is far too dry and a hothouse for nasty viruses like swine flu. Everyone thinks that they breathe the same air, whether it is economy or first class. This is possibly not true. But regardless, two British firms are now adapting a technology used for nursing homes, for use in aircraft. It is called AirManager, can be fitted rapidly, uses less energy than a light bulb, and removes 99% of pathogens including bacteria and viruses, as well as pollutants and smells!
Most airlines use a 50:50 mixture of fresh and recirculated cabin air and they can save fuel by reducing fresh air. The AirManager system passes cabin air through filters about 30 times, even on a one-hour flight. Recycling the air in this way reduces the amount of air coming from the engines and cuts down fuel consumption. Boeing is also returning to electrical generators to pressurise cabin air.
These developments will help end the trade-off between air quality and fuel consumption. It seems remarkable that air quality has not been a priority for airlines in the past – they were more interested in offering luxury additions, like silver service or flatbeds or airline lounges. This latest idea is, well, a breath of fresh air!
Ref: The Economist (UK), 19 September 2009, Breathing more easily. www.economist.com
Source integrity: *****
Search words: airlines, cabin, viruses, AirManager, engine, HEPA filters, Quest, carbon fibre, air
Trend tags:

More room in the air
A second innovation in air travel, designed to improve customer experience and airline profitability, is a complete redesign of the layout of the cabin. The current setup, of three seats along each side and a row of four in the middle is inefficient and expensive (and excruciating in economy).
Design Q uses a military design that, with inward-facing seats along the outer walls of the plane and two back-to-back seats down the middle, seats 50% more passengers and reduces costs by 30%. Passengers can also board and exit more safely. The downside is lack of comfort and no room for trolleys to deliver food and wine! Even the designer warns that this is only suitable for short-haul flights. So there is more comfort for airlines than passengers in this design.
A second idea by Jacob Innovations, shown in Hamburg, makes use of the overhead cabin space to elevate each alternate seat in economy by the height of a conventional step. This increases leg-room and the angle of the seat, both factors that make a traveller more comfortable. There is also no loss of capacity. We think the comfort of passengers is as important and necessary as clean air, and hope that designs like this are a sign of flying to come. The sardines in the can set-up should go out with the internal combustion engine.
Ref: The Sydney Morning Herald (Aus), 7-8 November 2009, Watch this space. Kay O'Sullivan. www.smh.com.au
Source integrity: ***
Search words: MaxCabin, Design Q, capacity, comfort, leg-room, privacy, upper deck, seat angle, economy, business.
Trend tags: -

The grey market meets roots tourism in pop-up hotels
The travel market took a huge hit in 2009 from the GFC but, if Euromonitor is correct, 2010 is going to see an upswing. And not just in golf! China ranks fifth with 310 golf courses and the growing middle class is crazy for golf. In Thailand, revenues from golf on its 260 courses topped US$800 million and growing at 10% per year while emerging destinations, such as Cambodia, Laos and Vietnam, offer high-class golf courses at value prices.
One market that seems less affected by the GFC is the grey market (people over 60), which is determined not to let poor currency exchange, unemployment or flight taxes deter them from following their dreams. They are part of a wider group, dubbed the "funemployed", who are unemployed but having fun while doing it! They want to travel as cheaply as possible. The ones with severance packages have both time and money to spend but even those who do not, have the attitude – it's now or never! More than half are under 35, mainly single, and without family responsibilities.
Some may want to indulge in some "roots tourism", which is the trend for African-Americans to return to Africa to visit the lands of their ancestors. The election of Barack Obama is the driver behind this urge. America has some 41 million African-Americans and 31% are Generation Y (18-30). Oprah Winfrey has also made popular DNA testing to identify ancestral origin. There is no reason why this kind of trend could not spread to people of other ethnic origins who live away from their motherlands.
One trend in hotels highlights the emerging importance of the Middle East in influencing travel – women-only hotels. Saudi Arabia is the leader with the first women-only hotel – Luthan Hotel & Spa. Egypt and Iran are other target markets for these hotels, which are likely to appeal to Western travellers as well as women travelling within their own country. It is important that this trend is seen as women-affirming and not seen as a sign of regression, or promoting lesbianism or a particular religion.
Pop-up hotels are, as they sound, temporary hotels, which are opening up in the UK to take care of temporary demand. They are similar to pop-up retail, and are an antidote to all the vacant space within existing hotels (about 25%) that cannot be used any other way. They are transitory, buzzy, and functional. Travelodge opened its first last year and plans to open 20 pop-ups every year between now and 2020 (depending on demand, you would imagine).
Travel has become niche. There are Grey Travellers, golfers, women travelling alone, African Americans going back to their roots, and no doubt other groups of people waiting in the wings for the next marketing coup. While 2010 may not be a bumper year for travel, it will certainly put a wide variety of people on the move.
Ref: Euromonitor International, December 2009, World Travel Market Trends Report 2009. Caroline Bremner et al. www.euromonitor.com
Source integrity: ****
Search words: Grey Market, African-Americans, "roots tourism", golf, Asia, women-only hotels, pop-up hotels, Travelodge, "funemployed".
Trend tags: -

The 21st century concierge
The concierge, once the keeper of the keys to a French apartment and now the gatekeeper of a posh hotel, has had to update his or her skills. Once the preserve of luxury travellers only, concierge services are trickling into the mainstream. According to Euromonitor, a concierge travel service is a three-stage offer that starts before, carries through, and continues after, a memorable holiday. It helps travellers make good holiday choices, make the most of their destination, and gives them the opportunity for feedback. Virgin Holidays is already offering this service to all customers, both luxury and budget.
Much of the information traditionally offered by the concierge, who relies on good contacts and up-to-date information, is easily found on the internet. So it is important that they go that little bit further and save people the time and effort required to do their own research. Ritz-Carlton concierges are trained to teach people how to use their iPhones, The Peninsula Manila encourages the concierge team to have their own social networking pages, and the InterContinental Group uses email and interactive maps to guide and inform their guests.
Of course, the most memorable concierge is the one who "goes the extra mile", and that is probably not something that can be taught. However, travel companies that go the extra mile for their customers, before, during and after their trip, are more assured of their return when the economy picks up.
Ref: Euromonitor International, December 2009, World Travel Market Trends Report 2009. Caroline Bremner et al. www.euromonitor.com
International Herald Tribune, 30 October 2009, The concierge's job gets tougher in the age of Google and iPhones. www.iht.com
Source integrity: various
Search words: concierge, luxury, mainstream, information, contacts, InterContinental, internet.
Trend tags: -

Is the Arctic the next Barcelona?
As global warming dissolves the ice in polar regions, it is sobering to know that it will still take about 1,000 years for Greenland to melt completely. And there is an upside to every disaster. It has seen a dramatic increase in ice tourism to the Arctic and Antarctic – get there before it goes! – and Greenlanders can now grow tomatoes and potatoes and raise cattle. As one commentator ironically says, "human beings – even Greenlanders – can live without polar bears and walruses".
It is an interesting paradox that people are able to adapt to any conditions (see story under Health and Wellbeing). The Inflight magazine of Air Greenland refers to "climate improvement", which some of us in warmer climes might find rather challenging. A warmer Arctic creates more water, which absorbs sunlight and warms the climate more. These temperate conditions may kill off the 20,000 polar bears left, but killer whales, plankton, and the fish that eat them, will start to thrive.
It is true that not everyone will feel the same effects of global warming. Sub-Saharan Africa will become impossibly hot, islands in south-east Asia will drown, and southern Europe will become unsuitable for agriculture. This may cause a slow, steady migration to the polar regions. As one writer aptly remarked, "our grandchildren may spend holiday weekends in booming Arctic metropolises just as our generation pops over to Barcelona".
Ref: Financial Times (UK), 31 October/1 November 2009, To the ends of the earth. Fiona Harvey. www.t.com, Financial Times (UK), 14/15 November 2009, The final meltdown. Simon Kuper. www.ft.com
Source integrity: *****
Search words: Arctic, Greenland, glaciers, global warming, "climate improvement", overfishing, Eskimo, Inuit, Copenhagen, tipping points.
Trend tags: