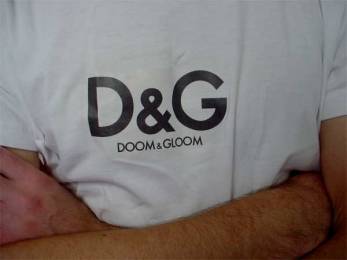 Retail, shopping & leisure
Own brands ride the recession
Most packaged goods firms have seen their profits dive down with the recession. Procter & Gamble (P&G) reported an 18% fall in a single quarter and Unilever a 17% fall, compared to the year before. Both had less of a cushion than Nestle Kraft and Kellogg, which primarily sell food and so benefit from people eating at home more. Yet, the real winners in this recession are the own brands, or private labels, which cost the shopper about a quarter less than branded goods.
Retailers like own labels because they earn bigger margins. Giving them more shelf space also pushes out manufacturer labels. They already make up 20% of goods at Wal-Mart and 35% at Kroger, and both retailers helped shape the 9% growth of private label sales in America. In Germany, own brands make up a huge 40% of sales (compared to 5% sales growth in Europe). The question is whether people will continue to buy own brands when the recession ends. Some argue that shoppers have acquired new habits that are unlikely to change easily.
Just because private labels are working does not suggest all manufacturers should take that path. Reckitt Benckiser experienced a surprising 14% lift in profits (and 8% boost in sales) in the second quarter – what was its secret? The company claims its shallow hierarchy allows marketing decisions to be much more snappy, and it can get goods on shelves at least three months' faster than competitors. It also spent 25% more on marketing last year, contradicting the usual recessionary lull (but ironically, doing what the marketing literature has claimed for years is smart). Reckitt also thinks people will pay for innovation, if it means something to them, but also caters for different price points. Merely offering cheaper options will just decimate margins.
Another strategy to beat the recession is to sell goods online (P&G has intimated this), but this would entail another change in habits. People will change their habits if they have a good reason, but it takes time. Some manufacturers, like Unilever, are already exploring emerging markets, where private labels are unlikely to take hold for now. Meanwhile, it will be interesting to see who emerges triumphant from recession, because it is the ones who have laid the groundwork in the bad times who stand the most chance of success.
Ref: The Economist (UK), 22 August 2009, The game has changed. www.economist.com
Source integrity: *****
Search words: Procter & Gamble, packaged goods, Kimberly-Clark, own brands, private labels, shelf space, Reckitt Benckiser, consumer spending, innovations, habits
Trend tags: ,


The bar code comes of age
A few years back, there were concerns that bar codes had a devilish intent. Now they are more accurately called 2-D bar codes because they are made up of geometric patterns, which, when captured, convert to a web address, text or number. Mobile phones can already be equipped with the ability to read bar codes. In Japan, this is already standard; America, Europe and Australia are taking a while to catch up. Imagine being able to scan a bar code on a poster and the train timetable comes up or, better still, scanning a bar code in a magazine that offers more tantalising pictures.
Several types of bar code are likely to become common – QR Code, Data Matrix and Ezcode. Scanbury, which owns Ezcode, has already signed a deal to have it loaded on the Samsung Exclaim. Kaywa, a Swiss firm, will allow readers of Welt Kompakt to scan QR Codes next to articles for more background. Now Microsoft has its own Tag system, that uses colour to increase the density of information.This seems like the tip of the, er, bar code. There is no reason why people could not scan a bar code to find out more information on products and services, at point of sale. They might even receive other kinds of information from these companies. Who knows – it could be used in all kinds of newly devilish ways!
Ref: The Economist (UK), 22 August 2009, Snap it, click it, use it. www.economist.com
Source integrity: *****
Search words: bar codes, 2-D bar codes, mobile phones, QR Code, JAGTAG.
Trend tags: ,


Exclusively cheap allure
During a recession, luxury retailers become bruised by the consumer search for low prices. Luxury e-tailers, on the other hand, offer low prices for last year's designer clothing. While Saks Fifth Avenue took losses of more than $US50 million in the quarter to July, and sales dropped by 20%, companies like Gilt Groupe and Rue La La are taking up their unsold inventory and making profits.
It is not all in the low prices. Designer clothes must maintain a certain cache and these etailers do this by creating exclusivity. Not everyone is invited to join the site, and those that do feel a certain buzz at being included. Unlike other sites, they even hide from search engines! The sites offer new items for only a limited period and do not say how many or what sizes they have left, which makes shopping highly competitive. This is a clever way to dispose of stock discreetly while keeping the customer engaged.
Rue La La claims that his site offers a "theatrical environment" and has an iPhone application that allows people to buy while moving around. Gilt already has over 1.4 million members in America (and recently launched in Japan). Meanwhile, Net-A-Porter is making an educated bet each way, by offering designer clothes at full price and managing another site, Out-Net, that sells discounted apparel.
The luxury retailers have something to learn from these innovators , whether it is to promote the "insider" feel or to use technology in more adventurous ways, for example, being able to virtually "try on" a dress for size. One commentator believes that the future of luxury retailing is not on the internet but on TV, that is, making entertainment "shopable". This may work in America, but luxury shopping on TV might not appeal to European sensibilities. It will be interesting to see whether post-recession behaviour in the luxury market will mirror that of own-labels – slowness to change habits – or whether people readily turn back to luxury when there is money in their pockets.
Ref: The Economist (UK), 5 September 2009, When cheap is exclusive. www.economist.com
Source integrity: *****
Search words: Saks Fifth Avenue, luxury, etailers, Rue La La, exclusivity, buzz, Gilt, Net-A-Porter, retailers, television.
Trend tags: -


When the customer is a nuisance
Someone has coined a new phrase – Treating the Customer as A Nuisance (TCAN) – and there may be some truth in it. At first, supermarkets made it difficult for regular customers to keep buying the same thing again and again, by moving their stock around. Then they stopped putting people's groceries in bags. Now self-service checkout ensures that nobody gets the service they need. RBR consultancy forecasts that there will be 15,000 in UK stores by 2011 (compared to 7,000 in 2008). The people who like to be served have to wait in longer queues because there are fewer of them; and the people who are using self-service may be thinking they have no choice but to get out of the queue.
Some have compared the introduction of self-service checkouts with ATMs, which seem to have been adopted with far less regret. But the price that banks have paid with their brands suggests that ATMs were just a symptom of a deeper malaise. Reducing the need to go into the bank to get money may have led to a breakdown in relationships between customers and their bank. The truth is that companies must be very careful about blithely introducing something that suits them, not the customer. The price of ATMs and self-service checkout may be higher than it looks.
Ref: The Opportunity Report., 8 October 2009, Inconvenience retailing. Bob Thompson. www.typepad.com
Source integrity: ***
Search words: TCAN (Treating the customer as a nuisance), supermarkets, self service checkout, Sainsbury's, ATMs, Co-op.
Trend tags: -

Retail Darwinism to shake out shopping
Darwin would turn in his grave if he knew he was being used to describe the shakeout in retail following the global downturn. According to Retail Forward, not only companies will die, but whole formats and segments could disappear, like extinct species. The survivors will be Wal-Mart (surprise) and other supercentres that offer shoppers huge variety within a category. Retail Forward forecasts sales from these formats to nearly triple by 2010.
Retailers will also have to fight the might of suppliers, who decide to take on more direct-to-consumer approaches. Department stores, in particular, have been struggling for a while with their bland middle ground, and seem likely to decline in the same way as mall shopping. The Retail Forward view is that malls will survive as places for value and entertainment, with a blend of retail and non-retail tenants. They will offer a location for lifestyle, rather than fundamentally for shopping.
The last big change will be technological, with a continuing move towards "Smart" shopping – e-kiosks, RFID-enabled checkout, mobile phones, and continued activity on the internet. Upscale retailers like Ralph Lauren and Net-A-Porter all offer full online shopping ability formatted for mobile phone screens. This contrasts, ironically, with the closure in Britain of one in 10 retail stores in the first nine months of this year. Each of these stores leaves a vacancy for someone else to fill – or it creates a retail void. This has led to the creation of urban formats, pop-up shops, and factory outlets, the last of which are doing particularly well in this recession.
In some ways the mall may be moving to the mobile phone, with its increased capacity for e-commerce, communication and entertainment – a whole lifestyle held in your hand! It is a scary thought for those of us old enough to remember buying sweets at the corner shop out of a jar. But it may be a liberation for time-pressed consumers, who need to shrink shopping between work and sleep.
Ref: The Age (Aus), 18 November 2009, Next year's 10 great retail trends. Michael Baker. www.theage.com.au , Market Wire, Retailing to undergo radical transformation through 2010. Retail Forward. www.retailforward.com
Source integrity: Various
Search words: shopping centres, occupancy rates. Internet, malls, wholesale brands, niche speciality, China, factory outlets, urban formats, Retail Darwinism, Wal-Mart, e-kiosks, RFID, brand-sharing, suppliers, retailers.
Trend tags: -