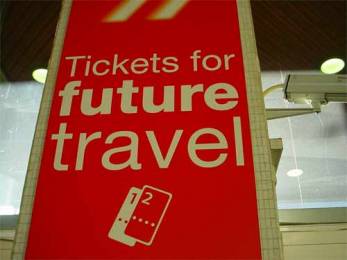 Airlines, hotels, travel & tourism
Aviation Trends for 2008
Despite environmental concerns about the implications of air travel, statistics show the industry is going strong. Here are some destinations and trends to look out for in 2008. China – on a fast track to the future, China is spending big on improving infrastructure, constructing new airports including a second in Beijing to cope with increased demand. India – aviation centres are forming around Delhi, Bangalore, Chennai, Kolkata and Mumbai, with Indian low-cost carriers accounting for nearly half of the domestic market. Dubai – 30 million passengers travel through Dubai each year. And with that figure expected to double by 2010, it's the fastest-growing aviation hub in the Persian Gulf. Russia – although international carriers are being held back by flight permit restrictions, there is no shortage of interest in entering the Russian market. Longer low-cost flights – the next step for low-cost airlines (who represent the fastest-growing sector in aviation) is to move beyond short trips to mid- and long-haul flights. Bigger aircraft – airlines are looking to pack in more passengers on bigger planes. Green flying – in the face of pressure to reduce carbon emissions, the aviation industry is turning to biofuels and lighter, more fuel-efficient aircraft. Airport cities – in the style of Dubai, whole cities are now being built around airports, with shopping malls, high-rise buildings, houses and aviation training facilities. Short breaks – taking advantage of a rise in low-cost air travel (and succumbing to increasing work commitments), passengers are taking shorter, but more frequent trips. Direct flights within Europe – with passenger taking shorter breaks, there's an increase in demand for direct flights so that passengers (and their luggage) will get to their destinations quicker.
Ref: Various
Search words: Travel trends, aviation trends, air travel, tourism trends
Trend tags: -
Source integrity: Various


US Travel Trends and Cruise News
The number one trend in the US hotel industry is green accommodation, but there is still a lack of a standardised ratings system and confusion over which hotels are truly eco-friendly. Las Vegas hotels are booming with an occupancy rate of more than 90% for 2007, and across America, experts predict there will be no break on rates, with average prices upwards of $100 and little discounting expected. A new wave of 'lifestyle' lodgings is cropping up, appealing to Gen X and Y guests with affordable, design-centric, tech-friendly rooms. More hotels will offer 'completely wired rooms' that will let you plug your laptop into the TV or speakers, and free WiFi will feature heavily. The downside of this is 'technology gone wrong', with expensive gadgets that don't work properly. In cruise news, some vessels are now offering premium rooms such as spa cabins or courtyard villa cabins where customers will find more pampered services and separate facilities from other passengers. More people are taking European cruises, but Caribbean trips are falling out of favour. Customers are polarised when it comes to trip planning, booking both earlier and later than ever before, with a drop in number of those booking two to five months in advance. In general travel, there is a growing number of high-value, low-volume destinations – offering pristine wilderness at top-dollar prices that prohibit large numbers of tourists. Luxury options still abound, with first-class lodges now on offer for those trekking through places such as Nepal or Peru. 'Voluntourism', which combines adventure with good deeds, is growing, while others are opting for 'see it before it's gone' trips to destinations such as Alaska's glaciers.
Ref: USA Today (US), 10 January 2008, 'Trends: Eco-hotels, cruises, Croatia await in '08', Kitty Bean Yancey, Gene Sloan, Jerry Shriver, Laura Bly and Jayne Clark. www.usatoday.com
Search words: Travel trends, tourism trends
Trend tags: -
Source integrity: ****
Airline Ratings for Travellers
While there are plenty of websites about that search for the cheapest airline prices, there is now one that offers to tell you a little more about the airline you're travelling with. Launched by online entrepreneur Dave Pelter, Insidetrip.com not only finds cheap flights, but gives you background information such as the age of the plane, the likelihood of a delay, how comfortable the seats are and how long you're likely to spend at security or waiting for your baggage. The site uses the database of Orbitz.com to locate fares and timetables, then adds information on factors such as speed, comfort and ease. The customers chosen itinerary is then given an overall quality rating. This is not just a matter of finding the best flights, but also links to industrial provenance. People are becoming increasingly concerned about where their products and services come from, and are making decisions based not only on price, but also on the brand's history. A similar website has emerged, but this time for hotel rooms. Tripkick.com allows users to look not just at hotels, but to find ratings for individual rooms within the hotel. For example, all rooms ending in '01' in a particular hotel might be oversized corner rooms, while those with even numbers might have a water view. The site also allows users to relate their experiences of the rooms.
Ref: Sydney Morning Herald (Aus), 21-23 March 2008, 'Check your seat before you fly', Clive Dorman. www.smh.com.au; See also www.tripkick.com
Search words: Transparency, connectivity, provenance, labelling
Trend tags: Transparency, connectivity, industrial provenance
Source integrity: ****
Outdoor Adventures for City Slickers
A structured adventure course, known as La foret de l'aventure or 'forest of adventure', has opened in a park at the bottom of Mt Fuji. A concept that first emerged in the forests of France in 1997, this park offers both beginner and advanced courses in which participants swing through the trees, climb giant nets and traverse high wires. Three beginner courses and four advanced courses are on offer, and there are restrictions on minimum height and maximum weight for each course. The park aims to provide children and adults with the adventure and contact with the natural environment that is missing in modern daily life. Parents say it is a chance for children to learn the importance of conforming to rules in order to avoid danger, while being given the chance to become more independent and take control. But it could be that our over-regulated, risk-averse culture has created a need for these extreme or dangerous experiences. (The success of books like 'The Dangerous Book for Boys' is indicative a resurgence in people seeking this kind of outdoor thrill-seeking). Despite the adventurous feel of these parks, they adhere to strict safety standards, buckling visitors up in seatbelt-style harnesses attached to anti-fall devices. So it seems it's the perceived (rather than real) risk that is the attraction.
Ref: Nikkei Weekly (Japan), 24 September 2008, 'City folk get wild 'n woodsy', Takahiko Ueno. www.nni.nikkei.co.jp
Search words: Experiences, nature, real, virtual
Trend tags: Anxiety, risk,
Source integrity: ****
Eco-Living Junta-Style
A new trend in tourism is seeing travellers ignore ecological concerns, boycotts and even wars in their quest for a good holiday. Sierra Leone – sitting lowest on the UN's human development list, and whose citizens currently have a life expectancy of just 40 – is luring tourism to its long white beaches, increasing flights between London and Freetown. Despite the power cuts, rubbish and widespread human suffering rampant in the capital, tourists are advised by Lonely Planet that 'if you spend all your time in tourist-focused areas, you'll rarely encounter these problems'. Similar avoidance tactics are used by travel guides for Burma. While Aung San Suu Kyi has declared that visiting the country is condoning the regime of the junta, the Lonely Planet suggest that tourists are doing a service to Burma's residents by offering 'outside contact' although the recent cyclone may have eclipsed this point. Meanwhile luxury holidays are still going ahead in Fijian resorts, despite the fact that the country is under a military dictatorship, and Sudan is offering 16-day camel treks for those that can forget about the genocide. Tourists seem equally as willing to ignore concerns about the environmental impact of their travels, parading their willingness to recycle plastics as a free pass to visit their favourite destinations.
Ref: The Guardian Weekly (UK), 29 February 2008, 'Great sand, pity about the victims of the civil war', Catherine Bennett. www.guardian.co.uk
Search words: Risk, extreme experiences, realness, dark tourism
Trend tags: extreme experiences
Source integrity: *****