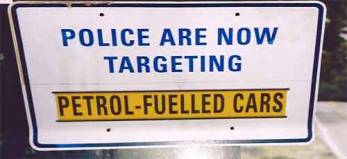 Automotive & transport
Cars of the future
The Department of transport in the UK is looking at Intelligent Speed Adaptation (ISA) as a way of reducing road accidents. The system works by linking digital speed maps and Global Satellite Positioning systems to a computer in your car, which in turn applies the brake or blocks acceleration. Early trials have indicated that accidents could be reduced by 20% if all vehicles were fitted with this technology. The system is likely to appear in buses and taxis first and may then be applied to private cars. Meanwhile, Charles Spence, who is a lecturer in experimental psychology at Oxford University (UK), says that because drivers are so overloaded with visual information touch and smell could be the way to warn drivers of dangers in the future. For example, vibrating seats, seat belts and steering wheels could warn drivers that they are driving too close to the car in front. Releasing citrus or peppermint scents could be another way to tell drivers that they are falling asleep. According to the Denso Corporation in Japan, vibrating warnings should be standard on all new cars by 2020.
Ref: The Times (UK), Life is safer with a car that doesn't let you break the speed limit', B. Webster. www.timesonline.co.uk/driving The Guardian (UK) 6 September 2005 'Good vibrations to cut road accidents', A. Jha www.guardian.co.uk/cars
Pink buses
Lahore in Pakistan is home to a number of transport initiatives, the latest of which is women only buses with pink stripes. Buses in the Punjab cities already feature seats reserved for women only, but the new buses (22 so far) are intended to make women feel safer and less threatened by men. The buses are all driven by men but all the conductors are women.
Ref: The Asian Age (India) 24 September 2005 'Now, pink buses only for women', M. Najeeb.
New speed limit
Road accidents are the largest single cause of death for young adults (16-24 year olds) in Britain, so a new invention by engineers at Volvo could be a winner. The idea is an ignition key that can be programmed (via your friendly Volvo dealer or through a menu on the dash-board) to restrict a car's maximum speed. The device (known as the 'speed key') is currently being tested on the Volvo S40 and could be in showrooms by late 2007. If the idea works, keys could also be programmed to restrict power and/or acceleration.
Ref: The Sunday Times (UK) 11 September 2005. 'Speed key' to slow young drivers'. www.sunday-times.co.uk
Electric bikes
110 million bicycles are sold every year globally, but sales are starting to run out of puff because kids in affluent countries are dropping their bikes in favour of computers and video games. Meanwhile, over in countries like China people are moving up a gear and saving up for four wheels rather than two. This presents something of a problem, especially for Taiwan's Giant Manufacturing Co., which is the world's largest maker of bicycles. In 1999 Giant introduced a range of electrically powered bikes called LA free but sales were luke warm due to unreliable batteries and underpowered motors. However, Giant's latest model, the Revive (aimed at US and European markets) might do better thanks to some improved technology, which enables the bike to travel up to 32 kilometres at speeds of up to 25 kilometres per hour. However, it's emerging markets like China and India where the electric-bike concept could really work. Sixty Chinese cities now have restrictions on petrol-powered motorbikes due to pollution levels and cars are still too expensive for most people.
Ref: BusinessWeek (US) 9 May 2005, ' An idea whose time has motored in?' M.Kovac. www.businessweek.com
Drivers only
If you're a petrol-head then Klaas Zwaart is someone who spent his fortune very wisely indeed - by building his own racetrack resort. The track, two hours south of Malaga in Spain, is a 3.3 mile circuit featuring replicas of some of the most famous corners from other racetracks around the world. The track doesn't have any spectator areas because it's for drivers only - either people who hire the track as part of a corporate hospitality event or private track day. You can even keep your car (or cars) there and just bring them out when the sun is shining - which is most days. The joining fee is rumoured to be a non-refundable GB £100,000 plus an annual membership. Flying off at a bit of a tangent, how about building apartment blocks for urban petrol heads where each unit comes with the use of a series of interesting cars that are parked in the basement? Or how about holiday timeshare where interesting cars are included in the cost?
Ref: www.ascari.net Links: Track-days