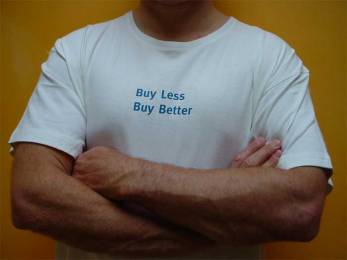 The home, household goods & services
Flat-pack houses
If you thought putting together a flat-pack chest of drawers from Ikea was too easy, how about a flat-pack house? The latest hot trend in home design is self-assembly. Ikea has built a flat-pack village in Sweden and Muji, the Japanese retailer, is offering a 'modelhouse' for GB £100,000. Not to be outdone Target (US) has teamed up with design supremo Michael Graves to create a range of self-assembly homes ranging from US $6,000 to US $150,000. And according to a (rather optimistic?) US research firm the self-assembly home market will be worth US $12 billion by 2007. However, the real design action is at the opposite end of the spectrum with small firms of architects and builders creating a plethora of self-assembly sheds and pre-fab palaces.
Ref: The Next Big Thing ¨ Prefab houses', D.Rowan, The Times (UK) 9 April 2005. www.thetimes.co.uk See also www.fabprefab.co.uk and www.smartshax.com
Child watching
Child tracking is a trend that we've seen before, but it's only recently that it's entered the mainstream media. The idea is that over anxious (paranoid?) parents - especially in the US, UK and Japan - can spy on their kids, either to ensure that they're arrived safely at their destination, or to check that they're not doing something they shouldn't. Examples include mobile phone tracking via GPS technology (available from phonetrack in the UK) which can pinpoint your child's location to a few metres over the Internet, to Teen Arrive Alive, a US company that can tell you how fast your teenager is driving. In the UK Legoland rents out 'Kidspotters' - Radio Frequency Identification Device (RFID) enabled wristbands which allow parents to locate their offspring via electronic maps. Of course in Japan things are more sophisticated (paranoid?) than in Europe, so RFID tags are being added to school badges, bags and even school blazers. When a child arrives at the school's gates the RFID tags send a message to the parent saying that their child has arrived intact (or at least their RFID tag has). There is a serious side to this too, such as preventing outsiders carrying firearms from entering school property (US), but one suspects that this has more to do with parental convenience and abdication of responsibility that any real safety fears.
Ref: The Next big thing ¨ child-tracking'. D.Rowan, The Times (UK) 2 April 2005. www.thetimes.co.uk
The fight against old age
Let's get this into the open. Wrinkles are good. Even on women. They're maps to show where people have been. But most women are unhappy with the skin they're in, which is possibly why the anti-ageing sector of the skin care market has grown by 70% over the last five years and is worth $9.9 billion globally according to research firm Euromonitor. And that's excluding the 2 million Americans who receive botox treatments annually. That's a lot of wrinkles. Consequently, every major beauty firm in the world now has anti-ageing skin creams. L'Oreal's Refinish, Estee Lauder Perfectionist and Avon's Anew Clinical Deep Crease Concentrate are just a few. And the latest fad is a scientific sounding product called StriVectin-SD. Of course, the big question is do any of these products actually work? At around US $135 for a 6-oz tube you'd hope so. Most of these products are actually very similar, relying on peptides to stimulate the production of collagen. And even if they don't work, the inclusion of optic polymers (tiny mirrors) in some of these creams at least gives the illusion of youth.
Ref: Time (US) 25 April 2005. 'The war on wrinkles', D.Tsiantar. www.time.com'
Next generation bathrooms
Conspicuous consumption has given us kitchen upgrades, giant flat-screen televisions and garden decking, so perhaps the time is right for the computer controlled lavatory. Latest innovations include a US model with a 16-bit microprocessor and 512 RAM. This enables the lavatory seat to be raised wirelessly (why?). But the home of real lavatory innovation is Japan. Here you'll find the Well U II - a lavatory that analyses urine to help diabetics monitor their blood sugar level. In the future the diagnosis could also be sent wireless to your doctor who could then email you to fix an appointment if necessary. Other innovations include heated seats that work off kinetic energy (energy released by the hinges moving) to materials with anti-bacterial properties to reduce germs. Automatic (contactless) flushing is already trickling down from restaurant bathrooms to private homes and it won't be long before someone invents a loo that can adjust itself to the user (like seats in luxury cars).
Ref: Wired (US), March 2005. 'The king of thrones', D.McGinn. www.wired.com
Scrap-booking
Scrapbooking Memories is the fastest growing magazine in Australia and scrapbooking is claimed to be the most popular hobby in Australia after golf according to some observers. There are also thought to be over 400 scrapbooking stores in Australia. Regardless of the precise statistics, it is certain that scrapbooking and other 'old-fashioned' hobbies such as needle-craft, quilting and knitting are growing and attracting a younger audience. Why is this happening? Simple ¨ people are stressed so they are seeking activities that are meditative and relaxing (and if the activities remind them of simpler safer times so much the better).
Ref: Sun Herald (AUS), 24 April 2005. 'Scrapbooks turn a whole new page', L.Hall. www.sunherald.com.au