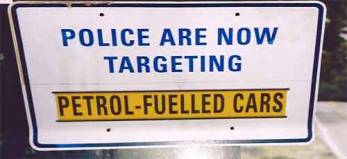 Automotive & transport
Making the car the star
This year US car companies will spend around US$10.9 billion on advertising. Traditionally most of this spend went on TV commercials but a large amount is now going into video games, test drive promotions, events and, increasingly movies. Featuring cars in movies (and making movies about cars) is of course nothing new. In 1969 the Mini was the star of the Italian Job while James Bond's predilection for Aston Martins is well known. And then of course there's the most famous car chase scene in history featuring a Ford Mustang in the 1968 film Bullet. What is new is the fact that Ford has opened up an office in Hollywood to work directly alongside writers, producers and directors. Ford has even signed a deal with Revolution Studios, which gives Ford the exclusive right to put its products into the studio's films. Or take another example.
BMW (who now own the Mini brand) used the remake of the Italian Job to re-launch the new Mini. The cars were also used to drive the movie stars to premieres around the world. So what if the opposite also happened? What if car companies started to sue film studios that made films using their cars without their permission or showed their products in an unfavourable light?
Ref: The Australian (AUS) 5-6 March 2005 'Wheeling & Dealing', M.Ellis www.theaustralian.com.au Links: Car-makers launching new cars on video games
Keeping drivers on the straight and narrow
It's been estimated that rumble strips on the side of roads cut off-road incidents by between 30% and 50%. However, rumble strips are not a standard feature of all roads and 43% of all crashes are still the result of cars straying into the wrong lane or off the road completely. Enter the Lane Departure Warning System (LDWS) developed by a company called Iteris. The system works by linking an on-board (on-road) camera to a computer and then watching for unusual or unintended lane movements. The system has been around on trucks in the US since 2000 but from this year (2005) it will be fitted to a passenger car (the Infiniti FX35) for the first time. Also about to hit the streets are two driver fatigue and lane-merging innovations from Citroen and Volvo. Citroen is introducing sensors in the front bumper to monitor lane movements. Any unusual lane activity will set off a vibrator under the driver's seat. Volvo meanwhile is focussing on drivers who pull out in front of overtaking cars by introducing blind-spot cameras.
Ref: Consumer Guide Automotive (US) March 2005 'Automotive Trends.' www.auto.consumerguide.com Sun-Herald (AUS) 20 February 2005 'Citroen safety sensors send out good vibrations, J.Dowling.
Naked streets
You might think that a road with no centre markings, no kerbs, no signs and no traffic lights might cause a few accidents but an experiment in London (UK) hopes to prove quite the opposite. Kensington & Chelsea Council is removing all vital signs from Exhibition Road in Kensington in an attempt to reduce speeds and cut the number of accidents. The theory is that modern cars insulate drivers from the outside world and excessive signage or markings allow drivers to drive without thinking properly. Remove all the signs and drivers will have to think for themselves and will slow things down as a result.
Ref: The Week (UK) 15 January 2005. www.theweek.co.uk See also: The Times (UK) www.timesonline.co.uk (thanks Layfield) and Cox Newspapers (US).
Using drive-ins for car sharing
Here's an idea. McDonald's is the largest owner of free car parking spaces in the world. Other retailers own lots of free parking spaces too, but most of this real estate lies empty and unused for most of the night. Here's a problem. Most people in cities want access to a car but some people can't afford to own one. More likely, people that own a car don't have anywhere safe to put it at night and sometimes they need a different type of car. So what if a retailer with some car parking spaces teamed up with a car sharing business and allowed customers to pick up and drop off cars in their car parks outside peak hours? If you're not already familiar with car sharing clubs they're already a US $15 million market in the US which is expected to grow10-fold in the next 5 years. In Switzerland 2% of drivers already use such schemes while in the UK car clubs like Smart Moves lend cars to people for about GB £15 per month. Servicing, breakdown recovery and road taxes are all included and users just pay about GB £3 per hour plus GB £0.18 per mile.
Ref: Nowandnext.com See also: The Times (UK), 22 January 2005, 'Car clubs', D.Rowan. www.timesonline.co.uk and www.smartmoves.co.uk
Go west young ('ish) man
It might be something to do with the history of America (going west in covered wagons), or it might be a universal urge to go walkabout twined with an ageing and affluent demographic. Whatever the reason Recreational Vehicle (RV) ownership is undergoing something of a boom in the US these days. In 2004 'RV' was the most searched term on eBay among 125 million eBay users and research conducted by the University of Michigan predicts that RV ownership will grow to almost 8 million in 2010 up from 7 million in 2001. Even the average age of RV owners has fallen to under 60 for the first time. But don't confuse RVs with trailer trash or caravans. Top end RVs can cost US $1m and include leather seating, his and hers washbasins, two TV sets and fully fitted kitchens. And if you're worried about getting encircled by Indians (or terrorists) some RVs also feature 360-degree cameras and remote sensors that alert the owner to any movement outside.
Ref: Australian Financial Review (AUS)14 March 2005 'Ageing Americans take to the roads', T.Walker. www.afr.com.au