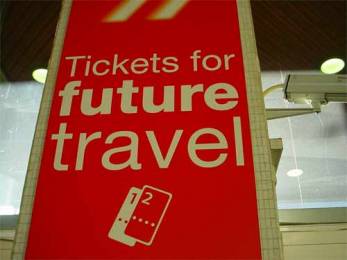 Airlines, hotels, travel & tourism
Here's where you can't go

Well-meaning and protective advice from government departments doesn't always get the attention it deserves. But the risk of foreign travel appears to be getting worse every day, as more countries go on to High Threat, Do not Travel lists. Is it true that more countries are becoming riskier, is the threat of terrorism growing, or are our governments just nannying?
According to the Foreign Office (UK), more than a quarter of countries in the globe are now off-limits entirely or partly. Most are in Africa or the Middle East and many would not be very popular with the tourist mainstream anyway (Iraq, Syria, Somalia). But there are warnings about Russia, India, Malaysia and Thailand. And the FO says the terror threat in Spain and France is High.
Even for those who choose to stay at home, the threat of terrorism in the UK is described by MI5 as Severe.
Of course, it depends on where you are in some of these countries. Russia for example, is safe enough in Moscow and St Petersburg, but not on the border with Ukraine. Turkey is largely safe, except where it borders Syria and Iraq. Presumably, people who live in Great Totham, Essex are safer from terrorism than those who live in, say, Central London.
There will always be tourists who want to stay safe and avoid risky countries and those who positively crave to go there because they are risky. But is there a greater reason for making people scared? Rather than the world becoming inherently more risky, is there some benefit to making people think it is?
Ref: Daily Telegraph (UK), 4 July 2015, 'Is the world getting riskier for tourists?' by C Leadbeater. www.dailytelegraph.co.uk
Source integrity: ****
Search words: tourist, terrorism, Foreign Office, Africa, Middle East, caution, war, Spain, France, threat, volatility, disorder
Trend tags: Anxiety, volatility

First come, first served again
In our last issue, we wrote about Etihad's Residence Class for the super wealthy flier. (See: Residence Class for the wealthy while the rest of us squash in.) Etihad positioned this three-room penthouse as a value alternative to the private jet. But this development is part of a big trend in airlines - forgive the pun – up!
Just when discount airlines are making travel super cheap, if not exactly comfortable, in as many ways as possible, wise airlines are adding and improving first class. According to OAG, which issues aviation data, there has been a 34% boost in first-class seats in 2014, compared to 2009.
Especially in the Middle East and China, travellers are looking for status. First class seat numbers have gone up 63% on Air China, 127% on China Eastern and 132% on Qatar Airways. In comparison, AirFrance has cut its capacity by just under half since 2009 and BA by nearly a quarter. Yet Air France recently launched La Premiere in Shanghai, promising Chinese staff on board and in the Paris lounge.
At the same time, business class has improved. Since 2008, executives have been downgraded to business from first class. Today, most business class seats have flat beds, so companies do not have to provide first class for their executives to get a good night's sleep. Airlines now have to provide first class that can compete with their own business class.
One way to compete is on the ground as well as in the air. Air France offers a private limousine transfer from lounge to aircraft and Lufthansa has a Porsche standing by. Most airlines at least offer lounges with spas and food created by celebrity chefs.
Another trend is co-branding, such as Delta Airlines offering Westin's Heavenly bedding. This builds on the value of two strong brands. We are likely to see more coupling of luxury brands as a way of differentiating first class seats. Meanwhile, people in cattle class don't need to worry about brands at all, only which way they're going to put their knees.
Ref: Financial Times (UK), 29-30 November 2014, 'The rebirth of first' by T Robbins. www.ft.com
Sunday Times, 21 December 2014, 'I'm flying high in my suite in the sky' by C Haslam. www.thesundaytimes.co.uk
Source integrity: *****
Search words: first class, bedsit, apartment, A380, penthouse, Boeing 787-900, OAG, Etihad's Residence, Qatar, Swiss, Lufthansa, business class, La Premiere, limousine, Air France, China, Middle East, status.
Trend tags: Premiumisation, polarisation

Low-cost goes long-haul

Until now, discount airlines have concentrated on flying short-haul routes and done very well at it. Ryanair, for example, is the world's biggest airline carrying 81 million people each year (who knew?). While the full-service airlines have dominated international routes, that seems about to change.
Part of the problem is long-haul flights have always used a lot of fuel and discount airlines have trouble cutting costs elsewhere to pay for it. But as new planes become more fuel efficient – Boeing's 787 Dreamliner or Airbus A350, for example – the fuel cost is relatively lower.
Norwegian Air Shuttle is already expanding across the Atlantic and to Thailand. It stuffs a lot more seats into its 787s, flies more hours in each day, and uses cheaper, secondary airports. US regulators have stalled on giving the airline permits on safety grounds, but no doubt there is pressure on them from the big airlines. Wow Air, ("Iceland's most punctual airline") now flies, as well as other routes, from Boston to London via Reykjavik.
Of course, Ryanair has plans too, such as transatlantic flights from about $US13 one-way, something the famous Sir Freddie Laker in the 1970s couldn't quite manage.
Mergers and alliances have served the big airlines rather well, and kept their international routes cosy. But the discount airlines are looking for ways to compete as smaller, more efficient planes come on the market. They will still need to consider that long routes mean time differences, curfews and overnight layovers for the crews – and they have to sell more tickets to fill bigger planes.
Even O'Leary of Ryanair sees the bumps in the road, so to speak, and recognises he may even have to offer business class!
Ref: The Economist (UK), 29 November 2014, 'Making Laker's dream come true', anon. www.economist.com
Source integrity: *****
Search words: Sir Freddie Laker, Ryanair, international, long haul, short haul, Scott, Air Shuttle, fuel, efficiency, 787 Dreamliner, Emirates, Etihad, Qatar, secondary airports, layovers, narrowbodies.
Trend tags: Mobility

The new grand tour
Many classic novels tell us how the wealthy classes used to go for summer holidays to Europe and bask in the glories of other cultures and ancient history. The Grand Tour was a process of improvement, whether intellectual, social or political. Much of England's art, architecture and music was strongly influenced by what people saw on these Grand Tours.
Do we still make the Grand Tour today? Yes, but in a different way.
For a start, you don't have to be moneyed. Thanks to discount flights, and people like the founders of Lonely Planet who started cheap bus trips, many people can now afford to travel. Students often study abroad or take gap years, Australians travel to England to find their roots, and Germans go almost anywhere. Now middle class Chinese can't get enough international travel. There is no shortage of people travelling.
Perhaps there is a distinction between the tourist and the traveller. The tourist decides on what he's going to see, ticks them off and uploads his photos instantly to let others know (and lots of selfies). The traveller knows itineraries change, is willing to feel foreign and foolish, and is open to what arises.
As Ted Scheinman says, "To see a thing as a tourist is, somehow, to dispense with it". He asks wisely: "How long must I stare at this thing before I have seen it?"
Most people, like the wealthy grand tourists, see travel as a way of dispelling ignorance. It's true that when we go on a long trip, we don't feel quite the same when we get back. Whether travel 'improves' us is a moot point. But it may well influence us, as architecture did in the 18th century, to start drinking Turkish coffee or bring home a Native American dreamcatcher.
Perhaps the most useful part of travel is discovering that other people are really not so different, even though their ways may be peculiar compared to ours. Scheinman says thinking you are different from other people is a "fundamental hypocrisy", but that seems harsh. Travel softens you to small differences.
When people embark on a Grand Tour today, they more often than not have mobile phones linking them to any information they need, people they can bunk in with, and warnings from various Foreign Offices about where not to go (see Here's where you can't go, above).
Ref: Aeon Magazine (UK), 12 September 2014, 'The Grand Tour, 2.0' by T Scheinman. www.aeon.co/magazine
Source integrity: ****
Search words: Grand Tour, arts, history, exchange, gap year, traveller, tourist, Lonely Planet, airfares, 'narcotourism', globetrotter, ignorance, .
Trend tags: -


Up in the air?
The idea of using lighter-than-air craft to move people and cargo fell to earth spectacularly in the 1930s. There have been several attempts since, but nothing has stayed aloft. Despite this, Lockheed Martin is believed to be working on a cargo airship for launch by 2018 and Hybrid Air vehicles in the UK has funding to develop its own airship.
What are the chances for either? As an alternative to cargo or passenger aircraft, the answer is practically zero, although there might be specialist tourism applications (watching wildebeest in Africa for example) and there are certainly interesting niche cargo applications.
Although airships move slowly, they can carry heavy payloads and don't require airports. Transporting wind turbine blades is one use under consideration. However, at around $US40 million per airship, you need a lot of paying passengers or non-urgent cargo to balance the books and airships are also more vulnerable than cargo aircraft, container ships and trains to bad weather. Drones are probably a lower cost and less visible alternative for surveillance purposes too.
Ref: Financial Times (UK) 9-10 May 2015, 'Airship developers look to fly in the face of detractors', by T. Powley and J. Wild. www.ft.com
Source integrity: *****
Search words: Airships, transport
Trend tags: -