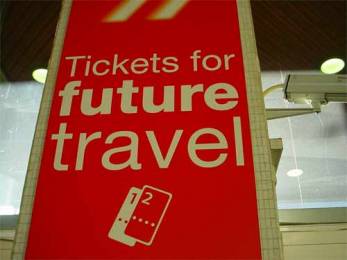 Airlines, hotels, travel & tourism
Future airline innovations
What's the future of air travel look like? The answer rather depends on where you're sitting, but the general trend is towards personalisation and making the whole experience feel more like you're sitting at home or in the office than in a plane. Up at the pointy end, customers in business and first class will get spoilt with everything from seats that inflate and deflate to fit individual body shape to private fridges, faxes and printers. If things progress in a linear fashion the end point of the pointy end will almost certainly be private cabins with lockable doors and en suite bathrooms. This will feel much the same as checking into a small hotel room and will feature most of the products and services you'd expect to find in a hotel or back in your own home - TV, mini-bar, internet access, showers and so on. Indeed, if it weren't for security concerns you'd probably have on-board check-in too. However, much of the innovation will be down the back because economy (and premium economy) is one of the fastest growing segments of the market. Budget travellers will therefore soon have access to the Internet, large-screen seat-back TV and interactive screens on which you can place orders for food. In-flight entertainment content will also expand dramatically. This might sound expensive (and it is) but the cost savings (and new revenue opportunities) would also be immense, especially on giant planes like the new A380.
Ref: Space Daily (US), 15 September 2005, 'Sizing up the future of air travel', M. McCord. www.spacedaily.com
Miniature hotels
The trend for boutique hotels is still in full swing - as is the trend for exclusive floors for 'premium' guests - but a new trend seems to have started. We wrote about 'easyhotel' some time ago when the idea was just an idea. Now the idea is a reality, a real hotel and a pretty clever one at that. The concept is pretty simple.
An ordinary hotel room in London costs somewhere in the region of GB £200-£300 a night. So what if you took the idea of a Japanese capsule hotel, crossed it with a railway sleeping carriage and added a bathroom from an aeroplane? The end result is a very cheap hotel room. The new easyhotel, which opened in London in August, has 34 rooms that cost from just GB £20 per night (exact prices depend on demand).
The rooms are very small - smaller in fact than an average prison cell - and you have to pay extra if you want a window. There's also no phone, no wardrobe, no shelving (you can leave bags unopened or store them at reception), no chair, no toiletries (apart from soap) and no TV (unless you want to pay extra). The rooms all have fresh laundry but if you want it replaced on a daily basis this is extra too. What you do get, however, is a great value room, good security and peace and quiet (possibly, as one reviewer remarked, because people can't wait to get out!) Even the floor is orange vinyl with rounded edges to make cleaning up faster (cheaper). easyhotel is one of the latest ventures from Stelios Haji-Ioannou, the founder of easyjet and easycruise, and it's certain to be a big hit with backpackers, small business travellers and small families on a tight budget. Competition is currently hotels like Yotel and Formule1, but one can expect to see more of these miniature hotels in the near future.
Ref: Sydney Morning Herald (Aus) 1-2 October 2005, 'Honey, I Shrunk the room', J. Lee, www.smh.com.au and The Australian (Aus), 19-20 November 2005, 'Small comfort', J. Jeffrey, S. Bleach and S. Rowe. www.theaustralian.com.au Also see www.easyhotel.com, www.formule1.com , www.kobe-sauna.co.jp and www.yotel.com
A book of stamps and a plane ticket please
Following on from the news that newsagents in Australia have started to sell home loans, comes the deliciously original idea that Post Offices could soon be selling plane tickets. Apparently JetStar - the low-cost airline owned by Qantas - is in talks with Australia Post about using Post Offices as a distribution channel for e-tickets. 90% of JetStar's tickets are purchased on the Internet, but in rural areas many people do not have an Internet connection.
Ref: Sydney Morning Herald (Aus), 8 November 2005, 'A stamp, a box ... and a plane ticket please', A. Smith. www.smh.com.au
A business that's really flying
The US travel market is estimated to be worth around US $200 billion and it's predicted that about 33% of this will be booked online during 2005. Flying in the US is returning to pre 9/11 levels (680 million internal trips in 2004) and it's predicted that journeys will rise to 1 billion internal trips by 2015. Pretty soon almost all of these trips will be booked online. The travel industry (and flying in particular) is ideally suited to e-commerce due to ease of use, cost savings and the fact that most of the booking systems already existed on computer prior to the development of the Internet. And remember, the online travel industry - which is largely responsible for the growth of low cost airlines - is still only a decade old. In the US over 50% of people start with an online travel agent, even if they end up booking using a traditional agent and the average buyer visits three sites before making a booking. This means that websites are critically important for airlines but also for hotels and rental car companies too. This is a massive shift compared to what happened only ten years ago and the change looks certain to continue as airlines continue to switch to e-tickets (Ryanair already takes all of its booking online or by phone thereby bypassing high street agents). So what is the future likely to hold in store? One feature that's already proved very popular with British Airways is the ability to reserve a particular seat online and it looks like printing your own boarding card at home will be a hit too. How about hotels doing the same?
Ref: The Economist (UK), 1 October 2005, 'Flying from the computer'. www.economist.com