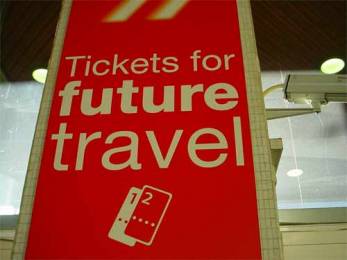 Airlines, hotels, travel & tourism
A Yearning for Authenticity
Forget about fake news and post truth. The phrase of the moment is surely authenticity, although residents of Kidlington in Oxfordshire, England, probably wish it wasn't. Late last year, large groups of Chinese tourists started to descend on this village for no obvious reason. The village is large and moderately pretty but, beyond a few old churches and pubs, there's not a great deal to look at. So why the tourists?
The reason, according to a BBC report, is these tourists are searching for a 'true sense' of the UK. In other words, alongside more obvious and established sights, Chinese tourists are seeking out what they believe are non-tourist experiences.Given that China has become the biggest source of tourism in the world, this may prove to be a little overwhelming. Unfortunately, whenever someone 'discovers' something that's authentic it doesn't stay this way for very long.
It's not just the Chinese seeking realness or authenticity. Part of the reason for the success of websites such as Airbnb and HomeStay - beyond saving money - is surely they offer travellers a taste of how people really live. Or perhaps people are fed up with Disneyfication and packaged tourism and are seeking something real. It could even be a response to virtual experiences online provoking a longing for real world experiences and interaction.
Last year, a survey by Expedia, the travel company, found Millennials all over the world are looking for authenticity or normality in their travel, so the trend isn't confined to middle aged or wealthy Chinese tourists. The whole world appears to be looking for realness in terms of lifestyles, cultures, customs and food. Hence Hong Kong Tourism's 'I never knew' campaign in which locals and tourists alike are asked to share their stories about local people and places.
Finally, there's My Moris, a walking tour of Port Louis, the capital of Mauritius, hosted by a well-known local food blogger. The tagline of these tours is Opening Mauritian Doors, which sums things up nicely.
Ref: The Conversation (Aus), 25 November 2016, 'Why tourists thirst for authenticity – and how they can find it, by A. Dennett and H. Song.
www.theconversation.com
Search words: authentic, Disneyfication, Chinese, Millenials, real life, lifestyle tourism
Trend tags:
Travel Tech Part 1
Digital technology is reshaping how we move around and play and the travel industry is no exception. First, people are making travel plans and booking using mobile devices. This isn't new but the trend toward instant mobile access is accelerating. Spontaneous travel is on the rise as are on-demand services ranging from taxis and hotel rooms to restaurant tables and tours. The use of 'always on' mobile devices allows products and especially services to be tailored to a user's real-time location. The next step is probably biofeedback, which makes the user's mindset and emotional state available in real-time too, allowing companies to further personalise travel experiences.
Biometric passports have been available for some time, cutting queues (in theory!) by allowing travellers to use fast lanes and smart gates. In the future, physical passports could disappear entirely. The Australian government would like to introduce cloud-based passports containing photos, biometrics and other identification information. This would obviously reduce the number of stolen passports in circulation (in theory!) and speed things up still further.Meanwhile the US government is testing a border control app that features a QR code.
Arial travel photography using drones is another trend. Here at What's Next we can't think of anything worse than lying on a beach with a drone hovering overhead invading your privacy and potentially compromising your security too. To some extent, drones are the new selfie sticks. But a backlash has already begun with the US National Parks Service banning drones on its land.
Ref: Digitaltrends.com, 9 June 2016, '9 Great travel tech trends that will make 2016 a great year to get out of town' by L. Shu. www.digitaltrends.com
Search words: drone photography, cloud passport, biofeedback, spontaneous travel, personalisation, real-time, location-based
Trend tags:

Travel Tech Part 2

What else is new in the tourism sector digitally speaking? Personalisation is set to dominate further with the use of Big Data to personalise travel offerings and predict what travellers want in real time too.
For example, at the moment it's hard to work out whether someone is travelling for business or pleasure. This could be clarified soon as everything from travel itineraries to internet search results is personalised for what's known about the traveller. This might mean hotel rooms are made up slightly differently for each traveller or standardised in-flight entertainment disappears in favour of offerings just for you.
However, where might this trend go? What if we have everything personalised so no two people see the same place in the same way? What would we all talk about? Or maybe that won't be a problem as we all experience things differently already. There's also a slightly unnerving side to Disney collecting information about users using its MyMagic + wristband system.
Another big travel trend is doing it yourself (either because companies can't be bothered or it saves us or them money). Hotels staffed almost entirely by robots have started to appear in Japan. Already, chains such as IHG, Hilton, Starwood and Marriott, are investing in apps that allow guests to stay at a hotel without ever having to interact with staff or other guests (Grim!).
From here there's possibly only one further development: virtual reality travel in which people never have to leave their own home in the first place. (See our story Alone Again, Not Naturally).
Ref: Digitaltrends.com, 9 June 2016, '9 Great travel tech trends that will make 2016 a great year to get out of town' by L. Shu. www.digitaltrends.com
Search words: personalisation, self-service, robot, Hilton, Starwood, virtual reality
Trend tags:


2017 Travel Trends
Association of British Travel Agents (ABTA) latest travel trends report for 2017 cites a number of new trends: currency conscious holidays, long-haul city breaks, micro adventures, travel technology on the high street and sustainable tourism (again).
Destination trends include: Andalusia, the Azores, Bermuda, Chile, County Kerry (Ireland), Croatia, Denmark, Kerala, Sardinia, South Africa, US Southern States and Vietnam.
Interesting to note all these destinations are relatively safe. Even more curious is no remarks are made concerning terrorism against tourists except general Foreign Office travel advice (not country specific).
Ref: ABTA (UK)
https://abta.com/tips-and-latest/reports-and-trends/travel-trends-2017
Search words: currency conscious, sustainable tourism, Denmark, the Azores, city breaks
Trend tags:

Dark Tourism
I'm not sure what's more worrying, the idea of Dark Tourism or the fact What's Next is reviewing a story that appeared in the Sun newspaper (first trip over to the Dark Side). What is Dark Tourism?
Tourists seeking authentic experiences are shying away from (or possibly supplementing) the likes of Disneyland with visits to the sites of war crimes, mass murders, nuclear disasters and other places of death and destruction. You might argue these places are educational or they say as much about the living as the dead. Still one can't help but wonder about the intention of some people, especially when they take selfies at these types of sites.
It's not a new idea. Mark Twain wrote about tourists flocking to the still-smoking battlefields of Gettysburg and, let's not forget, (although we always do) that the Taj Mahal is actually a tomb.
They say tragedy plus time equals comedy or, in this case, a tourist attraction.Maybe it's all about intention. If visitors learn something from these places then that is fine. Darkness can shine a bright light on humanity and, to some extent, no matter where people live, they have to face tragedy.
Ref: The Sun (UK), 2 February 2017, Morbid wanderlust, by B. Vonow.
www.thesun.co.uk
See also National Geographic www.nationalgreographic.com
Search words: dark tourism, grave, battle, tomb, death
Trend tags:
Showing Your Butt Abroad
There appears to be a growing trend towards stripping naked and having your photograph taken in front of outdoor tourist attractions and sacred sites. (It isn't quite as bad as the selfies in serious places phenomenon).
Even in 2010 a French-born dancer filmed herself stripping naked in front of Uluru (Ayers Rock) in Australia. Similar performances have taken place at Angkor Watt in Cambodia and Machu Picchu in Peru.
Getting naked is clearly nothing new. We've had nudist camps and nudist beaches for decades. What's different this time is it's happening in full view of everyone, including cameras and locals.
What's driving this? Most probably individualism, social media (there's a Facebook page called Naked at Monuments), the ubiquity of cameras, attention seeking and a me-orientated culture.This means people think they can do anything they like regardless of its potential impact on local customs, cultures or sensitivities.
Ref: The Conversation (Aus), 29 May 2017, 'Explainer: the rise of naked tourism' by F. Higgins-Desbiolles. www.theconversation.com
Search words: nudity, selfie, camera, narcissism, monuments
Trend tags: