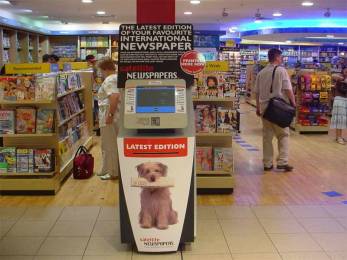 News, media & communications
Addressing an unseen problem
This story just goes to show how wrong one can be and the power of really small ideas. What3words is a UK-based digital start-up that divided the Earth into 57 trillion 3x3 metre squares - and named them all with words such as 'stylish', 'water', 'overheated'.
At first we thought this was one of the silliest ideas we'd ever come across. The explanation for how the idea came about also struck us as pretty daft. One of the founders – Chris Sheldrick – used to work in the music events business and once had a problem with a delivery driver who went to the wrong place due to over-reliance on GPS.
Our initial reaction was to teach people to read proper maps. But then it hit us. GPS has its problems, but so do maps, regardless of whether they are on screens or on paper. Developing countries and remote rural areas can also be poorly catered for and this can have negative economic impacts and even life threatening consequences.
Being able to very accurately locate someone – or something – using a simple combination of three words does solve some problems beyond having a pizza delivery arrive on time.
For example, the Red Cross has started to trial this technology to mark contaminated water locations during a cholera outbreak. Marking a spot with three unique words can also help deliver mail to Rio de Janeiro's 11.5 million largely unmarked slum properties or the hundreds, if not thousands, of patients needing urgent medical deliveries to townships in South Africa.
First responder and emergency services are one potential beneficiary of this idea, but so too are companies such as UPS, Royal Mail or even Amazon. They need to deliver packages to people in remote rural locations or in dense urban areas containing multiple homes and businesses.
Future plans include indoor mapping and possibly adding height as a parameter. This could be especially useful if drone deliveries go mainstream and people want pizza delivered through an open window. This is not the best use of the technology, but its other applications are world changing.
Ref: Daily Telegraph (UK) 22 February 2016, 'Three words that say "I know just where you are"' By L. Davidson. http://www.telegraph.co.uk/
Search words: location, maps, mapping, lost, found, remote, emergencies
Trend tags: Global connectivity
Could the very old thing be the next very new thing?
Digital detoxes, which we were speculating about in 2010, are starting to go mainstream. A ski company used the phrase in a recent press advertisement and someone in NZ has registered the term (good luck with that).
Vinyl records are making a small comeback and now there's an interesting debate emerging about whether film is better than video for movies. Spectre, the new James Bond film, was shot on 35mm film, as was Star Wars Episode VII.
Even so, it's almost impossible to experience films shot on film in the cinema. Some 98 per cent of cinema screens in the UK are now digital, which is convenient and saves money for cinema owners. We wonder how much of any cost savings are passed onto customers (a familiar theme with analogue to digital transitions – big companies take note).
However, the use of digital is costing somebody, somewhere. The annual storage cost of a movie shot on film is about 700 UK pounds per year and a print will last for about 100 years if carefully stored and looked after.
A digital copy of the same film will cost ten times this amount and will last only about 10 years before it deteriorates. (You thought your digital photos kept on your computer were safe? Yes, about as safe as your bank account details held by Talk Talk).
Why would anyone want to see a movie shot in and projected on film? The answer is that film provides a richer and more emotional (dare we say it, human) experience. 'Old' film has a resolution much higher than the 'new' digital standard and can carry billions of colours compared to 16 million or so with a 'cutting edge' digital file.
The best explanation for why old beats new is this. Walter Murch, a US film editor and sound designer, once did an experiment where he shot an empty room on film and then digitally on video. Watching the two sequences sequentially, the digital (video) sequence felt like "somebody had just left (the room)". The film version had a feeling of "rising potential" and felt like "somebody was about to come in".
It's about the same as visiting an art gallery in person versus online. There's not much difference apart from the fact that one makes you feel something but the other doesn't.
The question is not whether film is better than digital. Both have advantages and disadvantages and, like many choices, we should be given the opportunity to decide for ourselves what suits us best.
Ref: Daily Telegraph, 24 October 2015, 'Is it time to bring back the projectionist?' by R Collin. http://www.telegraph.co.uk/
Search words: Cinema, movies, film, analogue, digital
Trend tags: Digitalisation
Twitter's midlife crisis
What is going on with Twitter? At the end of 2015, Twitter announced a fairly dreadful set of quarterly results and we found out the company had failed to attract any new US users during the year.
Clearly, the financial success of the company has little or nothing to do with the utility of its network, but some commentators started to wonder what was happening. Instagram, for example, was in rude heath and so too were Pinterest and Vine.
Writing in The Atlantic magazine, Robinson Myer suggests that to understand Twitter, one first needs to understand Walter J. Ong, the 20th Century media philosopher who studied the societal shift from oral tradition to literacy. Particularly important is the shift from spoken words to written text to printed media and ultimately images.
Orality is instantaneous, which you might immediately identify with Twitter. But Twitter is an example of hybrid literacy, where a simulation of face to face conversation is reproduced as text. This means that audiences and producers blur their roles.
More importantly people say things on Twitter that are ephemeral and informal, but these utterances are easily turned into unequivocal statements by people outside the initial conversation. This is known as 'context collapse' and it's perhaps why people are getting fed up with Twitter.
Casual statements that would be moderated by the reaction of someone you are talking to in person are not modified on Twitter. They are mob-amplified by the network and by other media who take comments out of context and sensationalise them. Thus the public and the private spheres get confused. This turns people away from saying anything remotely interesting and the result is a networked collapse of expectations.
In short, words can hurt and misinform. Some things are best left unsaid or should be said only in private or using certain channels. This is why the standard criticism of Twitter – people don't want to know what others are having for breakfast - has been replaced by people not wanting to share what they are thinking.
Images, on the other hand, tend to be more specific and less controversial. This may explain why more visual social networks are doing better than more text-based ones or perhaps we're just becoming more illiterate.
Ref: The Atlantic (US), 2 November 2015, 'The Decay of Twitter' by R. Myer. www.theatlantic.com/magazine/
Search words: Twitter, text, images
Trend tags: Visual culture
Why we don't use phones to make phone calls
Over half of American adults under 35 no longer use fixed line phones to make phone calls, preferring mobiles only. This social shift - moving from a wired device to an untethered one - has unintended consequences.
With fixed landline, the signal strength tends to be stronger. Handset design means a speaker more or less covers your ear and a microphone covers your mouth and delivers your speech to another person. Interference is negligible. The call takes places inside a room, telephone 'box' or kiosk, which reduce external noise. There is an underlying level of privacy.
With mobile (cell) phones, none of this tends to be true. Mobile phones are increasingly designed to be carried rather than spoken into and have evolved to prioritise data-orientated formats, such as text messaging, chat apps and images. These devices are also more sensory. They involve sight and touch as well as sound, and they are ideal for placing in your pocket.
As a result, the nature of our communication and the attitudes we have towards telephone calls have changed. A call is now regarded my many younger people as intrusive and presumptuous. It demands instant and undivided attention. With text, and even images, people have time to craft a response – or not respond at all.
What have we lost as a result? Telephone calls used to be improvisational and more imperfectly human. Have we lost, or are we losing, the ability to deal with things that aren't perfect and cannot be controlled? Do we want to hear another's voice when they are upset/angry/thrilled?
Ref: The Atlantic (US), 12 August 2015, 'Don't hate the phone, hate the phone call' by I. Bogost. www.theatlantic.com/magazine
Search words: Phones, cell phones, mobile phones, mobile devices
Trend tags: Global connectivity