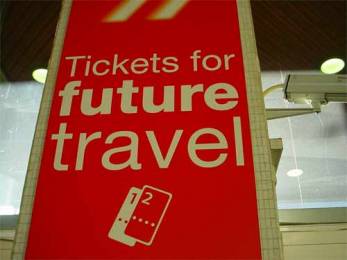 Airlines, hotels, travel & tourism
The new no-fly zones
A few years ago a large PR firm asked us to write a report for one of their clients, one of the top UK travel companies, about the future of holidays. The relationship didn't last long because, in the briefing meeting, it was made clear that this 'impartial' report should steer clear of any references to climate change, pandemics, terrorism and oil prices.
They wanted to peer into the future, but only a comfortable rose-tinted version of it. The cost of oil may have nosedived to their advantage, but terrorists are driving their customers away from many of their most popular travel destinations.
A key question is whether terrorists believe they can extend their war by hitting soft western targets, especially westerners on holiday in the Muslim world, or drive non-Muslims out of what they regard as Muslim regions.
Five years or so ago this would have seemed a ridiculous question. But holiday-makers are starting to regard a week or two in Tunisia, Egypt, Morocco, Turkey and parts of the Middle East as not worth the risk. For winter sun, it's even worse. The choice for Europeans seeking short-haul, cheap winter sun now boils down to the Canary Islands - and that's about it.
There's a big difference between isolated incidents that are quickly forgotten (at least by holiday companies) and regular attacks. If the attacks do become more regular, demand for holidays in North Africa and the Middle East may dry up completely.
Holidaymakers would have to switch to Europe, although it's unlikely that Europe would have the capacity to cope. There's the US, the Caribbean, South America, Australia and Asia of course, but flights are longer and costs are higher. Low-cost long-haul flights may solve this, but they may not.
Whatever happens, remember tourist numbers globally run into the billions and the number of incidents is tiny. Unless you're stupid, very unlucky or both, it's still far more dangerous to cross a road or climb a ladder than it is to travel the world.
See our story below, Ultra-long-haul aviation.
Ref: The Sunday Times (UK), 19 January 2016, 'It's not worth the risk for a week in the sun' by C. Haslam, M. Sheridan, L. Callaghan, D. Loveard. www.thesundaytimes.co.uk
Search words: Holidays, travel, terrorism, risk
Trend tags: -

Ultra-long-haul aviation
On 1 February 2016, Emirates flight EK251 took off from Dubai and flew non-stop to Panama City in 17 hours and 35 minutes, enough to watch eight in-flight movies back to back. This scheduled flight is slightly longer than Qantas airlines Dallas-to-Sydney leg (17 hours) but considerably less than a 19-hour flight proposed by Singapore Airlines from Singapore to New York.
What's going on here? The answer is a mixture of new materials technology and, hopefully, customer demand. Ten years ago, ultra-long-haul was emerging as a trend, but the high cost of fuel plus an emerging economic crisis put an end to it. But now, with fuel costs dropping and new ultra-light aviation materials emerging, the trend is back.
The largely composite structure of the new Airbus A350-900ULR, for instance, uses around 25 per cent less fuel than a similar sized aircraft built with conventional materials. This lower weight means a lower fuel burn rate but also, crucially, longer range. Range is important because it's not necessarily the distance between point A and point B that counts to travellers, but whether there is a connection or stopover. For business travellers this is even more important.
Another advantage of carbon-fibre composites is humidity. Flying is tiring because of lack of humidity inside the cabin. With composites the humidity can be increased without the prospect of damaging critical metal components. There is still crew fatigue, but larger planes can accommodate crew beds, although this does not stop time-zone related disruption.
So where might we be flying in the future? With new materials (and crucially low-cost fuels) the answer is just about everywhere. Non-stop flights to anywhere could be possible except, as Alan Epstein, an ex-aerospace professor at MIT says, "The limit is no longer the endurance of the engines. It is the endurance of the passengers".
Ref: Financial Times (UK), 7-8 November 2015, 'Are you sitting comfortably?' by T. Powley and P. Hollinger. www.ft.com
Search words: Airlines, flying, travel, low-cost, long-haul
Trend tags: Global connectivity

Airport security
It is widely acknowledged that one of the worst things about air travel, apart from delays, is airport security. There are the queues, the fuss, and the assumption of guilt, but to what end? Does airport security improve safety and security or is it essentially a theatrical performance to give the impression of safety and security to nervous travellers?
Most experts, including Philip Baum, editor of Aviation Security International, would suggest the latter. For example, in a recent test, the US Department of Homeland Security managed to get fake bombs and weapons safely through 67 out of 70 airport security screens.
One of the big problems here is that conducting bag screening and body searches on frustrated passengers is tedious work and because of this, sloppiness is inevitable. In short, people miss things.
Using automated technologies such as Malicious Intent Detectors, can improve the odds significantly, as can human psychological observation and questioning. Perhaps a better solution is to vary the screening procedure. One aspect that criminals really dislike is unpredictability, so randomly varying the level of screening and how screening is done, could catch them out.
Ref: GQ, March 2016, 'Emotional Baggage.' Anon. www.gq-magazine.co.uk
Search words: Airports, flying, security, terrorism, risk
Trend tags: -

New travel trends
Here's a strange – or perhaps not – new trend: nights in nature. It started a while ago with luxury tree houses, glamorous camping and fully plumbed yurts. Now the not quite back-to-nature trend is not so much fantasy fairytale spaces but being as close to nature as possible, without actually feeling it.
Nights in nature usually involves sitting in or sleeping behind large sheets of glass aesthetically dumped in grassland, woodland, rocks or snow.
Examples include Pure Pods in Kaikoura on South Island New Zealand, the Finn Lough Forest domes near Enniskillen in Northern Island, Bert's Box, at the Pig Hotel in the New Forest (England) and the Kelo-Glass Igloos in Finland's Kakslautten Artic Resort.
Ref: FT Trending: 'Nights in Nature', www.ft.com
Search words: Nature, hotels, sustainability, experiences, counter-trends
Trend tags: - Links: Chopping wood, beards, vinyl records

Pet hotels
If you ever need proof that the world has gone completely mad then forget about how many people have access to clean water, hygienic toilets or a basic education. Look instead at four poster beds, spa treatments (including full body massage), indoor gyms, and giant TVs that are available for - wait for this - our cats and dogs.
The Longcroft Luxury cat hotel in Hertfordshire in the UK has been so successful that it now has nine branches. Ings Luxury cat hotel in West Yorkshire (UK) even holds a Saturday night disco for its feline residents.
Total spending on pets in the UK now stands at 4.6 billion pounds, according to the research company Euromonitor.
Ref: Sunday Times (UK), 22 November 2015, 'Cats get cream at 5-Star hotels by K. Dowling.
Search words: Pets, luxury
Trend tags: We have no idea!