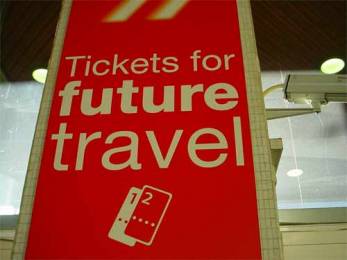 Airlines, hotels, travel & tourism
When to chat and when to stop
In a world of continuous, vibrating, interrupting, demanding communication, no wonder there is a corresponding trend towards some silence. There have been numerous articles imploring people to get off the email treadmill and learn to answer them once or twice a day. Meanwhile, some people travelling on trains are sick of hearing others on mobile phones and just want to enjoy some silence. It seems we have a new challenge – when to chat and when to stop.
For those who need to spend a lot of time on the phone, it can be gruelling indeed – yet almost impossible to turn off. Perhaps it's time to change what other people expect of you. If you are the kind of person who always responds to phone and email messages within a few moments, perhaps it's time to tell them to expect something different. One way is to leave a message like this:
"Thank you for your message. I check my email once a day so, if the message is really urgent, please call me." You might also add something about when you expect to be back from a trip.
The thinking is that, once someone sends you an email, they feel a sense of relief at having ended their responsibility for it. It helps them if you state when you intend to reply. A great deal of procrastination about writing email is not because people can't or won't write them, but because they don't want to be involved in the constant time-wasting to-ing and fro-ing of emails – rather like phone tag.
A study of 'information workers' found, when stripped of their email for a week, they focused for longer, did less multitasking and were less stressed. Even their personal relationships at work improved, because they went to see their colleague. Perhaps it's time for a new social norm that is more accepting of slow replies. It's still a long way from the daily post, but it could improve the nature of conversations.
As for train carriages, the operators are trying to work out whether it is worth fining people who make a noise, or whether they should charge travellers extra for quiet carriages. That way, it becomes an active choice. Then again, it's another case of changing social norms. Just as mobile phones came to dominate modern life so rapidly, it is possible that their use can be moderated as we come to understand more deeply their lasting impact.
Ref: The Economist (UK), 12 May 2012, Shhhh!. Anon. www.economist.co.uk
Wired (UK), 2 August 2012, Let's talk about how soon we can have a chat. B Hammersley. www.wired.co.uk
Source integrity: Various
Search words: phone, social backlash, email, turn off, stress, multitask, interrupt, conversation, quiet carriage, train, signal-jamming, norms, headphones.
Trend tags: Silence, disconnection

Hotels for the rest of us

The Japanese first thought of the idea of "capsule hotels", small rooms with only a bed and tiny television, for travellers on a budget. Then Heathrow and Gatwick airports in the UK opened 78 "Yotels", small cabins for hire by the hour with a minimum booking of four hours. Now a UK company, Criterion Capital, is involved in a project in the Trocadero at Piccadilly Circus, to create 600 rooms, each only 10 square metres including a bathroom! As one manager said, "Once you take the window out you can just pack them in".
There's a good reason for this development. London is underserved with budget hotels, which do better than five star hotels and have an 84% occupancy rate. Britain also has fewer budget hotels than other countries, for example, a quarter of French hotels and a third of American hotels are budget. While budget hotels account for only 16% of the British market, their capacity is almost twice what it was 10 years ago and the sector is flourishing.
It will be interesting to see whether travellers are willing to give up their windows onto the world. People may more easily accept a pod at an airport, when they are most likely to be exhausted and desperate to lie down. There's not much to look at there. Some may find the idea of a windowless "pod" claustrophobic but many budget hotels don't have much of a view anyway. How long before we see urban apartments being built along similar lines, we wonder.
Ref: The Economist (UK), 14 January 2012, Room without a view. Anon. www.economist.co.uk
Source integrity: *****
Search words: London, budget hotel, Yotel, Heathrow, Tokyo, Trocadero, Criteron Capital, window, pod, capsule hotel.
Trend tags:
Hotels for Africa
Demand for hotels depends on business travel, which depends on the economy and European and American hotels are losing their lustre. This is not the case in Africa, until fairly recently, not considered the ideal place for building a fancy hotel. But business travellers are being drawn towards Africa's seductive stores of minerals, oil and natural gas. In fact, sub-Saharan Africa is forecast to grow by 5.4% this year, higher than anywhere except developing Asia.
The international chains have 208 new hotels on their plans across Africa, of which 50 are Marriott's by 2020 and 30 are Accor's by 2016. Marriott plans to open hotels in Rwanda, Ghana and Ethiopia, the fastest growing economies in Africa. Most hotel chains have their eye on Africa, especially as occupancy rates and margins are currently so high compared to Europe and America. Travellers currently pay a lot more for a room in Africa than they do in, say, France.
This is not to say Africa does not have its risks. A Nigerian terror group recently blew up buildings in Abuja, which has caused foreign companies to take their business elsewhere to Lagos. Other problems are generally poor infrastructure and ancient customs procedures, which help to create a big gap between supply and demand. Thanks to poor roads and strong demand, air travel in Africa is up 9.8% this year, (6.8% globally). Not the dark continent anymore.

Ref: The Wall Street Journal (US), 19 September 2012, Hoteliers fill a gap: Africa. P McGroarty and A Berzon. www.wsj.com
The Economist, 10 November 2012, No vacancy. Anon. www.economist.com
Source integrity: *****
Search words: Hilton, Nigeria, Abuja, Marriott, Accor, occupancy rates, margins, terror group, Lagos.
Trend tags:
Get into your PJs (private jets)
We've come a long way in 75 years since Charles Lindbergh flew solo across the Atlantic in a single-propeller plane. These days, flying is, well, such a bore – and worth $US250 billion a year. We crowd into airport check-ins and gate waiting rooms and bear the crush of economy seating. This is too much for the highly privileged, so luckily they have the limousine and the Private Jet (PJ).
To celebrate the 75-year anniversary, Lindbergh's son, Erik, flew alone across the Atlantic with one propeller. Erik has teamed up with Air Charter Service to offer the Lindbergh Card, which is available to anyone for 50,000 UK pounds. This money goes into a private trust account and is not used as operating capital.
When the holder of the card needs a jet – whatever the reason – there will be one available to him or her at their bidding. The jet will contain whatever pleases them, whether it's down pillows, dog beds or Greenland newspapers and a limousine will come to fetch them.
As Air Charter Service ironically says, it could be less expensive than "several trips by British builders to suss out properties in France" or even hiring a helicopter. It sounds like a wonderful idea for the privileged. The rest of us will have to take Ryanair – if they'll take us.

Ref: Daily Telegraph (UK), 30 November 2012, History and luxury on a private jet to Paris. V Mather. www.dailytelegraph.co.uk
Source integrity: *****
Search words: travel, private jet, Ryanair, Lindbergh, Spirit of St Louis, Lindbergh Card, luxury, Air Charter Service, NetJets.
Trend tags:
AirAsia flying high

We are accustomed to reading about how airlines are struggling to survive in this difficult economic environment: AirAsia is an exception. After only 10 years, it carries 30 million passengers a year and is growing at 10% a year with healthy profits. It is the fourth largest airline in Asia. Part of its success derives from the fact that South East Asia is ideal for flying, because its wide-ranging archipelagoes are so difficult to navigate by road or sea.
AirAsia has also been making wise acquisitions - Batavia Air in Malaysia, All Nippon Airways in Japan - and is now the biggest customer for Airbus A320. Its competitors, Tiger Airways and Jetstar Asia, seem to be trailing behind, for now.
The biggest problems for AirAsia are faced by other airlines too: their highly regulated and expensive operating environment. Politicians like to build fancy, expensive airports to impress the world, but these unnecessarily push up the price of flying into them. As the boss of AirAsia notes, they need fewer "Taj Mahals" and more budget airports. For example, Thailand has the highest airport tax and the slowest passenger growth. The other problems are high fuel prices and carbon tax, all of which helped to stop AirAsia from flying into London and Paris.
However, AirAsia, like other corporates, has its eye on India. Here is a market with millions of people and a new middle class bigger than Indonesia where the airline is based. Following the Indian government's willingness to let foreign carriers invest in Indian airlines up to 49%, it seems likely AirAsia – and others - will be India-bound.
Ref: The Economist (UK), 29 September 2012, Spreading its wings. Anon. www.economist.com
Source integrity: *****
Search words: AirAsia, Qantas, Jakarta, Malaysia, Batavia Air, middle class, All Nippon Airways, fares, Jetstar Asia, airports, London, Paris, carbon tax, India.
Trend tags: