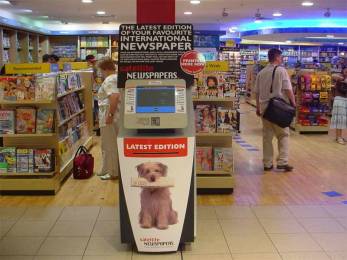 News, media & communications
Latest phone trends and innovations
If we were asked to name the most important (impactful) innovation from the last quarter century we'd have to say the mobile phone. There are now a staggering 1.6 billion (1,600,000,000) cell-phones on the planet of which an amazing 320 million reside in China. In the US total phone traffic (which includes landlines) grew by 362% between 1992 - 2002 and total calls were 54.6 billion minutes. Why the growth? - answers include cheaper calls resulting from the break-up of national telecom companies, globalisation, immigration (more people phoning home) and innovations like pre-pay and international calling cards. On the purely mobile front recent innovations include 24hr handset replacement (Orange), a phone with a help button linked to GPS that calls emergency services (secufone.com), a premier service where you can speak to a human being rather than another machine (Orange again), a phone handset sterilising service (KTF Telecom Korea), and a drunk dialling service that temporarily prevents users from dialling certain numbers (Virgin mobile). Meanwhile, over on the content side, Robbie Williams (together with Carphone Warehouse UK) has launched his greatest hits album on a memory card and a band called Rooster has broadcast an entire concert over the phone.
Ref: The Atlantic Monthly (US) October 2004 - Calling All Nations Also Trendwatching 2 December 2004 Masters Of The Youniverse http://www.trendwatching.com Trendcentral 4 November 2004 http://www.trendcentral.com and Sense Bulletin 9 November 2004 http://www.senseworldwide.com
It's my life
A company called This Is My Story is offering a gift with a difference - a book of your father's life as a present for father's day. You supply some words and photographs and the company turns it all into a book. At the other end of the age and technology spectrum is the Nokia Lifeblog, which catalogues and indexes all your mobile communications from SMS to photos and video clips.
Ref: http://www.thisismystory.com.au
Mixing tracks
A company called Broadcast Networks has begun trials with music vending machines in railway stations and pubs in London. The vending machines hold approximately 2 million music tracks which can be downloaded to suitably equipped mobile phones or MP3 players at a cost of GB £1 each. Around 250,000 music tracks are purchased via downloads in the UK each week.
Ref: The Australian 2021 November 2004. Download a track as you wait for a train.
No commitment
Loyalty is something that TV viewers in the US gave up years ago so programme makers are starting to make TV series where each episode is self-contained (i.e. you don't need to have seen the last or the next episode to understand what's happening). Meanwhile, in Australia viewers are switching off DIY programmes and other instant make-over shows and tuning to documentaries.
Ref: Sydney Morning Herald (Aus) http://www.smh.com.au
How low can you go?
Channel 4 TV in London is looking for someone (anybody) that will donate their dead body to a TV show. The idea is to show the body decomposing. In 2003 Channel 4 screened live a post mortem. Are we returning to the Victorian era's obsession with death or have programme makers just run out of ideas?
Ref: www.nowandnext.com