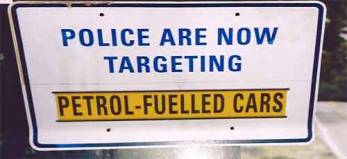 Automotive & transport
China's auto market hits the wall
One of the biggest mistakes made by companies and individuals trying to predict the future is to take a trend and extrapolate in a linear fashion. A case in point is the Chinese automobile market. For years car companies have been eyeing the Chinese market and extrapolating that early growth rates, prices and margins would be extended to China's 1.3 billion people. Unfortunately such forecasts seem to have stalled. Rising petrol prices and tougher loan requirements mean that China's emerging middle class is spending money on necessities like education, health and housing.
Ref: China's Hot Auto Sales Cool As Middle-Class Clients Stall. P Wonacott, Asian Wall Street Journal 24 November 2004 http://www.awsj.com
Car sharing speeds up
We wrote about car sharing getting serious in the previous issue of What's Next. Now two US based start-ups are revving things up and ABI Research claims that car sharing could grow by 100% in the US by 2009. The two latest companies trying to get a foothold in the US $15 million market are Zipcar and Flexcar. Boston based Zipcar has 400 vehicles in and around the East coast while West coast based Flexcar operates 350 cars in Los Angeles, Seattle and Portland. Interestingly, both companies report that most of their growth is coming from companies trying to cut costs on car rentals and taxis.
Ref: Car-sharing Moves Into the Fast Lane, M. Palmquist, Business 2.0 (US) 17 November 2004. http://www.business2.com
What's goes around comes around
The world's first air-filled tyre was invented by Michelin in the early 1890s. Prior to this vehicles used wheels made of wood and metal or tyres made of solid rubber. So with a sublime sense of irony Michelin, now the world's largest tyre maker, has invented a solid tyre that doesn't use air. It's still early days for the product, so don't hold your breath, but the invention does have a number of advantages over conventional air filled tyres including the increasingly popular 'run flat' products. Obviously, if there's no air the tyre can't puncture. It also has fewer parts, which should reduce costs and increase reliability. The 'tyre' also lasts three times as long as conventional radial products and can be re-treaded. Expect to see 'twheels' (the tyre is actually a combination of a 'tyre' and wheel hence the name) on military vehicles in a few years and automobiles a few years after that. Who says you shouldn't reinvent the wheel?
Ref: Reinventing the Wheel (and the Tire, Too), N. Mayerson, New York Times (US), 3 January 2005. http://www.nytimes.com
Talking the talk, but not walking the walk
The annual Department of Transport (UK) Trends survey reveals some interesting statistics, some of which may be related to the growth in obesity. Since 1980 there has been a 79% increase in road traffic in the UK although most of this growth occurred in the 1980s. Car use has increased by 38% since 1985 and the number of trips and distance travelled is related to income. The average time spent travelling (one hour per day) remains static, although the distance people walk has fallen by 19% (from 231 to 191 miles a year). The distance cycled has also fallen by 28% over the same period - both due to a perceived lack of time and an increase in car ownership. Other fascinating facts include the statistic that carbon dioxide emissions from transport have increased by 25% since 1980 and that car crime is on the wane with a 42% decrease since 1993.
Ref: UK Transport Trends 2004 Edition. Department for Transport (UK).