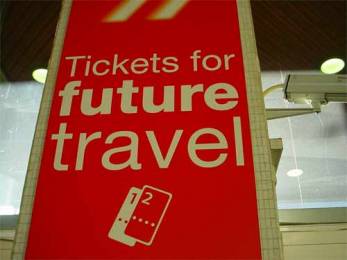 Airlines, hotels, travel & tourism
PAY-TV at 40,000 feet
Virgin Blue in Australia will join US carriers like JetBlue and Frontier in mid-2005 by offering live seat back television to passengers. The service, costing around AUD $5.00, will be accessed by credit card and will give passengers 24 Foxtel channels to choose from including news, business, sport and entertainment. In the US Frontier airlines claims that approximately half of all passengers use the service. Virgin Blue expects the idea to be cost-neutral. What other products and services could airlines split out from the cost of a seat?
Ref: Pay-TV to get a ride on Virgin - S.Creedy The Australian (Aus) 5 November 2005. www.theaustralian.com.au
Spas get hotter
The battle of the skies is becoming the battle of the bliss as airlines rush to reduce stress for premium class passengers by putting spas and spa treatments into airport lounges and onto aircraft. The latest example is British Airways working with Molton Brown to create travel spas in Heathrow airport and JFK. Meanwhile Singapore Airlines is working with frequent flyers to develop the interior of its new Airbus 380 jumbo jet. According to sources the new aircraft will, as we predicted, feature showers along with a massage centre, children's crèche and gymnasium.
Ref: Vanity Fair (US) November 2004.The Straits Times (Singapore) 6 December 2005. http://www.straitstimes.asia.com
The right crowd and no crowds
Lufthansa has launched the first air terminal in the world for premium class passengers only. The 19,000-sq.ft terminal in Frankfurt features valet parking, private offices, restaurants and a cigar room. Passengers are also driven to waiting aircraft in either a Mercedes S-Class or Porsche Cayenne. Meanwhile Lufthansa is also pioneering the concept of business class only flights from Munich and Dusseldorf to Chicago and Newark. Good ideas? Undoubtedly, although part of the joy of travelling business and first class must surely be the fact that you enter the aircraft next to people who aren't.
Ref: Springwise (Neth) December 2004 http://www.springwise.com
Where the grass is greener
According to research conducted by ICM 52% of people in the UK would prefer to live somewhere else. Top dream destinations include Australia, Spain, USA, Canada and New Zealand. Meanwhile over 500,000 Britons have bought a house overseas and last year 191,000 actually left to go somewhere else. Reasons for wanting to leave the country include the cost of housing, crime, long working hours, lack of sunshine and expensive food. Of course, like many trends there's a counter trend. There are now 300,000 French people living in Britain because they've become fed up with living in France.
Ref: Half a million Briton's have bought a place in the sun. N.Martin, Weekly Telegraph (UK), Number 694. Office for National Statistics (UK)
Low cost hotels
Innovation transfer is the rather grand name given to what most ordinary people would call stealing - taking an idea from another market or a competitor and adapting it for your own advantage. A recent example is the way that hotel, coach and ferry operators (not to mention most of the big airlines) have copied the low cost model pioneered by carriers like SouthWest, easyjet and Ryanair. The latest companies to jump on the low cost bandwagon include Speedferries and Stagecoach who have both introduced online bookings and other 'no-frills' products like paperless tickets. Meanwhile, also in the UK, Travelodge has been selling hotel rooms at GB £10 per night.
Ref: The Times (UK) 20 November 2005. 'Bus, ferry and even hotel operators are copying low-cost airline tactics'.
Travel trends
Two emerging sectors that we're keen to keep an eye on include religious tourism and 'rich packers'. The former is fairly self-explanatory and looks set to grow alongside the rise in tribalism and the growth in religion. 'Rich packers' is the antipodean trend of professionals returning to countries they once visited as penniless backpackers - but this time spending big money. They are time poor and cash rich so trips tend to be short and single country focussed.
Ref: Le Monde (France), The Australian (Aus)/various.