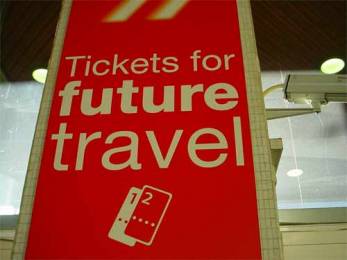 Airlines, hotels, travel & tourism
Book with a person again
You might think that people are deserting travel agents in droves because it's simpler to book online and avoid paying commission. Yet for every trend, there's an equal and opposite one. A Mintel survey of 25,000 adults found 50% of people used travel agents last year, compared to fewer than 46% in 2007. Researchers attribute this to people's need for reassurance and protection, especially in a climate of high-profile collapses, volcanic ash and political uncertainty. While booking with an agent can't prevent business collapse, it can reassure travellers who are spending their hard-earned cash.
One crucial difference online is usually that prices are cheaper. Some independent operators have decided to keep their prices the same across the board, for example, Explore, which has had a 10% increase in travel agent bookings. The company claims this is because it now provides more training and day-to-day support for its agents. Meanwhile, Thomson and First Choice plan to open 20 shops in the next two years, following steady closures in their combined portfolio of 240 shops.
Mintel found more than 25% of people booked to make sure they were protected, while 20% used agents because they had no internet access. Even so, 33% of people with internet access still used agents and only 10% lacked faith in making online bookings. Only 20% of consumers say they will use agents in the future and the same percentage currently plan to keep doing so, even though 33% of agent users were happy with holidays booked this way.
Interestingly, Mintel says it's young people – 15-24 – who are most likely to consider using a travel agent in the future. While people are notoriously poor at predicting their own behaviour, it's a curious shift for a group brought up solely in the digital age. Perhaps they are feeling the lack of face-to-face contact? Or is it just nostalgia for an era they never experienced, similar to that for vinyl records? Then again, maybe it's just convenience. After all, nothing is more convenient (and less stressful) that not doing something yourself.
Ref: Daily Telegraph Business Reporter (UK), June 2011, 'Back to the high street' by J Skidmore.
http://www.lyonsdown.co.uk/publications/2011/travel.pdf Mintel, December 2010, Travel agents.
Search words: travel agents, commission, reassurance, Association of Independent Tour Operators, Explore, confidence, internet, service.
Trend tags: Face to face
Source integrity: *****
Using thermals to stay up
Scientists often draw their ideas from looking at nature. Hawks and vultures, for example, are experts at using columns of rising air, called thermals, to fly upwards. What if we could create gliders that fly themselves using thermals for search and rescue missions or to make detailed maps of, say, a battlefield? Researchers in California and Australia are investigating the best way to harness thermals and – when absent at night - to fly without them, using what is called "dynamic soaring".
Salah Sukkarieh, Australian Centre for Field Robotics, is creating an autopilot system that can catch the wind. It can fly into high-speed air currents for momentum and then turn into slower winds to gain altitude. This is "dynamic soaring". To do this, the autopilot has to be able to accurately measure, predict and respond to these winds. Sensors on the glider measure changes in velocity and altitude and, using its built-in knowledge of how winds move, can create a local wind map. These sensors can also spot visual cues for thermals, such as towering cumulus clouds. The glider can then work out the most energy efficient route – the less energy it uses, the longer it can stay up. Watch this space, like a hawk perhaps.
Ref: New Scientist (UK), 25 June 2011, 'Plane sailing' by M. Campbell. www.newscientist.com
Search words: thermal, glider, autopilot, dynamic soaring, hawk, cloud, wind, mapping.
Trend tags: ,
Source integrity: *****
Hypersonic travel
The prospect of taking less than 2.5 hours to travel from Paris to Tokyo may seem terrifying. But Airbus and their Japanese partners are developing a hypersonic jet known as zero emission high speed transport (Zehst) that will run on biofuel made from seaweed - and travel at 3,000 mph! Only 50-100 lucky travellers will experience travel at 4 times the speed of sound (twice the speed of Concorde), 20 miles above the earth's atmosphere and even then, not until 2050. The first non-manned test flight could be in 2020.
Developments like these need massive injections of capital and are very exciting. But with such a long lead time, many people currently involved in the project probably won't be around to experience the first commercial flight. By then perhaps, we will have developed other, more sophisticated ways of travelling the globe. And it might make economic sense to develop more planes that run on biofuel and can take off sooner rather than later.
Ref: The Daily Telegraph (UK), 20 June 2011, 'Paris Air Show sees flood of plane orders despite rain-swept first day' by R.Gribben. www.telegraph.co.uk
Search words: hypersonic jet, biofuel, zero emission high speed transport (Zehst), atmosphere, speed, EADS, Paris air show, 2050.
Trend tags: ,
Source integrity: *****
Hotel dining above the clouds
The business of flying appears to have merged with the business of fine dining, creating some great restaurants in the sky. Flying somewhere is just a bonus. Just as Peter Gordon has been a menu consultant for Air New Zealand for many years, Lawrence Keogh (of Roast, Borough Market) has joined forces (forks?) with British Airways on its BA 001 flight from London to JFK. Diners can look forward to a pile of pricey British and Irish food icons, such as colcannon, Cashel Blue, piccalilli, Wiltshire ham, all cooked in a very small kitchen. Now Keogh is working with artisans around Greenmarket in Union Square to help create a menu suitable for the culinary return leg. (We don't mean ham.)
With business class dining moving so splendidly upmarket – and the likes of Ryanair travellers receiving nothing at all (or worse) – we forecast a gentle move upwards for the premium economy or economy passengers. They have been subjected to mush for too long now – and with plastic forks. Clearly for them, plane food has a long way to go, so to speak.
Ref: Financial Times, (UK) 28 May 2011, 'Just plane tasty' by B. Knot.
Search words: transatlantic, in-flight dining, Peter Gordon, Air New Zealand, British Airways, Lawrence Keogh, Roast, five star.
Trend tags: Polarisation, premiumisation, luxury
Source integrity: *****
Extreme travel
Travellers with a consuming interest in current affairs can now put down their digital newspapers, stop reading blogs and Tweets, and put their feet where their heads are. An enterprising UK travel agency, Political Tours (run by former New York Times Balkans Correspondent, Nicholas Wood) will take you to all the places where the action is happening.
The company offers group or individual tours to places like Northern Ireland, Ethiopia, and Bosnia to see current affairs for yourself. You will stay in quality hotels, eat good food, and even meet politicians and international officials to pose your own questions. Political Tours wisely does not take sides in any of these issues, adheres to package tour regulations, and is financially guaranteed.
It sounds a little like extreme sports to us, but it's still an excellent, presumably affluent, niche that nobody has tapped yet. I wonder what other niches tour operators might discover?
Ref: Springwise (NETH), 3 June 2011. 'Niche travel tours for fans of current affairs'. Anon. www.springwise.com, www.politicaltours.com
Search words: current affairs, Political Tours, niche travel, BBC, correspondents, Northern Ireland, Bosnia, Ethiopia.
Trend tags:
Source integrity: ***