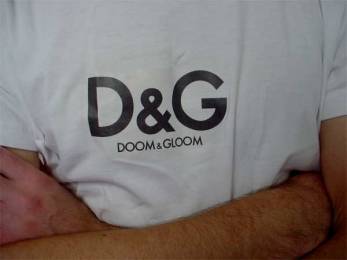 Retail, shopping & leisure
Too much choice (why less is still more)

In 1975, the average US supermarket carried about 10,000 lines. Today, the number is approaching 50,000. In the UK it's much the same story. Tesco stocks no less than 91 different kinds of hair shampoo, 93 types of toothpaste and an astonishing 115 kinds of household cleaner. Meanwhile, Tropicana (part of PepsiCo) produces 20 different types of fruit juice – up from just six, seven years ago.
Choice is a modern dilemma. We crave alternatives, but have less and less time to make our choices. But this paradox isn't limited to food or fast-moving consumer goods. Over-choice is everywhere. We can have our homes, our cars and our bodies any way we choose (if we have the money). Similarly, we can choose to travel to more places, live in more countries, study more courses and marry more people.
We can also instantly communicate in a multitude of ways and consume information from an almost infinite number of sources. Free choice means that markets work, but there's an argument that we're being spoiled, indulged and demotivated as a result.
A few years ago researchers set up a jam stall inside a supermarket in California. Shoppers were asked to sample an array of 24 jams and were then given a discount voucher to spend on jam in-store. However, of the shoppers stopping by the jam display only 3% subsequently bought any jam. When the number of jams was reduced from 24 to six the redemption rate jumped to 30%. Similar results have been obtained with pens, coffee and pension plans, and has also been observed by Procter & Gamble when they reduced the number of varieties of Head & Shoulders shampoo from 26 to 15 and saw sales rise by 10%.
The main argument put forward by commentators such as Barry Schwartz, author of The Paradox of Choice, is that while some choice is good, too much choice is bad.
When faced with too much choice we tend to do nothing or we do what everyone else is doing. This is partly because we become stressed by having to filter too much information and partly because we make poorer decisions when there are too many options to choose from.
This could, of course, be a generational issue. One of the things that the digital generation is getting good at is quickly filtering information and making snap decisions. However, there is also the argument that much of this is behaviour is reflexive. People grab and go and either end up making entirely the wrong decision or else regret the choice they've made and subsequently spend too long trying to change their choice.
But over choice isn't just confined to bank accounts and cans of soup. A study by the University of Bristol (UK) in 2010 found that 47% of respondents thought that life was becoming more confusing and complex than a decade ago, and 42% admitted to lying awake late at night trying to figure things out.
Is this a long-term issue? Yes and no. When it comes to physical products, the emerging localism movement could act as a default filter to over-choice. However, for products and services that are digital, there is no theoretical limit to the number of options that are available because 'shelf space' is infinite. What can be done? First, take time to think things through, but equally don't over-think things. Second, remember that making a decision is usually more important than worrying about which decision to make. Third, relish the thought that having no choice at all can be liberating.
Ref: The Economist (UK), 18 December 2011, 'You choose'.www.economist.com
Source integrity: *****
Search words: Too much choice, over choice, supermarkets, retail
Trend tags: TMC
See also The Paradox of Choice by Barry Schwartz.
Links: The long tail.
Augmented reality check
Augmented reality (more clumsily known as interactive video technology) is starting to make its presence felt in retail with a number of companies developing augmented reality (AR) to transform the customer experience. As Chris Sanderson, co-founder of the Future Laboratory, excitedly puts it: 'It's the next step in creating a seamless experience at home, closing the gap between the store and online shopping.' A few forecasts seem to support this view. ABI Research, for instance, claims that that the market for AR technology will grow from $6 million in 2006 to $350 million by 2014. Mobile apps for AR technology are expected to be worth $732 million alone.
But is this just hype?
Some of the technology is undoubtedly worthwhile. In December 2010, for example, eBay launched an app that enables anyone with an iPhone 4 to 'try on' pairs of sunglasses onto an image of their own face. Clothing retailer H&M has similarly created an app that allows shoppers to 'model' clothes on pictures of themselves, either to see what things look like or to share images with friends on Facebook. The shirtmaker Hawes & Curtis is doing much the same thing with its 'virtual fitting room', while watchmakers and jewellery companies are doing similar things.
However, there is a problem. Many of these apps have a high novelty factor but this can fade. Moreover, while the ability to share images with others will obviously be of interest to some people, beyond this the practical uses of AR in retail are limited.
Images lack texture and depth and the overall emotional experience is no substitute for seeing – and especially touching and smelling – things in a physical store.
Ref: Financial Times (UK), 15-16 January 2011, 'Reality chic' by L. Greene, www.ft.com
Source integrity: *****
Search words: Retail, virtualisation, augmented reality
Trend tags: GRIN technology

Why Levis is asking its customers to wash less
Could it be the end of the line for cotton clothes? A few years ago Levis introduced a line of 'green' eco-jeans, but demand soon fizzled out. However, pressure is building for clothes manufacturers and retailers to consider a broader range of ethical, environmental and social issues, especially those relating to water use, dye impact and labour issues. Conventional cotton, for instance, uses 25% of the world's fertiliser production. Hence Levis latest development, which is the Waterless Jean. This jean is made using less water, especially at the fading stage. Moreover, Levi's is advocating that customers wash their jeans less often and embrace a dirtier look. Given that Unilever, the soap manufacturer, recently launched a campaign saying that dirt is good, the idea might just catch on.
Ref New York Times (US), 5 January 2011, 'In Eco-jeans, the green becomes harder to spot' by A. Zissu www.nytimes.com
Source integrity: *****
Search words: Clothing, water. levis, washing, dirt
Trend tags: Sustainability

Out of the box retail strategy
Ikea is famous for a number of things, flat-pack furniture, strong branding, quality design, low prices and fat profits all being towards the top of the list. So what's the secret to Ikea's success? According to the Economist magazine the answer could be thrift. Ikea was founded in Smaland, a relatively poor region in southern Sweden, so lean operations and doing more with less has always been deeply embedded in the company's culture. Thrifty Europeans, especially Germans, are the company's most loyal shoppers, but Ikea is catching on in China and Russia and expansion into India and its emerging middle class is likely very soon. However, the company is not immune from criticism. A study by Alan Penn, director of the Virtual Reality Centre for the Built Environment at University College London describes the 'yellow path' Ikea shopping experience as 'confusing customers into submission'. But it the experience is so distressing and depressing why do customers keep coming back? More worrying for the company is its somewhat opaque structure. On the plus side the company bills itself as a green company on a social mission and is pleased with the fact that 40% of senior managers are women, but its ownership structure and tax planning is hidden behind a myriad of companies and foundations. Is this just a classic of example of price and convenience trumping social or ethical concerns?
Ref: The Times (UK), 22 January 2011, 'Confused and can't see any way out? You're in an Ikea store – keep buying' by H. Devlin www.thetimes.co.uk and the Economist (UK), 26 February 2011, 'The secret of Ikea's success'. www.economist.com
Source integrity: ****
Search words: Ikea, business models
Trend tags: -
10 worst Customer Service mistakes
1. Not having enough tills open
2. Cashiers that have lost the art of physical communication
3. Pushing inappropriate offers (e.g. free chocolate with every newspaper)
4. Sales assistants that don't know (or don't care about) what they're selling
5. Ill-fitting fitting rooms
6. Too much stock/clutter on the shop floor
7. Sales assistants that are gossiping rather than selling
8. Too much signage
9. Too much hard sell
10. Nowhere to sit down
Ref: Adapted from Daily Telegraph (UK), 19 January 2011, 'Mary Portas: my 10 worst customer service crimes.' www.telegraph.co.uk
Source integrity: ****
Search words: Customer service
Trend tags: -