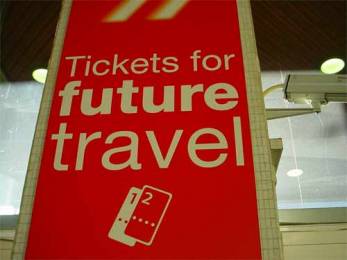 Airlines, hotels, travel & tourism
The future of flying
Aviation contributes about 12% of the carbon dioxide emitted by transport and people show no sign of giving up flying. On the contrary, individual journeys are expected to be 3.3 billion by 2014, up from 2.5 billion in 2009. Note also the cost of flying has dropped by 60% in real terms in the past 40 years. So the challenge is to design a plane that uses less fuel, carries an increasing number of passengers – and makes a profit.
Planes are already much more efficient than they were, with turbofan engines, aerodynamic improvements, lighter structures, and flight management systems. But the basic shape of a plane has not changed so much. The next step is to redesign its shape, while adhering to safety legislation and using the existing infrastructure of airports and baggage handling.
At MIT, Mark Drela has created a D-series aircraft with two partial cylinders joined together, instead of one, and a nose pointing upward. Both features offer more lift and reduce the need for heavy wings. The engines are also put at the rear, meaning the tail can be smaller. Imperial College is creating a design where jet engines are mounted over and above the wing, with no tail fins. Researchers are also working on creating laminar airflow (meaning smooth, not turbulent) by changing the shape of the wing. This will dramatically lower fuel consumption. Another idea is to make the wing shape more active, so it can change according to conditions.
For a non-engineer, these changes might be hard to grasp, but it looks like the future still includes flying in aircraft. It's one of those luxuries – albeit an uncomfortable or frustrating experience – that we're just not prepared to give up. China is creating aircraft infrastructure and buying planes as rapidly as it can (see Business travel takes off again, below). Climate change might be a reality, but behaviour change is certainly not.
Ref: The Economist (UK), 12 March 2011, Plane truths. Anon. www.theconomist.co.uk
Source integrity: *****
Search words: prices, carbon dioxide, fuel, structure, efficiency, safety, MIT, Imperial College, airflow, laminar.
Trend tags: -

Business travel takes off again
After a dramatic 32% drop in the volume of business travel in 2009, business people started flying again in 2010, up 17%. The Global Business Travel Association believes businesses understand the importance of meeting customers and suppliers face to face to build and maintain relationships: technology is no substitute. In spite of the weakening US dollar and higher hotel costs, Americans should also expect improvements in their experience of business travel.
Business class is becoming progressively more comfortable, with staggered lie-flat seats all on the aisle, a big 17- inch touch screen monitor, extra big table and power ports with Japan's ANA. United-Continental will offer the biggest windows ever on its Boeing 787 Dreamliner, in 2012, with better pressurisation, humidity and purification of air to help passengers feel less weary. Meanwhile, more members of frequent flyer programs can expect to exchange their miles for upgrades, one of the most treasured benefits of such programs.
China of course will be the biggest business travel market and it's investing US$230 billion in aviation, including 45 new airports. It will open a new 819 mile, $US33 billion high speed railway between Shanghai and Beijing in June, dramatically reducing travel time. It clearly means business.Travellers will also be able to use their mobile phones more than ever, including being able to check in just by swiping their phone at the hotel door, rather than waiting at the front desk. They might also be able to reduce waiting times at security and immigration using the Global Entry program in the US, the privately run CLEAR program in the US, and the HKSAR Travel Pass in Hong Kong.
This doesn't mean employers will be relaxed about business travel: companies are more concerned than ever about what is being spent and where. They are likely to demand more detailed data so they know their funds are being spent wisely (one company saw $50,000 a year go on bottled water). They also want to look after their employees, optimistically called the "wellbeing component". This includes safety and security training, emergency assistance, health information – and presumably bottled water. It probably doesn't mean a free massage every night.
Ref: The Wall Street Journal (US), 15 March 2011, 2011 travel trends and how they impact you. Chris McGinnis. www.wsj.com
Source integrity: *****
Search words: business travel, international, fares, upgrades, China, spending, wellness, mobile applications, waiting, Global Entry.
Trend tags: -

The future of tourism - Venice meets Disneyland
It you want to know what ancient China used to look like, go to Wuzhen West, a new theme park two hours from Shanghai on the canal. It is quaintly described as a "living fossil of ancient oriental civilisation". At the same time, it offers guesthouses and hotels, gift shops, romantic boat rides, photo opportunities – and even Heineken. All power lines, TV aerials and satellites, presumably not that ancient, are kept underground. Wuzhen West is only the first of its kind – Wuzhen South and North are already on the drawing board.
The dark side of such a development is that the inhabitants of the village, many of whom had been there all their lives, were forced to decamp somewhere else. Moreover, the current Wuzhen East, where real people still live, is considered rather "dirty" and not worth visiting. Nobody actually lives in upmarket Wuzhen West. It costs about 12 pounds to visit and 3.50 pounds for a Heineken, but over 4,000 people go there each day.The success of such an idea suggests that people don't actually want to experience ancient civilisation because it would be – well – too uncivilised. Instead, they want what they have at home, with an exotic, but clean twist – Venice meets Disneyland, perhaps.
Ref: The Telegraph (UK), The future's like the past – but cleaner. Nigel Richardson. www.telegraph.co.uk
Source integrity: ****
Search words: Shanghai, Wuzhen West, ancient civilisation, canal, silk production, tourist theme park.
Trend tags: Reality, authenticity, realness

Hydration anxiety
Some aspects of flying are pleasant, arriving perhaps, but still too many annoying details that plague frequent travellers. One of these is not being able to take even small amounts of liquids, even bottled water, on planes. Let's call this one Hydration Anxiety. You might think that, if authorities let you take your empty bottle through Security, you could fill it up on the other side. Not so, unless you're in Amsterdam's Schiphol Airport or you look very carefully in hidden corners of other airports. Even then, many taps are not shaped to run easily into an open mouth, let alone a bottle.
San Francisco has installed IDEO and Global Tap "hydration stations" in its terminal so that passengers can indeed carry their bottle and fill it up with tap water. It has also installed 15 others in San Francisco to discourage people from buying bottled water. Over one billion water bottles languish in Californian landfills every year. Moral of the story? We can no longer live without flying – or carrying water bottles all the time.
Ref: Airline trends, 7 March 2011, San Francisco International Airport installs water bottle refill stations after security. Anon. www.airlinetrends.com
Source integrity: ***
Search words: security, water bottles, hydration, Global Tap, IDEO, San Francisco, landfill.
Trend tags: -

Time to fly cuddle class
It's nice to read about a small airline, in this case Air New Zealand (ANZ), that thinks about Economy passengers as well as margin-enhancing Business travellers. This airline also came top out of eleven most innovative airlines in the world, according to Airlinetrends.com. The reason ANZ supports economy travellers is because New Zealand is a long way from most places and many passengers can only afford to travel economy.
They have two family- and couple-friendly innovations: Skycouch and Spaceseat. Skycouch (cuddle class) is booked as three seats for the price of two and a half, and the armrests can be raised to create a couch. It also has large flip cushions to fill the space between the end of the row and the next row, creating a large, usable flat surface. Passengers can even use their seat belts lying down. Spaceseat has two configurations – Outer Space and Inner Space. Outer Space allows a couple to sit by the window angled toward one another for privacy; Inner Space lets them dine or sit together. It also has a beanbag style cushion, affectionately called "Otto".
The other top two airlines were All Nippon Airlines (ANA) and Lufthansa. Perhaps the most salient aspect of each of the airlines in this study is their marked intentions to address the issue of "green flying". Lufthansa was one of the first airlines to test alternative fuels like biofuel and kerosene. Meanwhile, Delta "upcycles" carpets to an agency that makes consumer items, such as laptop bags, and Finnair "upcycles" discarded seatbelts and curtains to become, say, toiletry bags.
It seems to us that flying has ceased to be anything notable now that everyone does it. Airlines are coming up with new ways to make it feel as if you aren't flying. It is simply a distraction from what we'd rather be doing, say, being with our friends. (Lufthansa's MySkyStatus even lets your friends know, via Facebook, exactly where you are in the sky.) It seems flying has become as boring as driving, even without the traffic. See story, Driving is just a distraction.
Ref: Airline Trends, Innovative Airlines 2011. Anon. www.airlinetrends.com/wp.../Innovative_Airlines_2011-airlinetrends.pdf
Source integrity: ***
Search words: Air New Zealand, All Nippon Airlines, Lufthansa, Delta, Finnair, green flying, alternative fuel, comfort, Economy.
Trend tags: -