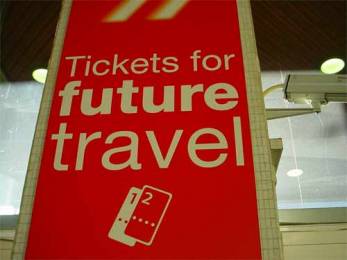 Airlines, hotels, travel & tourism
The high cost of low cost travel
Before low-cost carrier Ryanair entered the market, the cost of a flight between Britain and Ireland cost around US$900. With the introduction of an online sales system, lack of free in-flight service and low-maintenance aircraft, Ryanair boss Michael O'Leary changed the face of the European airline industry and brought air travel within the reach of all.
While his no-frills business strategy was undoubtedly a coup for consumers, there are now some concerns about exactly how O'Leary is cutting costs and making money. From the start Ryanair has had no free in-flight service, but now it is considering getting rid of airport check-ins (allowing check-in online only), window blinds and seat pockets. O'Leary is confident that consumers will not be fazed by the moves, as they are only concerned about how low the fares are. He also believes that you can make money out of anything. With customers already forking out for in-flight foods and drinks, and paying through the nose for any excess baggage, Ryanair might soon charge them $2.40 to use the toilet as well.
Some critics are comparing it to the days of Aeroflot back in the 1970s. The Soviet airline sought to bring air travel to the masses with its affordable flights, but there were some drawbacks. Customers were subjected to overcrowded flights, rundown aircraft that dropped them off at airports in the middle of nowhere, frequent delays, bad food and confounding rules and associated penalties. While a product with such service may have seemed destined to fail, it now looks as though Aeroflot were pioneers, with other low-cost carriers only now catching up some 30 years later.
Ref: The Straits Times (Singapore), 4 July 2009, Crude dude with an attitude. Jonathan Eyal. www.straitstimes.com ; The Financial Times (UK), 24 July 209, Pioneers of the Ryanair revolution. Frederick Studemann. www.ft.com
Source integrity: ****
Search words: low-cost travel, price, no frills, airlines
Trend tags: low-cost
Airlines in the recession
Although some small improvements have been seen in passenger and freight volumes recently, the airline industry is still up against one of the most severe downturns in its history, with even the big players affected. Lufthansa, one of the world's largest airlines, saw its premium traffic fall 15% in the first four months of 2009, while traffic within Europe fell by 37%. It recently announced that it would fail to make an operating profit for this year unless it cut costs dramatically.
According to the International Air Transport Association (IATA), the industry as a whole is set to lose US $9 billion this year. Fares and yields are still on the way down, and any reductions made in capacity haven't yet caught up with the drop in demand – issues that are expected to get worse after the end of the summer holiday season in the northern hemisphere. The price of jet fuel is also to blame, after a rise of nearly 50% since the beginning of 2009 and by more than 30% since May; every dollar adding around $1.6 billion in costs to the airlines.
In this environment even the strongest airlines will need to start raising money. Sir Richard Branson has jokingly suggested that his old rival British Airways could go belly up, and while it is unlikely, the airline is not out of the woods. The airline posted a record loss of GBP410 million last financial year, GBP331 million of which was in the first three months of 2009. BA's premium traffic, which accounts for around 65% of its profits, has dropped by around 17% this year. It's European regional airlines that are under the most threat though. One on side they have the pressure of the low-cost carriers such as easyJet and Ryanair, and the big networks such as KLM and Air France on the other -–which could lead to a consolidation of the industry into a few giant players.
Ref: The Economist (UK), 4 July 2009, Running on empty. www.economist.com
Source integrity: *****
Search words: Airlines, recession
Trend tags: -
A trend that's a total mystery
Would you fork out $5000 on the travel equivalent of a lucky dip? It may not sound like much of a deal, but it seems that the mystery travel package is making a comeback, with Imaginative Travels deal selling out only weeks after being announced.
The mystery tour was popular in the 1980s and '90s, but mainly offered day trips or overnight stays. In Australia, the collapse of Ansett airlines, the provider for the bulk of these tours, all but put an end to the business. Now Imaginative Travel has revived the idea, this time offering longer, international journeys. The most recent is for 15 days, departing from London's Heathrow Airport, with customers only told just before they leave, how long they will be away and what to pack. The tour operator claims, however, that the destinations will be very different. And it's keeping the destination (and therefore the product) unique that places limitations on the provider, with no plans to offer more than one trip each year. This mystery trend has also popped up in the form of hotel bookings. The Australian off-shoot of Lastminute.com has been selling mystery rooms at up to 75% off their regular price, with customers informed only of the general location, star rating and facilities of the hotel. While the benefits for the consumer in this case are obvious, there's something in it for the hotels too: the anonymity allows them to offload empty rooms without alerting their competitors.
Ref: The Sun-Herald (Aus), 24 May 2009, Into the great unknown. Jane E Fraser. www.sunherald.com.au
Source integrity: ***
Search words: mystery tours, mysteries
Trend tags: -
Comfort vs capitalism
While Ryanair is under scrutiny for its plans to charge people to pee, across the pond United Airlines is facing a backlash after its decision to charge obese passengers for two seats if they cannot comfortably fit into one, and if there are no adjoining vacant seats. The airline says the decision was made after complaints from more than 700 customers who were upset at having their space impinged upon by an overweight passenger seated next to them. Critics are up in arms over the move, maintaining it's discriminatory, with claims that obesity is not a choice, it's a disease. And with this 'disease' now affecting nearly two-thirds of Americans (a number that's on the rise), it should be seen as a time to support these people, rather than penalise them. Some see the answer in the form of a new brand of premium economy. As tall people welcomed the day where premium economy seats offered them more legroom for just a few more dollars, perhaps a similar system could be introduced with the installation of some slightly wider seats. It's a solution somewhere between the current options of buying two seats or upgrading to business class.
Ref: Various
Source integrity: -
Search words: pricing
Trend tags: low-cost
Power-assisted luggage
If wheeling your suitcase around is proving all too difficult (oh, pleeease), you can now get a bit of help in the form of "power-assisted luggage". British company Live Luggage has released a light-weight suitcase that propels itself along with the use of battery-powered motors fitted inside the wheels. The power only kicks in when extra force is detected on the handle, helping handling over rough ground, slopes and stairs. The batteries will power the bag for around 2.5 kilometres before they need plugging in for recharging.
The bag will set you back about GBP395, but it does come with some handy features including a built-in umbrella in the handle, removable laptop bags and weekend bags and a "Live Locator ID" which helps locate your bag on the off-chance its run off by itself.
Ref: Business Day (Aus), 28 June 2009, A case of options. Jane E Fraser. www.businessday.com.au
Source integrity: ***
Search words: Luggage, innovation
Trend tags: -
At home is the new abroad
The GFC has seen a sharp drop-off in the number of people taking overseas holidays, instead choosing the more pocket-friendly (and perhaps work-friendly) option of staying within the boundaries of their own country. In the UK, Lastminute.com has seen a 77% year-on-year growth in bookings, while Ryanair expects British airports to see a drop-off of around 10 million passengers. But a new kind of holiday, the staycation, is taking the trend even further, with people opting to holiday at home. Not "at home" as in their own country or city, but in their own homes.
What sets the staycation apart from any other weekend or week at home is a host, such as those provided by Britain's At Home Holidays. The host comes to your home and basically takes care of all the household duties, and provides a few extras as well. He or she will look after the children, cook or provide all meals (including picnic lunches for outings) and do the washing and cleaning. This leaves the staycationers with time for family days out, parents' trips to the theatre or massages and manicures in the homes – all booked and organised by the host of course. Staycations are proving particularly popular among women with young families, for whom a holiday away does not necessarily mean a break from cooking and childminding, and sees them without their local shops and babysitter on hand.
Ref: The Daily Telegraph (UK), 22 July 2009, A holiday without leaving home. Judith Woods. www.telegraph.co.uk
Source integrity: ****
Search words: Home, holidays
Trend tags: -