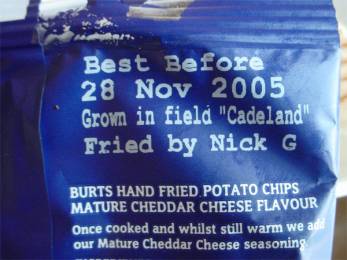 Food & drink
Food Trends for 2009
Foodchannel.com says this year will be the year of the home chef. This is good news for those who love cooking and will build on all those evenings of watching celebrity chefs at work (on Foodchannel). The second trend, Foodie 2.0, describes the way home chefs and other foodies will share ideas in virtual and physical communities and one of these, the third trend, may be how they keep their kitchens "green". Fourth, many hungry people will prefer to eat locally and seasonally, as already seen by the huge popularity of farmers markets. Fifth, people will be asking exactly what they need to know from food labels.
Sixth, is the next evolution of the functional foods trend and the ability to modify food so it suits our needs. Seventh, we will focus more on world hunger (after all, most of us never even experience hunger today). Eighth, there will be more concern about food safety, following on from various food scares in 2008, including tampering. Ninth, there will be a continually widening gap between basic and exotic food items, reflecting the lack of middle ground between discount and luxury in retail. Finally, globalisation will continue to give us new and exciting flavours from other previously ignored sources.
Drinks Business Review says some of those flavours are floral, such as lavender, hibiscus and jasmine, and finding their way into health drinks and chocolates. (Also see Taste this too!) Another ingredient is stevia, a natural no-cal sweetener from South America; its previous variant was banned in processed foods. Health and nutrition will continue to be crucial, with the return of nuts into food bars in spite of their fat content, and seeds, once only eaten by birds. Energy drinks will focus on relaxation, perhaps as an antidote to all that coffee drinking in 2008 (See Coffee gets a roasting).
There will also be more cosmeceuticals - food and drinks that include ingredients, such as probiotics - for beauty from the inside out. (Dove Beautiful Milk Chocolate might be stretching that idea a bit far.) Frozen food manufacturers are producing foods that need steaming, rather than boiling, to preserve nutrients, for example, microwavable bags that vent excess steam. Detoxing the liver will continue to shape food choices, for example, goji berries in drinks. Meanwhile, as the eco-trend powers on, customers will be able to add their own water to more cleaning products, reducing the need for excess packaging (plus you pay for your own water). So for all those home chefs, you can feel good about cleaning up afterwards too.
Ref: MarketWatch, 15 December 2008, FoodChannel predicts top 10 food trends for 2009. www.marketwatch.com.
MarketWatch, 15 December 2008, Research and Markets: 10 key trends in food, nutrition & health 2009: How to succeed in recessionary times. www.marketwatch.com
Drinks Business Review, 10 December 2008, Consumer packaged goods: 10 trends to watch in 2009. Staff writer. www.drinks-business-review.com
Source integrity: Various
Search words: foodies, home chefs, communities, local, functional, hunger, safety, exotic, benefits, value for money, nuts, seeds, relaxation, water, steam cooking, detox, stevia, eco-friendly.
Trend tags:
Coffee Gets a Roasting
2008 was definitely the year of coffee, whether it was Starbucks, McDonald's, or your local independent cafe. Yet, we still can't decide if coffee (like the mobile phone) is really good for us. The Center for Science in the Public Interest (which accepts no corporate funding) published a list of findings about coffee and quashed a few myths. First, coffee is hydrating until above 575 mg of caffeine, and then it is diuretic. There is little evidence that it causes heart attacks and, in fact, among one group of 27,000 women over 15 years, coffee reduced their risk of cardiovascular disease. The rise in blood pressure after coffee is only temporary, and does not lead to hypertension and cancer is not caused by coffee but by the cigarettes that smokers have with their coffee.
Coffee does not appear to cause bone loss, but coffee drinkers may reduce their intake of milk because they think they are already getting enough. Unfortunately, it plays no role in weight control and people who increased their consumption of coffee gained more weight than those who did not. Regular coffee drinkers enjoy the feelings that go with their habit, including wellbeing, happiness, energy, and alertness, and very few experience anxiety or stomach upset have been associated with caffeine.
So why did Starbucks have a bad year? It seems this has more to do with management becoming distracted by investor need for growth than it does with people moving away from coffee. Howard Schultz claims he let some important aspects of the Starbucks brand go, by selling push-button coffee, and creating spaces that were less than cosy. We may see a change in the Starbucks brand in 2009 and more than likely, the rise of other brands wanting to cash in further on this seemingly healthy habit.
Ref: The New York Times (US), 5 August 2008, Sorting out coffee's contradictions. Jane E. Brody. www.nytimes.com
The Financial Times (UK), 14 December 2008, When the coffee goes cold. Jenny Wiggins. Www.ft.com
Source integrity: *****
Search words: Starbucks, expansion, closures, investors, growth, brand integrity, caffeine, myths, hydration, heart disease, hypertension, bone loss, cancer, health benefits.
Flavour Trends
We have a rampant taste for new flavours, especially from places we have been or would like to go for holidays. Mintel believes several flavours will characterise 2009: persimmon, starfruit, lavender, cactus (see below), chimichurri, peri-peri, and masala. Brits will be highly familiar with chicken tikka masala (claimed to be the national dish) but masala is set to travel. Chimichurri is not so familiar, a sauce from Latin America with a spicy flavour, and peri-peri is an African hot sauce, popularised by Nandos food chain in Australia.
It might seem a bit odd to be eating cactus, at least outside Latin America, but it can be blended with corn and put into other foods. Finally, lavender, previously associated with old ladies, will find its way into chocolate and add aromatic and soothing qualities to other foods. Persimmons and starfruits will seem less exotic to some of us, but adding them to ordinary foods like yoghurt will certainly make a change from strawberries. Marketers who can see any more new flavours should not be afraid to introduce them, especially if they have healthy properties.
Ref: Australian Food News (Aus), 14 November 2008, 'Spicing it up: Flavour trends for 2009'. D. Palmer. www.ausfoodnews.com.au
Source integrity: ****
Search words: Mintel, persimmon, starfruit, lavender, cactus, chimichurri, peri-peri, masala, global food.

Put Me in Control and Make Me Laugh
In times of recession, or any difficult time for that matter, patterns of consumption tend to change for a while (see Reassurance in a recession). This may be because people look for new ways of feeling in control in a situation that seems out of control. Mintel believes there are five main trends in 2009, each of which reflects this feeling.
First, it believes consumers are more in control than ever, thanks to the internet, which gives them information about all their options and feedback from other consumers about their choices. They will demand products and services that meet their needs exactly, particularly the growing band of baby boomers, for example, pensioner-friendly supermarkets. Second, is the urge to simplify and purify. This means simple products with simple labels, and companies that communicate honestly and without jargon. Convenience is still crucial. Meanwhile, if people are spending more time at home, they will probably do more home cooking and that is an opportunity for manufacturers to make that experience more pleasant and simpler.
Third, is to rebuild trust, which financial services companies and some food companies have lost in the past year. This loss of trust tends to rub off on other companies, even those doing the right thing. In this environment, people are more likely to choose well-known or nostalgic brands that meet this need. Fourth, trading up and trading down will continue, although perhaps a little less trading up. Mintel suggests that budget-friendly goods and services will be sought after, but consumers will still want little luxuries, like premium chocolate (perhaps with lavender for soothing, see This is your menu for 2009).
The fifth trend is playfulness, an antidote to all that bad news. People still want to have fun, even if they have to do it more cheaply. Mintel suggests that businesses should look for ways to soothe, energise and lift the spirits of their customers. We think there's nothing quite like exercise to lift the spirits and it doesn't have to cost anything. So anyone who can encourage more people to get moving (and spend something) could do well this year. Alternatively, read What's Next!
Ref: Australian Food News (Aus), 11 November 2008, The five top trends for '09 and how they impact on business. Daniel Palmer. www.ausfoodnews.com.au
Source integrity: ****
Search words: Mintel, consumer control, simplify, purify, trust, trading up, trading down, playful, fun.
Gender-Specific Diets
If you are a male cricket, you are more likely to eat carbohydrates than if you are a female cricket, who prefers to eat proteins. Scientists are wondering whether this is the case for humans. They conjecture that male crickets need carbs to provide accessible calories for night-time mating calls, but females lay three times more eggs when they have equal amounts of carbs and protein. While the insects lived longest on a diet of eight parts carbo to one part protein, both sexes, given a choice, ate a ratio of three carbs to one protein. So it seems male reproductive success is favoured in crickets. Hmm. So what does this mean for pregnant women? Scientists are finding out.
They have also discovered that hormones regulate our perception of sweetness and this changes throughout the day. There may be feedback from the gut, as shown in mice, which regulates the desirability of eating sweet food. Another study found people were more sensitive to sweetness when their leptin levels were down (in the morning) but, when the number of meals was changed, sensitivity to sweetness also shifted. It seems the hormone was more important than the time of day, and this new finding could contribute to helping the obese (see Fat chance in the suburbs) lose weight.
Ref: New Scientist (UK), 26 July 2008, 'Live long and prosper with his 'n' her diets'. www.newscientist.com
New Scientist (UK), 26 July 2008, 'A sweet result'. www.newscientist.com
Source integrity: ****
Search words: crickets, carbohydrates, protein, longevity, calories, pregnancy, sweetness, leptin, sensitivity, time of day, obesity.
Trend tags: Diets
Gesture Based Ordering
A Japanese restaurant in Sydney lets diners make reservations by SMS and, on arrival, they use touch screens to order their food. It appears successful, as nobody seems afraid to use it and the paper menus remain untouched. Perhaps we should not be too surprised. Many shopping centres, libraries and commercial buildings use touch screens to help people to navigate, and for many of us, it is simply another screen. The upside here is good food at the end of it.
Ref: Sydney Morning Herald, 19 August 2008, 'Click sticks'. K. Coleman. www.smh.com.au
Source integrity: ***
Search words: Wagaya, touch screen, SMS reservations, paper menus.