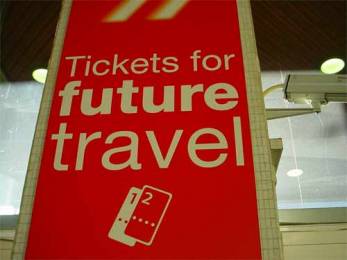 Airlines, hotels, travel & tourism
Travel Trends for 2009
After September 11, journalists were quick to predict a massive cut in travel, more cocooning, and the need to build trust again. The recent economic bust is another example, with American Express forecasting that travellers will stay closer to home, stick to destinations they know, and go for value, such as all-inclusive tours. This fails to consider that people respond differently to a crisis and there may be some who think it's worth living for today.
American Express also forecasts an increase in climate change travel, for example, go to Alaska before all the ice melts, authentic travel or cultural immersion, such as living in a monastery, and niche tours, such as accapella singing around Bali. They may also visit more second tier cities, such as Perth instead of Sydney, favour home rentals that let multigenerations holiday together, and do more solo travel, because more people are living alone.
The Future Forum thinks travellers will continue to consult the internet to find out where others are going and value their opinions. Other trends are: beer, bed and breakfasts in pubs, members' clubs and event spaces with rooms, less minimalism and more shabby chic and homeliness of decor, and more eco-options including camping. It seems that seeking information from other travellers, holidaying with multigenerations, and the rise in "homeliness" of decor are all signs of that need for trust in travel.
Ref: American Express (US), 9 December 2008, Top travel trends for 2009 from American Express. TravelAgentCentral. www.travelagentcentral.com
The Future Forum (UK), November 2008, Travel trends 2009: The Future Forum. http://blog.mirandmirssmith.com
Today's Zaman (US), 17 December 2008, Global crisis to change travel trends in 2009, research shows. Anon. www.todayszaman.com
Source integrity: Various
Search words: small cities, trust, multigenerations, value, climate change, niche tours, solo, online networking, boutique inns, members' clubs, shabby chic, homeliness, local travel, cultural tours, eco-tours.
Trend tags: trends
Bumpy Landings
Thanks to high oil prices (briefly) and a shaky economy, airlines are not only experiencing bumpy landings but some won't take off again. The newest airlines are the first to go – MAXjet, Eos Silverjet, Zoom – and BA predicts that thirty more will be unable to weather the crisis. Europe's biggest failure could have been bankrupt Alitalia, which has been hovering between the needs of investors and the demands of unions as the prime minister tried to split it up into a new debt-free airline to be merged with Air One. (As of December 31 2008 private investors have agreed to sell a 25% stake to Air France and bought Air One.)
The new airline will be free of government interference, comprise a more modern fleet, and reduce competition, which should boost prices on busy routes. It should gain the economies of scale of international long-haul routes, rather than the less profitable short- and medium-haul domestic ones. Investors are looking at a return of 15-20%, which may not be enough to convince them that airlines are worth their investment. Given some of the travel trends for 2009 (above), it seems unlikely that airlines will fly any easier this year. This is bad for tourism, but could help global warming, if people are still concerned about that.
Ref: The Economist (UK), 20 September 2008, 'Shredding money'. www.economist.com
Source integrity: *****
Search words: airlines, oil price, Northwest, Delta, losses, Alitalia, Air One, unions.
Trend tags:
Business Class Goes Cattle Class
Airline and hotel owners are not hopeful about 2009 and many executives expecting to fly business class may find themselves in economy, thanks to budget cuts. While the long-haul market is more robust, BA felt an 8.6% fall in first and business class in September 2008, after the summer holidays. A survey by the Association of Corporate Travel Executives forecasts there will be cuts across the board, fewer internal meetings, less international travel, and no training trips. Lower oil prices won't help.
One travel management company forecasts a global rise of 6-8% in air fares in 2009 as well as cuts in scheduled flights and new charges for checked baggage. A supplier of timetable information says there were already 46 million fewer seats in the last quarter of 2008 (compared to 2007), including 22 million from US domestic flights. This will continue and US Airways says it will cut available seat miles by 7-9% next year. Unfortunately, capacity reduction pushes up fares, which makes executives even less likely to travel. Managers will continue to ask: is your journey really necessary? (A bit like Do I need this?) Companies offering alternatives – like video conferencing, and local conference facilities – may want to step up and fill the gap.
Ref: Financial Times (UK), 13 October 2008, 'The corporate travel party draws to a close'. R. Blitz. www.ft.com
Financial Times (UK), 13 October 2008, 'Retreat to economy class'. R. Bray. www.ft.com
Source integrity: *****
Search words: business travel, budgets, schedules, travel management, higher fares, airlines, hotels, oil prices, transatlantic routes.
Trend tags: -

Texts From on High
Ailing airlines are looking for ways to improve their margins and what better way than to have their customers make mobile phone calls? Charging for a pillow, or a blanket, or to check in luggage is small fry compared to the profits in mobiles, from charging $US2.50 for a call and 50 cents for a text message. The question is whether travellers want it. AeroMobile, an excited technology provider, claims the reaction was "overwhelmingly positive" to its trials on Emirates flights. Half of the passengers used the phones, mostly for text messaging, and the average length of voice calls was 2.5 minutes and mainly during the day.
Fears of sitting next to a talker while you are trying to sleep may be unfounded. Fears of contracting cancer from mobile phones are still unconfirmed (see Social development or death – by mobile?). It appears the worst fear now is that your airline might not fly at all (see Bumpy landings).
Ref: The Economist (UK), 9 August 2008, 'The dial-high club'. www.economist.com
Source integrity: *****
Search words: airlines, checked baggage, Ryanair, mobile phones, AeroMobile, test messages, calls, in-flight.
Trend tags: Global connectivity
The Simple Life

It is funny how trends in travel themselves travel. It used to be that the rich went away to indulge their wealth, surrounded by luxury and ostentation, and this way was much sought after and appropriate. Now it seems the wheel has turned, and the privileged are returning to "simple" luxury and a complete absence of glitz. Sophisticated travellers may now visit the Caribbean for something closer to what it once was perhaps – a few simple cottages, a white sand beach, no cars, and no crowds. As one writer wistfully puts it, when lunch is ready, "an old bell rings at the clubhouse". Any there any more examples of rustic luxury out there?
By the way, if you are wondering about other travel trends for 2009, the answer, according to a survey by he world's biggest online travel community (trip advisor) is going leaner and going greener. Leaner refers to low-cost vacations and staying at home while greener refers to the rising popularity of outdoor activities and eco-friendly hotels. I'd add to that more solo travel, more special interest holidays, global warming sightseeing, value vacations and 'one tank trips' (of petrol/gas).
Ref: Financial Times: How to spend it (UK), November 2008, 'A hat-trick for villa fans'. Allason. www.ft.com/howtospendit
Source integrity: *****
Search words: Caribbean, luxury, villas, resort, private houses, concierge, serviced residences, simple.
Trend tags: Simplicity