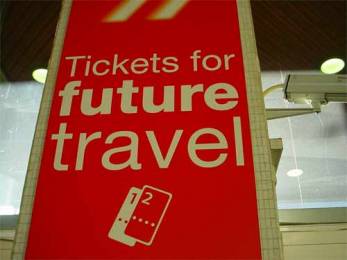 Airlines, hotels, travel & tourism
A Shift Away from the West
Emerging economies are set to become the new focus of the world's travel and tourism industry. The fast-growing economies of Dubai, Russia, Brazil, India and China are now both tourism destinations and a source of newly-cashed up international travellers. Travel and tourism already accounts for around 30% of Dubai's GDP, and the country's rulers are pushing for even more growth. China is still a distant second behind the US as a source of tourism dollars, but the demand for travel in China is expected to quadruple in the next decade, as household incomes rise. Already, Chinese and other Asian visitors are overtaking the number of Western tourists to Vietnam – one of the world's fastest-growing tourism industries. India is the other strong emerging economy in Asia, but so far tourism growth has been held back by the country's poor infrastructure. There is a plan to remedy the problem and cash in on the tourist dollar by pouring 20 trillion rupees (around US$500 billion) into development over the next five years.
This shift away from the West could be seen as the third major shake-up of the tourism industry in the past 50 years. In the 1960s, the arrival of cheap airfares and package tours meant those with even modest incomes could not only travel further, but experience more with 'all-in' offers. Next came the Internet, which allowed travellers to cut out travel agents all together, booking flights and accommodation online. There are fears, however, that this boom in the industry is only a short-term gain. With the speed of development in emerging economies expected to be around up to three times that of the developed world, this rapid growth could destroy the natural resources that tourists are coming to enjoy.
Ref: The Economist (US), 17 May 2008, 'A new itinerary'. www.economist.com
Source integrity: *****
Search words: BRICS, CHIME, travel trends, tourism trends
Trend tags: Power Shift Eastwards
International Tourism Trends
According to the United Nations World Tourism Organisation (UNWTO), global tourism is defying a slowing economic climate and is showing signs of growth. A strong world economy and pent-up demand following the 9/11 attacks saw a boom in the tourism industry between 2004 and 2007, with growth at 7% annually during those years. Since the last quarter of 2007, the economic climate has deteriorated, but tourism and travel remain strong. The UNWTO's bi-annual World Tourism Barometer reports that international tourism grew year-on-year by about 5% in the first four months of 2008, with predictions for this to continue through the year. The main spenders in the industry for 2007 were consistent with previous years – Germany, the US, the UK and France still in holding the top four. But China is moving quickly up the ranks, overtaking Japan for the first time with a US$30 billion share of the market, which is estimated at around US $900 billion. Russia eclipsed South Korea to take ninth place. As destinations, the biggest growth was seen in the Middle East, Asia and Latin America. The UNWTO warns however, that although there are predictions for steady growth in tourism, demand could be slowed by economic and consumer reactions to rising food and oil prices. Climate change could also impact on choices for tourism destinations and activities, with accurate weather information becoming a more important part of holiday planning.
Ref: Financial Times (UK), 5/6 July 2008, 'Global tourism defies slowing trends', Harvey Morris. www.ft.com
Source integrity: *****
search words: Tourism trends, travel trends
The End of Corporate Travel?
Across the United States, the number of business trips is falling, and it's not just the result of a slowing economy. In times of economic downturn, it is normal for companies to cut back on travel expenses, reinstating business trips when things pick up. It appears, however, that there may be a permanent drop in certain types of business travel. Instead of exhausting interstate and international trips, many managers are now staying put, linking up to other offices via advanced teleconferencing tools. The escalating cost of air travel prompted by a sharp rise in oil prices is part of the reason, but companies are also becoming increasingly aware of their environmental impact. Cutting out air travel can go a long way to reducing their carbon footprint and thereby presenting a greener image. A trend towards a better life/work balance means execs can appreciate the detrimental effect that extensive travel can have on their home lives, instead opting for solutions that can fit into their regular schedule. These solutions don't come cheap – advanced telepresence systems such as those offered by HP and Cisco can cost up to US$300,000 each. However, when used regularly, these systems usually pay for themselves within nine months. But it's not simply a method of reducing costs or the strain of travel. Research has found that meeting up more frequently in short bursts (even via video conferencing) is more productive than meeting occasionally for more intensive meetings.
Ref: Business Week (US), 2 June 2008, 'The Waning Days Of the Road Warrior', Michelle Conlin. www.businessweek.com
Source integrity: ****
Search words: Business travel, corporate travel, meetings, virtual meetings, virtual worlds
Trend tags: Virtualisation
Telepresence Trends
More businesses are turning to video conferencing instead of travelling for face-to-face meetings, but this kind of remote communication is nothing new, so what has sparked the increase? The key may lie in a number of technological advances that have been made in the areas of telecommunications networks, software and computer processing.
While video conferencing was always an option in the past, the reality was often a grainy, jerky image which did little to increase communication. Now it seems that technology has advanced to a point where remote link-up can become a reasonable substitute for meeting in person. This progress can be seen most obviously in the new telepresence systems offered by Cisco and HP. Telepresence rooms feature three giant curved screens, plus another screen for shared work, custom lighting and acoustics. The screens have a higher resolution than high-definition televisions and images can be magnified to allow closer inspection of products. Images of people on the screens are projected as life-sized, and researchers have found that employees using telepresence systems had the same chemical responses that they would in face-to-face meetings.
Outside of these high-end products there have also been developments. Online document sharing, wikis and Internet telephony mean meetings can be more interactive, and improvements to existing technology means the audio and desktop presentations in web-based meetings are more likely to be in sync. Analysts have predicted that this is not a short-term fix for the cost of business travel, but rather these tools will change the way that corporations think about work and travel.
Ref: The New York Times, 22 July 2008, 'As Travel Costs Rise, More Meetings Go Virtual', Steve Lohr. www.nytimes.com
Source integrity: *****
Search words: Meetings, virtual meetings, virtual worlds
trend tags: Virtualisation, Telepresence
Middle East Tourism Dollars
With out-bound travel from the Middle East set to generate big bucks in the future, many Asian countries are thinking hard about how to get a share of the market. However, tourism boards are finding they have to reconsider the typical image of a bikini-clad girl on a tropical beach in favour of campaigns that are more appropriate for Middle Eastern visitors. Travellers from the Gulf related that their top considerations when planning overseas travel are logistics, immigration policy and cultural sensitivity. It's been revealed that Gulf travellers are more likely to go for family holidays and stay for longer, opting to rent apartments and larger rooms.
The peak time for travel out of the Middle East is from July to September, when people are trying to escape the sweltering summer temperatures. Malaysia was one of the first Asian countries to specifically target Middle Eastern tourists, promoting itself as a modern Islamic society and highlighting its friendly visa policies, luxury shopping and widely available halal food. And the result has been impressive, with 250,000 visitors from the Gulf touching down in Malaysia in 2007, up from just 60,000 in 2000. Indonesia aims to boost its number of arrivals by 50% through the introduction of a visa-on-arrival scheme for visitors from Oman, the UAE, Saudi Arabia, Bahrain, Qatar and Kuwait. Airlines are doing their part by increasing the number of flights to the region, and the numbers of visitors have increased in tandem. For others, bringing in these visitors is not just a matter of increasing tourism, but of building a loyal following among the Middle Eastern population. Singapore's Banyan Tree Group is making its Phuket resort more attractive to visitors in the Gulf, before plans to build around a dozen properties in the Middle East.
Ref: Newsweek (US), 21 April 2008, 'Definitely Not in a Bikini', Alexandra A Seno. www.newsweek.com
Source integrity: ****
Search words: Out-bound tourism, in0bound tourism, Gulf States, Middle East
Trend tags: CHIME