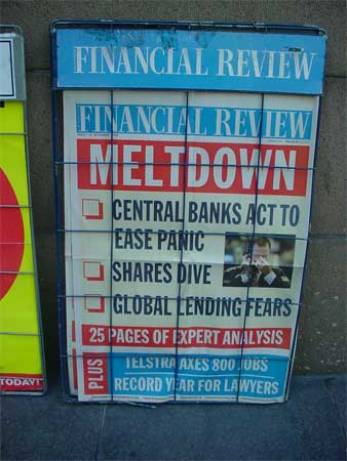 Money, banking & insurance
The art of investment
According to Prospect magazine (UK), investment in contemporary art is booming with values increasing by 20% in the last year alone. What are the reasons for this boom and will the growth continue? Unlike in the 1980s most contemporary art is now bought by private individuals not companies. This definitely highlights the number of people with spare cash available but it could also say something about disillusionment (lack of trust) with traditional investments. It could even be saying something about the need for people to surround themselves with objects of cultural significance and permanence although you'd think the latter would favour fine rather than contemporary art. In Australia people are even putting works of art in their super (pension) funds. Is this just another bubble waiting to burst or hard evidence of a shift in investment patterns?
Ref: Prospect (UK) October 2004. www.prospect-magazine.co.uk
Art money
This idea is a bit 'out there' but we're sure that there is someone out there who can bring it down to earth. Springwise recently spotted something called Art Money in Denmark. This is effectively a private currency created by artists for other artists worldwide. Each bank note is an original work of art measuring 12cm x 18 cm and features a serial number, artists name, signature and year of production. When the currency is exchanged the creator keeps a record of the new owner to guard against forgery. The value of the currency is tied to the Euro with each note being worth 20 Euro when it is made. Notes increase in value by 5 Euro per year until the 7th year when the value is pegged at 50 Euros. Mad idea? Not necessarily. Private currencies are everywhere (e.g. airmiles or kids trading cards) and whilst printing your own money is probably out of the question the idea sparks off some interesting thoughts. For example, if you're a bank how about a competition for kids to design their own money?
Ref: Springwise (NETH). Issue 14 2004. www.springwise.com
Identity theft solution
Identity Theft 911 (www.identitytheft911.com) is another American service aimed at helping customers fix identity theft problems. A similar service was launched by Citibank last year.
Money worries
Most Australians worry about money and making ends meet according to a survey of adults aged 18-45. Financial worries come in way above relationship, employment, security, education and terrorism concerns. 30% of respondents also said they were over exposed to interest rate rises. Meanwhile, over in the UK, the 16,000 branch Post Office says that 20 million people find it difficult to pay their regular bills. As a result the Post Office is launching a new saving stamps scheme. The stamps (which cost GB £5 each) can be used to pay bills or pay for other Post Office products and services including travel and motor insurance. However, according to moneysupermarket.com, the idea is seriously flawed. Customers earn no interest and have to store the stamps at home, thereby increasing the risk of theft. Most supermarkets offer saving stamp schemes and most offer free stamps as a form of interest. Given the rather childlike nature of stamps, we wonder whether anyone has tried stamps designed for and aimed at children?
Ref: Sydney Morning Herald (AUS) 23 June 2004, Money Observer (UK) 20 August 2004.
Shared housing loans
Wizard, the Australian mortgage retailer recently acquired by GE, has unveiled a shared equity loan under its Mobius Financial Services brand. The idea behind the 'Head Start Equity Loan' is that renters who are hard pressed to afford a new home can borrow up to 105% of the property's value but only if between 20% and 50% of any gains in value are shared with the lender. Customers can borrow up to AUS $500,000 (plus an additional 2-5% to cover costs like stamp duty) with an APR of 7.69%. This compares with a typical APR of 7.07%.
Too much information on Wall Street?
Too Much Information (TMI) is a well known trend and the cause of much stress, time wasting and decision paralysis. Over in the US it's also creating a revolution in how research is used by Wall Street firms. Once upon a time research departments were paid through the commissions generated by the trading desks. In an attempt to justify their existence they churned out pages of information and analysis but much of it was almost identical or constituted a conflict of interest. The latest trends on Wall Street are therefore back to basics, transparency and 'proprietary research' (research nobody else has got). The most interesting example of the former is S.G.Cowan, a mid-sized Wall Street investment bank and institutional trading firm. The company recently banned the buy/sell/hold ratings system and quarterly earnings notes replacing them with detailed opinions when, and only when, there is something important to say.
Card fraud
Credit and debit card fraud is on the rise in the UK with the Association of Clearing Services reporting an 18% increase since June 2003. The largest increase is in 'mail non-receipt' (where cards are sent by post but never reach their intended destination). This increased by 51% over the same period.
Tween credit card
Mastercard in the US is launching a debit card aimed at tweenage girls. The card features that well known ambassador of all things tween - Japan's 'Hello Kitty'.
Je ne regret rien
According to yet another survey (this time by Barclaycard in the UK) 77% of women make buying decisions, which they regret later on. Apparently 42% of men make the same mistake. These remarkable figures spark off a number of explosive ideas. Retailers like Marks & Spencer are famous for their no quibble returns policy so how could a financial services provider provide a similar level of reassurance? Maybe someone could create a mortgage that you could take back after 3-months if you weren't happy with it. Or maybe there could be a new kind of insurance (ensurance?) that pays for things you've bought but don't want any longer.