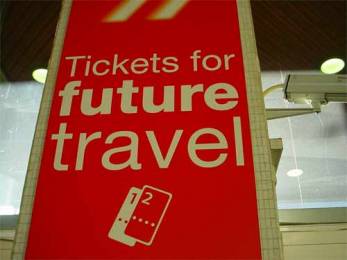 Airlines, hotels, travel & tourism
Old-fashioned holidays
Nostalgia is everywhere these days due largely to the anxiety and stress caused by urban living and global terrorism. It even seems to be having an impact on travel with The Times (London) devoting a full page feature to UK island holidays for people who 'long for those days of pure innocence by the seaside'. Featured Islands included Eriska in Scotland, Bryher and St Martins in the Isles of Scilly and Herm and Sark in the Channel Islands.
Whatever, whenever?
If you find yourself staying at the Hotel Victor in Miami (US) you can press a little button and talk to a personal shopper at the nearby Neiman Marcus store. Meanwhile, guests at Guesthouse West in London's Notting Hill can have lingerie delivered from Agent Provocateur. What other opportunities are there for merging the services of luxury stores with those of luxury hotels and resorts?
Ref: Trendcentral (US).
Spa fraud
Japan has long been famous for its natural spas (6,400 of them at the last count), but it appears that all is not quite what it seems. A number of spa hotels have been accused of not using real spa water. In one case water was actually recycled water from a nearby power plant . In another case the famous cloudy water was found to be the result of bath salts rather than naturally occurring calcium.
Ref: South China Morning Post (CN) 27 September 2004.
It's the little touches
A friend of ours was staying in a hotel in Shanghai recently. When staff at the hotel found out he was eating alone each night they placed a small goldfish bowl on his table - so he wouldn't get lonely. The Hotel Monaco in Chicago (US) has a similar idea. You can borrow a goldfish for your room. They also have extra tall rooms for extra tall people. Meanwhile, guests at the Carlise Bay resort in Antigua who want to be left alone place an empty conch shell outside their room door.
High-tech meets an old fashioned idea
Wottomo Caves near Auckland (New Zealand) have come up with a unusual idea for delivering photographs. Guests have their photos taken in the caves with a digital camera and the memory stick is then attached to a homing pigeon that flies back to base a couple of hours ahead of the tourists.
Why are the safes so small?
In Buenos Aires the Faena Hotel has built room safes large enough to lock up a laptop computer. When are other hotels going to wake up and follow suit?
Battle of the skies
The battle between airlines for business and first class passengers is increasingly being fought on the basis of tranquillity and in particular who can promise the best night's sleep. The promise from Emirates is the heavens. When the cabin lights are turned off in first class the roof of the cabin is transformed with mood lighting into a star-filled night sky. According to NASA research it's how many time zones you cross, not the ultimate length of the journey, that causes jet lag so the lighting simulates a 24-hour cycle.
New aviation tax?
Unlike most companies, airlines don't pay carbon dioxide taxes based on fuel emissions. This is surprising given that the emission levels at 10,000 metres are 300% more than at ground level. However, in the short term any move to align airlines with businesses like the automotive industry are unlikley to get off the ground.
Ref: Politiken (DK) 22 September 2004.
Virgin Mary
Virgin Atlantic has introduced in-flight mixologists (decent bar tenders to anyone over the age of 40) on certain routes in conjunction with Bombay Sapphire. The airline has also introduced double beds which raises some interesting possibilities.
Lifestyle hotels
The Block hotel is possibly the world's first lifestyle hotel if you don't count things like the Versace hotel. The Block is a hotel for snow-boarders, which features touches like a Zoo York themed room (for those of you over 25, Zoo York is a hip skateboard brand). Themed rooms are nothing new (think Las Vegas) but commercially sponsored rooms are. Other sightings include the Hotel Du Vin in the UK that features rooms sponsored by wine companies.
Fantasy island
This is a great idea. Most people dislike their jobs. People are also rejecting the accumulation of material possessions in favour of new experiences. So a company called Vocation Vacations is offering frustrated office workers the chance to try out their dream jobs. The two-day breaks cover everything from horse training to running a bar.
Ref: Trendcentral (US).
Living in a hotel
This is not exactly a new idea (we've heard of various people who lived in Hotels like the Ritz in London) but now hotel living is being made available for everyone. The new 'W' hotel in Scottsdale (Arizona) will feature 25-30 luxury residences while the MGM Grand in Las Vegas and the Ritz-Carlton in Berlin offer similar developments. Services include room service, baby-sitting and maid service.
India sets its sights on therapy travel
India is fast becoming a center for luxury health breaks with a number of hotels like le Méridien offering Ayurvedic treatment centers in areas like Kerala.
The future of holidays
A report commissioned by the Future Holiday Forum says that 'real experiences' like cultural education and celebrity sports coaching will be the holidays of the future. Other forecasts include the impact of an ageing population (older people will be more active than previously) and the growing number of singles and childless couples.
Ref: Newsweek (US)19-26 April 2004.
Up, down and in a spin
Some low-cost airlines (notably in the US) are moving upmarket, while others (mainly in Europe) are moving downmarket. This is no surprise because most markets are polarising between economy and luxury sectors. However, some airlines seem to be trying to do both simultaneously. Ryanair, for example, is experimenting with two seemingly contradictory ideas - seats that don't recline (cheaper to buy and less expensive to maintain) and seats with built-in screens that allow passengers to gamble or watch films. However, the best idea we're heard of recently is an airline that only allows carry-on baggage.
Ref: The Economist (UK) 10 July 2004.
Re-drawing the tourist map.
In China there were nearly 800 million domestic trips taken in 2003. That's approximately the same number of trips taken by the rest of the planet in 2003. Now imagine if all those Chinese suddenly decided to travel abroad. One consequence would be an enormous outflow of foreign exchange. Another consequence would probably be forced rationing (or at least pre-booking) of famous sights like the Pyramids or the Eiffel tower.
New jet lag theory
Research by French scientists says that jet lag might be caused by changes in cabin pressure rather than changes in time zones. Reduced pressure may cause a drop in the amount of oxygen which is available, which in turn reduces melatonin levels.
Ref: The Times/Journal of Pineal Research (UK) 13 November 2004.