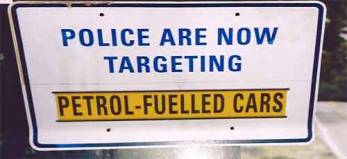 Automotive & transport
Extra room for older passengers
In the wake of an ageing population, some car manufacturers are finding that adults are now just as likely to ride in the back seat of a car as children are. Honda, when launching their new Accord, found that their target market consisted of empty-nesters and white-collar Gen Xers, many of whom don't have children. For them the back seat may not be used that frequently, but when it is it can be important, such as taking a client to lunch or transporting adult friends. In an effort to accommodate this new kind of back-seat passenger, the new Accord has an extra 1.4 inches of legroom in the back. And they're not the only ones rising to the challenge. The new Lexus sedan has an extra 4.8 inches of legroom in the back, where you'll also find separate remote controls for the entertainment system, a back massager and a beverage cooler. A little extra cash will get you a reclining rear seat, power footrest and window shades. The 2008 Dodge minivan offers a Swivel 'n Go option that allows the rear seat to be turned around to face the third row, meaning passengers can face each other to play cards or just talk. The back seat also features two independent entertainment systems. The BMW Mini Clubman (to be launched next year) will feature an extra 3 inches of space in the back. Extra space is also becoming important in cars, especially as customers revert from larger vehicles like SUVs and minivans in order to save on fuel. Expect to see this trend accelerate in the future as the ageing of so many societies starts to influence the design of all manner of products and services.
Ref: USA Today (US), 24 September 2007, 'Automakers go back to seating's future', Chris Woodyard, www.usatoday.com
Search words: ageing, cars, automobiles, design,
Source integrity:****
Big Brother in the Back Seat

Seattle-based insurer Safeco has recently launched a product designed to deliver peace of mind to the parents of teenage drivers. Teensurance combines an insurance policy with a GPS tracking device, offering parents a range of tools to monitor their child's driving behaviour. Using an online interface, parents and children agree on set rules for things like driving speeds, curfews and approved destinations. When any of these rules are broken, parents receive an instant notification via text message. The online interface also allows the car's location and speed to be tracked in real time. If this all sounds a bit invasive, Safeco insists the emphasis here is on safety. Departure and arrival notifications can be arranged, so parents will know if their child has arrived safely at their destination; in case of theft, an alarm will let you know if the vehicle is moved unexpectedly, and the GPS tracking will help police to find the car. Teensurance also provides some tools to help the drivers, such as remote door unlocking and roadside assistance for flat batteries, flat tyres and empty fuel tanks.
Ref: Springwise (Neth), 16 July 2007, 'Integrated auto insurance for teens', www.springwise.com ; Teensurance, www.teensurance.com
Search words: Driving, insurance, teenagers, GPS, privacy, tracking
Source integrity: ***
The car of the future
Manufacturers at the largest motor show in the world – the Frankfurt Motor Show – recently unveiled a series of innovations, which seem to suggest that the global automobile industry is fairly upbeat about its future and the future of the motor car in general. So what will the car look like in the relatively immediate future? The answer seems to be much the same as it looks now, although it will probably be greener, lighter and smaller. Computers will become ubiquitous and lightweight materials such as carbon fibre, plastics and aluminium will feature strongly. As for power plants, this is less certain. Manufacturers the world over are hedging their bets, developing a range of technologies ranging from petrol and diesel to LPG, compressed gas, ethanol, electricity, bio-fuels and hydrogen. However, one trend that is discernable is the use of multi-fuel platforms that can switch from one power source to another at the flick of a switch. Top of the list are plug-in hybrids, which can convert from petrol or diesel to electricity and can be charged via a simple mains power supply. As for where the car of the future will be developed, it looks as though the answer is the same places that innovation occurs now – namely Japan, Europe and the US. What about countries like China and India? In the short term it is likely that these countries will continue to imitate what is innovated elsewhere in the world, although in the long term I'd expect this to change.
Ref: Courier Mail (Aus), 24 September 2007, 'The car's future is now', M. Hinchliffe. www.couriermail.com.au
Search words: cars , automobiles, future
Source integrity: ***
Bicycle rescue
London now has another 'green' taxi service. Climatecars launched in June this year, in competition with other eco-friendly services like greentomatocars. The fleet of five Toyota Prius cars, by combining low emissions with carbon offsetting, is completely carbon neutral. Climatecars offers first-class service with complimentary newspapers, magazines and bottled water. But what sets this service apart from its competitors is the bicycle rescue service. Each Climatecars taxi has a bike rack in the boot, which can be used at no extra charge. Aimed at people that like to cycle to work but shirk in the face of the cold, dark or wet, it allows customers to cycle when it's sunny, knowing they can get their bike home safely if the weather turns bad.
Ref: Springwise (Neth), 4 July 2007, 'Hybrid taxis rescue cyclists', www.springwise.com Climatecars www.climatecars.com
Search words: cars, taxis, carbon offsetting, bicycles, climate change
Source integrity: ***
Chaos = cooperation
A while ago, Dutch traffic engineer Hans Mondeman came up with a design for road safety that is turning decades of traditional traffic thinking upside down. His plan: to make roads seem more dangerous. While the idea may seem a little out-there, the key to his approach is quite simple – by removing traffic lights, signs and directional markers, drivers, cyclists and pedestrians will be more cautious, making for increased safety all round. The town of Drachten is home to an intersection designed by Monderman, a convergence of two busy, two-lane roads that handle 20,000 cars per day (plus pedestrians and cyclists). Monderman removed all traffic lights, road markings, some pedestrian crossings, along with lane markers and curbs that separate the street from the sidewalk, and replaced them with a roundabout. Rather than the chaos you would expect, this radical design somehow works. Drivers approach with caution - and slower driving means fewer accidents. Right of way is determined by eye contact and pedestrians, cyclists and drivers all watch out for each other.
This new approach to traffic engineering is being adopted all around the world, with similar intersections showing up in Austria, Denmark, France, Germany, Spain, Sweden, the UK and the US. The town of Christianfield in Denmark, removed the signs and traffic lights from its major intersection, taking the annual road toll from three to zero. In the UK, a study has found that removing the centre line from the road resulted in a 35 percent reduction in accidents. In Palm Beach, Florida, several roads have been redesigned to narrow the roadbed, bringing cars and people into closer contact. This has resulted in slower traffic, fewer accidents and shorter trip times.Monderman says that people are starting to rethink traffic engineering because they have little choice – the old system is just not working. From the beginning, American roads were designed around one key premise, that walking and driving were incompatible. Cars and pedestrians were segregated as much as possible. As traffic increased, planners widened roads to increase flow, with road signs added to modify driver behaviour. These new wide roads discouraged pedestrian usage and divided neighbourhoods and residential areas. Monderman insists that the use of signs and markers are a sign that the planners have failed. It should be the architecture of the road that determines how drivers behave.
Ref: Various including Wired (US), December 2004, 'Roads Gone Wild', Tom McNichol. www.wired.com
Search words: roads, traffic, engineering, pedestrians, cars, signs, safety
Source integrity: ****