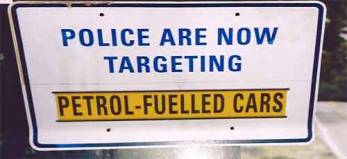 Automotive & transport
Technology in the driving seat
Motor Trend magazine has released a list of technological developments that may change the way we look at driving.
1. Watts overtaking horsepower. Future plug-in hybrids will have a gas-, diesel- or bio-fuelled internal combustion engine that kicks in after 30 or 40 miles of silent electric motoring, spinning a generator that will extend the range of the battery. These new motors will be slim and light, allowing them to be wheel-mounted, which means room for more innovative designs throughout the rest of the vehicle.
2. Diesel proliferation. By using on-board catalysts to clean up soot and NOx emissions, engineers are proving that compression-ignition engines can be just as clean as the spark-fired ones.
3. Innovative, affordable hybrids. BMW is looking at a system that will take heat from the exhaust to generate steam pressure – increasing power by 12% and efficiency by 15%. In the big vehicle camp, efficiency is set to rise by 70% thanks to hydraulic-assist hybrid drive trains that recover energy as oil pressure.
4. Brainier gas engines. Although facing competition from hybrids and diesels, gas-fuelled cars are set to remain popular for decades to come by combining a broad range of good ideas. The sophisticated gas-burners will have optimised engine power and efficiency, and greater flexibility.
5. Self-driving cars. Advances in technology are set to take the responsibility out of the driver's hands – making for a safer breed of car. Expect to see adaptive cruise control that can bring a car to a complete stop, pedestrian warning systems or features that will detect crashes and employ full-force braking and evasive steering.
6. On-board cameras. With the price of digital cameras plummeting to as low as US$10, it's likely they'll be made an integral part of the next generation of cars. Cameras could be used to detect range, monitor blind spots, provide a view of what you're about to reverse over, or even check to see if the driver is drunk or the passenger is slumped against the airbag. The incorporation of other sophisticated technology could see the cameras used to alert drivers of lane-departure or even provide affordable night-vision.
7. Connected cars. The car of the future will be hooked up via satellite allowing you to download software updates for on-board computers, streaming audio and video or even tap in to information about traffic, weather and parking. This connectivity may also be used to prevent crashes. As well as receiving information, your car will yield data on its condition, road-toll use, speed and position – to be used for everything from automatic ticketing to tracking stolen vehicles.
8. Cars for the lonely. If you need someone to talk to, your next car could hold the answer. You can tell it where you want to go, whom you'd like to phone or what you'd like to listen to. And the conversation isn't just one way – these cars will read out your e-mails (and let you dictate a reply) or even suggest you pull over when drunk or tired. Available in 45 languages including English.
9. Automotive ventriloquism. By cancelling and generating noise waves, the engines of the future may be able to produce the sound their drivers would like to hear. Think six-cylinders that sound like eight, a turbo-charged engine that sounds naturally aspirated or an electric vehicle with a 'retro' engine note.
10. Hotting up. With Europe set to ban the refrigerant R135a in 2011, in-car air-conditioning could prove costly and difficult. Potential replacements R744 (carbon dioxide) and R152a would add considerable expense, while Dupont's DP-1 and Honeywell's Fluid-H may have problems with stability in the long term.
Ref: Motor Trend (US), (No date) 'Future Tech': 10 Tech Trends That'll Change the Way You Drive', Frank Markus. www.motortrend.com
Search words: cars, driving, car trends, auto trends, car design
Source integrity: *****
Air-fuelled cars
No longer just a futuristic concept – cars that run on air could be closer than you think. Luxembourg-based Moteur Development International (MDI) has taken the idea and begun testing it in small commuter cars. The technology works by collecting air while the car is in motion, and compressing it in a carbon-fibre tank. It's then released into the piston, which drives the crank shaft. The compressed air is sufficient for city driving, with dual-energy technology (using fossil fuel and air) for longer journeys. The motor relies on a battery to set the whole process in motion when the car is stationary. The technology has already been sold to India's Tata Motors, who plan to start developing cars using MDI's engine. If successful, this new hybrid could help to ease pollution in a country where 10 million cars are added to the streets each year. In mainland Europe, these air-fuelled vehicles could provide a cheaper alternative to the electric-gas hybrids and green cars currently on the market. According to Tokyo-based Jano Research Institute, hybrids are a growing market, with 5.37 million of them expected to be sold in 2015, compared to 320,000 in 2005. But MDI has anticipated delays in using the technology in regular vehicles, looking to do further research and development over the next two years.
Ref: Red Herring (US) 3 May 2007, 'No Gas, No Problem', Seema Singh. www.redherring.com
Search words: hybrids, cars, air, fuels
Source integrity: ****
Swapping cars and exchanging parking spaces
The British Tourist Board – VisitBritain – has come up with a unique alternative to rental cars. GoGo Britain is based on the concept of holiday house-swapping, allowing British customers to swap their right-steered vehicles for left-steered ones on the continent, and vice-versa. (The idea was originally developed to attract more European visitors to the UK). To ensure the safety of the vehicle, the program is limited to customers over 25 years of age with a valid licence and a five-year clean driving record. All-inclusive insurance is compulsory and GPS receivers are installed in all vehicles. Another automotive business idea that's cropped up in the UK is peasy.com – an online marketplace for parking spaces. For drivers it means being able to search for and book a parking space before leaving the house. For owners of the parking spaces it can provide an extra stream of income of around GBP500-GBP1,500 per year. Any off-street parking can be registered with the website, with drivers given the option to rent casually or on a weekly basis.
Ref: Springwise (Neth) 6 March 2007, 'Car swapping for the holidays'. www.springwise.com; Springwise (Neth) 28 March 2007, 'Online exchange for parking spaces'. www.springwise.com
Search words: cars, tourism, parking, timeshare, car rental
Source integrity: ***
Links: fractional ownership
Helios house
Petroleum giant BP has just opened an experimental eco-friendly gas station in California. Helios House is constructed from non-toxic, renewable, recycled and reusable materials such as scrap glass and steel, and wood from renewable sources. It features enough solar panels to power two or three houses and also features on-site water collection, a green roof to cut down on heating and cooling costs, efficient lighting plus recycling bins for paper, plastic, aluminium and even cell phones. Visitors to Helios House can pick up hints for eco-friendly living from the staff, or from displays on the fuel dispensers. The structure, built by repurposing an existing gas station, has been submitted for LEED (Leadership in Energy and Environmental Design) certification.
Ref: Trendcentral (US) 14 March 2007, www.trendcentral.com
Search words: petroleum, gas stations, petrol stations, oil companies, green design
Source integrity: ***
Car-makers see the light
Until the current climate change panic settles down, one thing that we'll see in the not too distant future is smaller and particularly lighter cars. As people have been getting bigger, cars have consequently become larger to accommodate our increasingly bulky bottoms. However, while bigger cars might work for the bottom line they don't necessarily benefit the planet. For example, the Mark One Golf GTi weighed just 810 kg, which made it fast but it also made it relatively fuel-efficient. The latest Golf GTi weighs in at 1347 kg thanks to it's larger size and to the various gizmos that car makers have been adding over the past quarter of a century. But this is changing. Experts like the head of engineering at Peugeot, for instance, are arguing that lighter cars will soon be back in vogue thanks to the need to meet CO2 emission targets. But as any fan of track-day cars like the Caterham 7 and Lotus Elise will tell you, lighter cars also have other benefits too – like better performance – so get ready for a plethora of new small pocket rockets soon.
Ref: Car (UK) June 2007, 'Fat-free cure for CO2', www.carmagazine.co.uk
Search words: car design, weight, emissions, climate change
Source integrity: *****