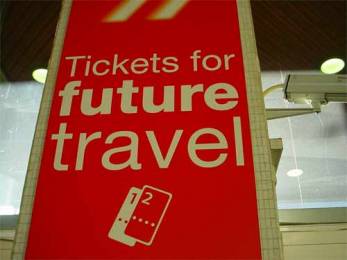 Airlines, hotels, travel & tourism
In-flight calls
Qantas is set to trial technology in one of its Boeing 767 aircraft that will allow passengers with a GMS phone and global roaming account to make and receive calls while in the air. For customers with a Blackberry or similar device, this means the capability to send and receive emails. Other airlines are set to introduce similar measures with Ryanair hoping to install the technology on its entire fleet. Meanwhile, in the US, aviation regulators are reviewing the current ban on the in-flight use of mobile phones. Qantas says research has shown an increase in demand for access to services in line with those available on the ground, especially from passengers travelling for business. But some US airlines, including Delta and United, say their customers don't want the ban lifted, fearing they will be disturbed by the phone conversations. The Association of Flight Attendants in the US is also wary of allowing in-flight mobile calls, concerned it may make passengers harder to control. It may not be as noisy as they fear though, for with costs for calls based on international roaming charges, even on domestic flights, the use of SMS messaging and emails could prove more popular than voice calling. This kind of service is already available with Scandinavian and Singapore Airlines offering onboard broadband and nearly a third of the airlines in the Asia Pacific region offering some kind of email or SMS facilities.
Ref: The Australian (AUS), 19 September 2006, 'In-flight calls: mass appeal or nuisance?', Glenda Korporaal. www.theaustralian.news.com.au; Sydney Morning Herald (Aus), 9-10 September 2006, 'Geek Air', Lia Timson. www.smh.com.au
Search words: mobile phones, cellphones, airlines, communication
DIY in-flight entertainment
Schiphol Airport has introduced Fuel for Travel, a digital download centre where customers can purchase content to create their own in-flight entertainment. After checking in, passengers can visit the stations and browse music, audio books, movies and travel guides. Once they make their selection and pay by credit or debit card (at a rate similar to online downloads), the content is downloaded directly to their MP3 player, phone or PDA. And if you don't have a device of your own, you can purchase one at the station. With an increasing number of budget airlines making customers pay for entertainment as an optional extra, these digital download stations are a perfect way for transport hubs to cash in on the increasing demand for ways to fend off boredom.
Ref: Springwise (Neth), 27 July 2006, 'Digital fuel for travel'. www.springwise.com
Search words: in-flight services, entertainment, rentertainment, airlines
The hotel room of the future
What will hotel rooms look like in the year 2025? According to a project put together by Chicago design company Getty's, we can expect customisable rooms, regenerating rugs and robot valets. With input from trendsetters such as Starwood Hotels, Starbucks and Whirlpool, as well as manufacturers of electronics, bedding and lighting, the Hotel of Tomorrow project is identifying the trends and innovations that will shape the hospitality industry over the next 20 years. The project has found that potential hotel guests can include those travelling for leisure, business travellers, tech-savvy teenagers, environmentalists seeking ecologically-sound facilities and those seeking stress relief. Innovations that may come into play are the use of intelligent robots to help with everything from cleaning rooms to providing personal valet services. But the over-arching theme seems to be that of customisable rooms, with technology used to offer guests a completely personalised experience. The touch of a button could see your room fill with your favourite sounds, smells and even visuals. There's even talk of a bathtub that moulds to the shape of your body. There's also the possibility of pre-fabricated modular hotels that can be placed in jungles or other exotic environments without the need for destroying the surrounding environment due to construction. Personally I don't believe it - certainly not at the luxury end of hotels - because people like dealing with people and this means high-touch not high-tech.
Ref: Canada.com (Canada), 2 September 2006, 'A peek at the hotel of the future'. www.canada.com
Search words: hotels, rooms

The high cost of low-cost flights
With an increase in the awareness of the causes and consequences of global warming, major airlines know it is only a matter of time before they are forced to consider the reality of sustainable air travel. British Airways has handed some of the responsibility over to the passengers. By making a voluntary contribution to an environmental trust, customers can offset some or all of the carbon dioxide emissions of their flights. Qantas have taken slightly more advanced steps, by calculating not only the emissions from its flights, but from all ground-based activity, such as the buses used to transport passengers to and from airports. But quantifying carbon emissions is not as simple as calculating the amount of fuel used by the aircraft. Due to complex chemical reactions, carbon emitted at 30,000 feet is up to three times more damaging than that emitted at ground level. So the cost of sustainable long-distance flying will mean an increase prices for everyone, and may mean a lot less travel for business. Will this happen? Early indications are no - or at least not willingly. Customers have so far refused to pay any 'voluntary' green taxes. Looking for a silver lining to this cloud, Hewlett-Packard is developing high-resolution video-conferencing technology for those that are no longer able to afford face-to-face meetings. But don't bet on it working. People will always prefer to shake hands in person.
Ref: Australian Financial Review (AUS), August 2006, 'Fresh Take: Airlines Rise To Climate Challenge', Julie Macken. www.afr.com.au
Search words: airlines, sustainability, travel, green taxes, face-to-face
Gap year tourists
Students who volunteer in developing nations during their gap year have been dubbed "charity tourists" and the volunteer programs "no more than a form of new colonialism". There's an increasing number of young people seeking the chance to broaden their horizons during their year off, often by doing unpaid work with the world's poor. While the industry that provides these experiences has flourished, there seems to be a bias towards the satisfaction of the volunteers rather than that of the communities that are supposed to be benefiting from the experience. In some cases the communities are left worse off than if they had not received help from volunteers, due to a lack of useful work available, the inexperience of volunteers or the assumption that volunteers will be of benefit purely because they are from a developed nation. Another concern of the Voluntary Services Overseas - who generally place older, more skilled volunteers - is what the popularity of these experiences reveal about contemporary society. Students on the gap year programs are unfulfilled with life at home and are seeking life-changing experiences they feel they cannot have in their own country. However, volunteering your services to help those less privileged is surely something that can be done anywhere, like the local nursing home.
Ref: The Telegraph (UK), 23-29 August 2006, 'Gap year volunteers are charity tourists', Richard Alleyne. www.telegraph.co.uk; Spiked (UK), 17 August 2006, 'Filling a gap', Rob Lyons. www.spiked-online.com
Search words: volunteering, gap year travel, students, meaning