Who is...?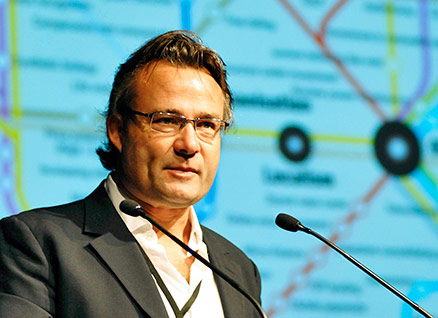 What's Next is published by Richard Watson, a writer, speaker and thinker who helps organisations to think ahead, with a particular focus on strategic foresight.
As well as being the founder of What's Next, he is co-founder of Futures House Europe (a scenario planning specialist) and is the author of the best selling book Future Files (sixteen worldwide editions).
Richard has worked with, amongst others, General Electric, IBM, Ikea, KPMG, London Business School, McDonald's, McKinsey & Company, Nestlé, PepsiCo, Samsung, Shell, Virgin and Westfield. Subject matter expertise includes global trends, scenario planning and innovation.
Credits for this website also belong to Matt Doyle (web development) and Corrina Fox (additional research & writing).
To view selected articles by Richard Watson please click on the links below:
The Future of Money
Will phones be the new banks?
Retail Therapy
Is the future of shopping a dystopia? The choice is ours.
The Future of Newspapers
In this age of user-generated content and citizen journalism, it might seem like newspapers are becoming yesterday's news. But there's more life in them yet.
Everything you've ever wanted to know about innovation
One of the biggest issues facing organizations in the early part of the 21st Century is the commercialization of new ideas.
The Future of Travel
Where will we be going, and how will we be getting there?
Open Innovation and Other Foolish Ideas
The best ideas are often conceived of by trial and error, or even just by accident. Open source innovation can be the best path to discovery — if you aren't afraid to take the plunge.
An Evolutionary Approach to Innovation
Need to kickstart your innovation practices, processes, and production? Take a hint from the world of biology and consider how evolution -- idea Darwinism -- can help inspire change and creativity.
Why Smart Companies Do Dumb Things
Have I Got Your Full and Undivided Attention?
Life is speeding up and we are constantly inventing new ways to make things move even faster. But what are some of the consequences of this constant busyness? Are we losing our ability to think and properly relate to other people?
Don't Confuse Creativity with Innovation
Can anyone be creative? Companies and consultants alike say the answer is yes.
Fast Forward: Innovation Station
10 great ideas, tools, and thinkers
A New Age of "Innocence"?
The experts who'll drive innovation are not the usual suspects.
Smart Spaces
Why you can't think out of the box when you're sitting in one
A Beginner's Mind
Your most innovative team members and employees may not be the most senior -- or oldest
Bite-Sized Innovations
Sometimes the most powerful ideas start small. Here's a roundup of our recent favorites.
The Trendspotting Trend
Has market research been democratized? Identifying new product, service, and business development opportunities might be as easy as exploring your immediate surroundings -- and talking to your customers.
A Problem Shared Is a Problem Solved
On the rise of open source innovation
The Future is a Mixed Bag
With every downside, there is a corresponding upside: Get an expert's take on how technology, connectedness, globalization and ageing will affect us in the future.
Celebrate Failure
You don't read about failure very often. Why is this? What are we afraid of? It is the proverbial elephant-in-the-boardroom. And yet by being scared of failure, we are missing a great opportunity.
Keep It Simple
Time famine, Too Much Information, Too Much Choice and Too Many Options.